On Thursday, Feb. 24, Russia began its attack on Ukraine.
With heavy casualties expected on both sides, you might be wondering how you can help.
On TODAY last week, NBC News correspondent Kerry Sanders highlighted two organizations that are on the ground at the Ukrainian border providing food and shelter for refugees streaming out of the country.
Global Empowerment Mission
The Miami-based organization Global Empowerment Mission is on the ground in the tiny village of Medyka, Poland, using donations to buy refugees train and plane tickets to help them reach any family or friends they may have in Europe.
"They have an opportunity to stay with a friend of theirs, you know, (in) a bordering country where they're in the warm and they can eat nice meals at the table," GEM founder Michael Capponi told Sanders.
World Central Kitchen
For many refugees, food is an immediate need. Chef Jose Andrés has set up his World Central Kitchen on the ground at the Ukraine-Poland border providing warm meals for the hungry.
"Nothing sends a bigger message of hope than a humble plate of food. And that's the only thing we know how to do," Andrés said. "America is gonna be with the people of Ukraine."
TODAY also compiled a list of United States-based charities that will put your money to good use, based on information from their websites. Here are a few other organizations you can support:
Maya's Hope
For the past 10 years, Maya's Hope has been working to help kids with special needs in Ukraine.
This charity has an emergency fund that they are using to send money to families, orphanages, and hospitals. However, they still haven't reached their goal of raising $200,000. According to their official website, they've only raised $83,291.
JDC
The American Jewish Joint Distribution Committee has answered the call for Ukraine. After helping to cultivate Jewish life there for the last three decades, JDC has involved itself in the crisis in Ukraine by activating its emergency hotlines.
JDC has already provided extra food and medicine to the "nearly 40,000 poor Jews it supports in 1,000 locations around the country," according to a press release.
"While we pray for a peaceful resolution to this conflict, we are working around the clock to ensure tens of thousands of Ukraine's neediest Jews have the critical care and support they need to survive these terrible events," Ariel Zwang, JDC's CEO said in a statement. "We do not know what the days ahead will bring, but JDC will remain a lifeline to these Jews and to Jewish communities."
Kidsave
Kidsave aims to keep kids and families safe during Russia's invasion.
For the past three years, Kidsave has moved "more than 100 children out of orphanages in Mykolaiv and Kherson back to their biological families or into new, loving homes, with parents who truly care for them." However, when the war in Ukraine unfolded, they watched some of these kids be uprooted again.
Kidsave says that they are committed to providing each family with shelter in small villages, food and basic resources. They are also trying to help children in Kherson and Mykolaiv orphanages get to safety.
"For these children who are still in orphanages, we will work to protect them and provide safe shelter for them until we can continue our search to find them permanent families," Kidsave told TODAY.
Mercy Corps
Mercy Corps' website states that they are currently "on the ground in Ukraine, Romania, and Poland, providing funding to local organizations that know their community needs best and working to meet urgent humanitarian needs."
"We also plan to provide emergency cash assistance and connect people on the move with information, such as where to access basic services, information on safe routes, and their legal rights," they added.
From 2015 to 2017, Mercy Corps helped out eastern Ukraine by providing emergency cash, food, water, and sanitation supplies to more than 200,000 people there. They told TODAY that they restored "war-damaged homes and provided small-business development grants and training to help people earn income and support themselves and their families."
Americares
Americares has deployed an emergency response team to Krakow, Poland, to provide aid to the Ukrainian refugees there. According to their press release, they have been sending "large-scale shipments of medicine and relief supplies" to the refugees and are prepared to "deliver medicine, medical supplies, emergency funding and relief items to the region" at will.
United Way Worldwide
United Way Worldwide has just launched a global relief fund for the people in Ukraine called The United for Ukraine fund. The money raised will provide refugees with food, shelter, medicine, transportation and critical childcare supplies that infants need such as formula.
Angela F. Williams, President and CEO, United Way Worldwide addressed the crisis in Ukraine in a press release.
"There is no doubt that this situation is fluid and changing by the hour. And though the needs are great and will likely only grow and change over time, we will be there to support those in crisis," she said.
"United Way stands ready to mobilize the caring power of our global community to help ease the suffering of those whose lives have been upended, and whose future is uncertain," Williams added.
World Health Organization
The WHO foundation is calling on people around the world to help them provide aid to Ukraine. With everyone's help, the WHO foundation can reach its goal of raising $57.5 million to fund "immediate large-scale emergency response and health needs in Ukraine and the humanitarian response in neighboring countries."
According to its press release, the money will help Ukraine's neighboring countries deal with the overflow of patients in their hospitals as well as anyone who needs immediate medical assistance.
Not to mention, WHO will also help to support the mental health of anyone who has been affected by the crisis, including healthcare workers.
USA for UNHCR
USA for UNHCR fundraises on behalf of UNHCR, the UN Refugee Agency and recently, they made headlines for partnering with Blake Lively and Ryan Reynolds to help people in Ukraine. On Feb. 26, the couple announced that they were going to match donations of up to $1 million that the UN Refugee Agency was getting for Ukraine. And within 48 hours, Reynolds and Lively met their goal.
According to the official website of USA for UNHCR, the money went towards providing "lifesaving aid, protection and hope for displaced families from Ukraine."
But even with so much support, the organization knows that they still have plenty more people to help so UNHCR says that they are currently "on the ground scaling its response to provide assistance and ensure those displaced find safety in welcoming arms in this moment of crisis."
Global Giving Ukraine Crisis Relief Fund
The Ukraine Crisis Relief Fund by Global Giving sprung into action once Russia declared war on Ukraine earlier this week.
According to the organization's official website, your donation will help "affected communities in Ukraine, with a focus on the most vulnerable, including children, who need access to food, medical services, and psychosocial support."
Not only that, but the Ukraine Crisis Relief Fund will "support humanitarian assistance in impacted communities in Ukraine and surrounding regions where Ukrainian refugees have fled."
International Rescue Committee
As the conflict in Ukraine escalates, the International Rescue Committee is getting ready to prepare for the worst. Right now, it is mobilizing resources to aid the people in Ukraine who were forced to flee their homes.
"The IRC is meeting with partners and local civil society organizations in Poland and Ukraine to assess capacity for responding to an increase of refugees and people in need," said the organization on its official website. "We will work to respond where we are needed the most and with the services that are needed urgently. Whatever the needs are, we are preparing to meet them."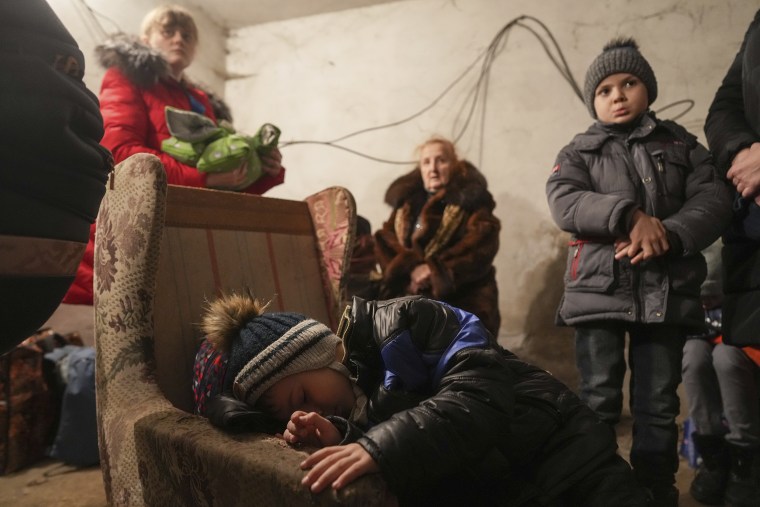 Save the Children
According to Save the Children, there are 7.5 million kids who are in danger of physical harm, emotional distress and displacement due to the invasion in Ukraine. Even before the conflict escalated this week, there were already 400,000 children there who needed humanitarian aid.
That's why Save the Children has made their own Ukraine Crisis Relief Fund to help Ukrainian families now. On their official website, the organization said that it will use donations to help families meet their basic needs such as food, medicine and shelter.
Save the Children's specialist teams will also help Ukrainian children get access to education and psychosocial support.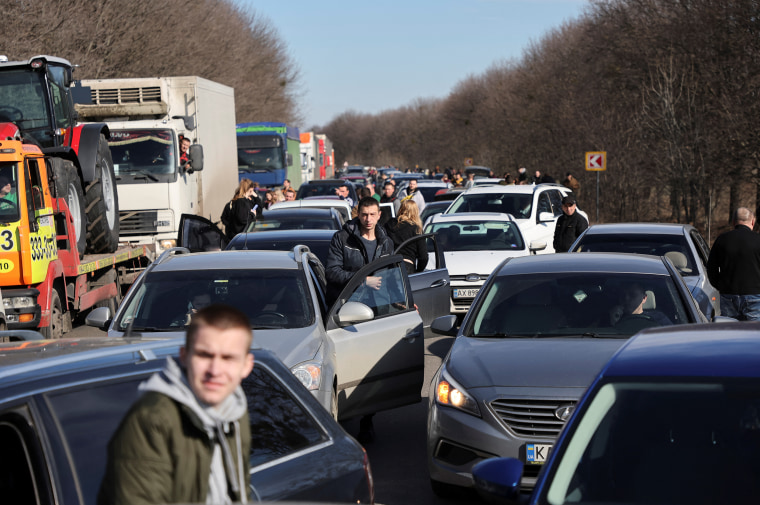 Razom for Ukraine
Razom for Ukraine has been helping Ukrainians since the organization was first established in 2014. It aims to help Ukraine pursue a democratic society that has civil rights for all.
"This is not the first time we are all facing the hybrid war against us. And together we will stand strong!" the charity said on its Facebook page.
According to its official website, the organization is named Razom for Ukraine because Rzaom "means 'together' in Ukrainian and serves as a constant reminder of the community that it takes to create, build and do, to stay the path towards a more prosperous and democratic Ukraine."
The International Committee of the Red Cross
The International Committee of the Red Cross is helping the Ukrainian Red Cross assist people who were affected by the conflict there.
Once war broke out, ICRC president Peter Maurer released a statement on the organization's website.
"The ICRC's priority is to assist those in need," he said. "This week we delivered 3,000 liters of potable water to Dokuchaevsk hospital and sent 7,000 liters to Donetsk municipality."
"Recent work also includes visits to places of detention to help improve hygiene and nutrition," he added. "The security situation permitting, our teams now in Ukraine will continue their work to repair vital infrastructure, support health facilities with medicines and equipment, and support families with food and hygiene items."
"We will also continue our bilateral and confidential dialogue with the parties to the conflict to protect those affected by the fighting," Maurer continued.