At least 22 people are dead after a major storm system ripped through several states in the Midwest and the South bringing tornadoes and severe thunderstorms Friday and overnight.
Seven of the deaths are in McNairy County in southwestern Tennessee, according to the state's Emergency Management Agency.
"We will be surveying damage from likely tornadoes that struck many of our Middle Tennessee counties overnight, including Wayne, Lewis, Marshall, Rutherford, Cannon, and Macon Counties," The National Weather Service field office in Nashville said on Saturday. "Due to the widespread damage, it will take us several days to reach all these areas."
The damage includes downed trees, power lines and "houses with heavy damage" in multiple counties, according to a list of storm reports collected by the agency.
Five of the deaths are in Cross and Pulaski counties in Arkansas, four are in Boone and Crawford counties in Illinois, three are in Sullivan County, Indiana, one in Pontotac County, Mississippi, one in Madison County, Alabama, and one in Tipton County, Tennessee, according to officials.
Wynne, a city in Arkansas' northeastern Cross County where four people died, saw widespread damage from the storm system, Gov. Sarah Huckabee Sanders said in a tweet.
Central Arkansas also suffered "significant damage" Friday, Sanders said, after meteorologists said a tornado touched down in North Little Rock, pummeling buildings and leaving at least three people dead and dozens injured.
"Today has been a very hard day for the state of Arkansas," Sanders said at a news conference on Friday. "But the goodness of this is that Arkansas and Arkansans are tough and we are resilient, and no matter what comes our way, we will get back up the next day and keep moving."
Arkansas declared a state of emergency and activated the National Guard on Friday afternoon. At a news conference Friday, Sanders said 100 guardsmen had been deployed across the state.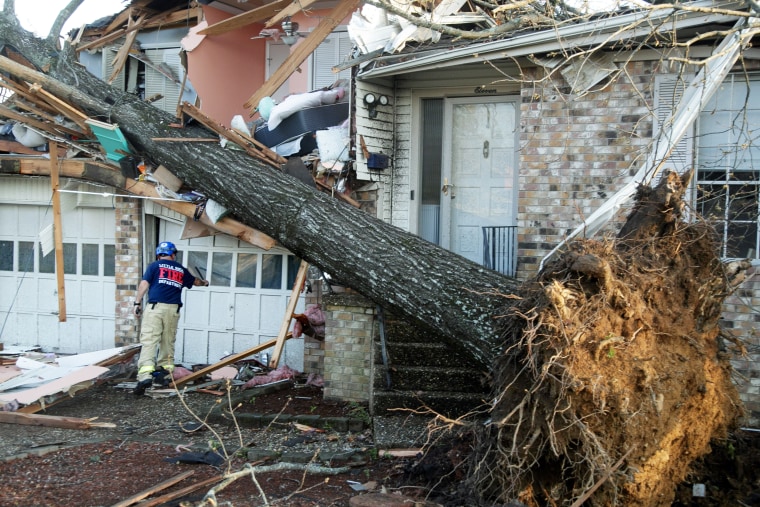 Sanders visited areas affected by tornadoes on Saturday.
"A fire station in West Little Rock suffered an unbelievable amount of damage but the real story here isn't the damage that happened but it's the heroes that were born out of the tragedy," she tweeted, adding in another tweet that the destruction at Wynne High School was also severe.
A severe weather event across northeastern Illinois and northwestern Indiana brought "widespread wind damage with multiple tornadoes," thunderstorms and scattered large hail to the area, according to a preliminary report from the National Weather Service.
State police confirmed three people were killed in Indiana, and a tornado in Boone County, Illinois, specifically the city of Belvidere, killed a 50-year-old man and injured 28 others when the roof of a concert venue collapsed Friday night at the Apollo Theater. Of the 28 people who were taken to the hospital, five had serious injuries, according to Belvidere fire officials.
Belvidere Officials could not speak to any warning given to concert goers, or if any were advised to move to a safe place. The loud concert may have prevented attendees from hearing the tornado sirens that blared in the area Friday night.
It's not confirmed how many tornadoes hit Illinois and Indiana, but the National Weather Service reported many areas with structural damage and potential tornadoes, including Baileyville, Belvidere, Mendota and downtown Batavaia in Illinois and Merillville in Indiana.
Indiana Governor Eric Holcomb signed an executive order on Saturday declaring Sullivan and Johnson counties in a state of emergency.
"First and foremost, my thoughts and prayers are with the families of those who have perished in this storm and all who are suffering losses because of this incident," Holcomb said in a statement. "I will remain in contact with emergency management officials as well as local officials in Sullivan and Johnson counties as we continue to assess the damage, and the Indiana Department of Homeland Security is actively engaging with FEMA to assess the damages from the incident."
Two teams will survey storm damage across Indiana on Saturday, including in Allen County and White County, according to the National Weather Service field office in Northern Indiana.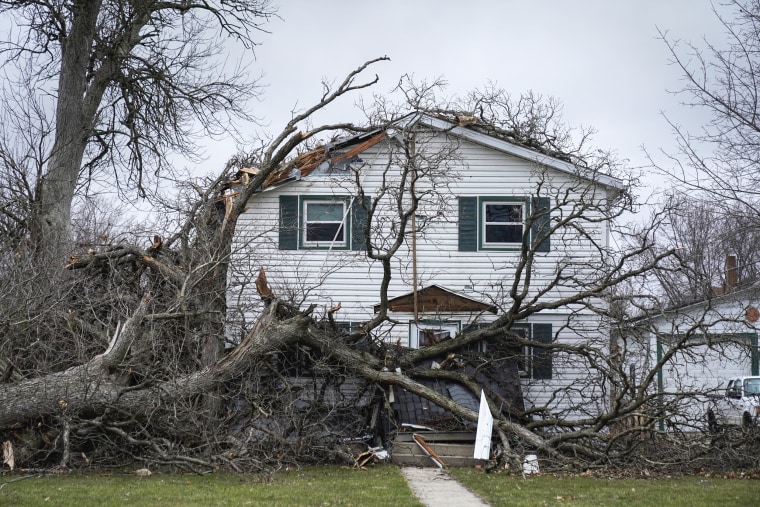 The severe weather event for northern Illinois and northwest Indiana has come to an end, according to the National Weather Service field office in Chicago.
In Arkansas, weather conditions are expected to be calmer on Saturday across the state.
"Much calmer conditions are expected across the state today before another round of rain moves through Sunday into Sunday night," according to a tweet from the National Weather Service field office in Little Rock. "Severe weather chances are very low until Tuesday, when our next strong storm system approaches."
This story originally appeared on NBCNews.com.