A Canadian community reeling from a violent bus crash that killed 15 players and staff members of a junior hockey team has been dealt another devastating shock: a victim and survivor were mistaken for each other.
A tour bus carrying members of the Humboldt Broncos hockey team collided with a tractor-trailer truck last Friday night, killing 10 players and five members of the team's staff. The crash also injured 14 other people. A day after the justice ministry of the Saskatchewan province released an official list of the victims, it revealed the coroner's office had made a mistake.
Xavier Labelle, an 18-year-old defenseman, had incorrectly been identified as dead. He is recovering in a Saskatchewan hospital, but no information about his condition has been made public.
The team's goalie, Parker Tobin, also 18 and originally listed among the injured, was confirmed to have died in the crash.
"The Office of the Chief Coroner apologizes for the misidentification and any confusion created by it," according to a statement by the Saskatchewan justice ministry. "The Coroner's office extends its deepest sympathies to the families and friends of those who lost their lives as well as those who were involved in the collision."
In a joint statement released to CBC News, the Tobin and Labelle families said they are "grieving together," and their focus will not be on "the confusion in an unimaginable tragedy."
Ministry spokesman Drew Wilby apologized for the mistake during a meeting with reporters on Monday. He said many of the players were close in age and had similar builds. In addition, all of them had dyed their hair blond as part of a playoff ritual.
He said authorities realized the mistake late Sunday night and reached out to the Tobin and Labelle families.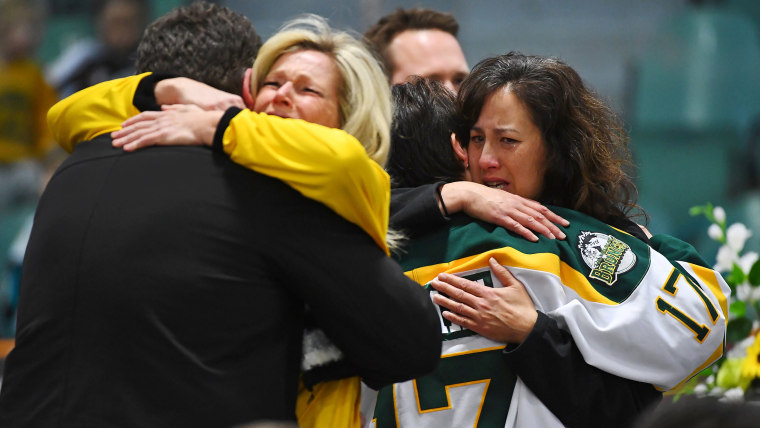 Canadian hockey broadcaster Ron MacLean said he and a colleague were in a hospital room with Tobin's parents and a badly injured boy they believed at the time was their son.
"So imagine, the mom and dad and the brother, they don't know that they're not looking at their own boy. That he's so severely cut and hurt that they actually think it's possibly their boy," MacLean said on a radio talk show.
"And I can remember her ... this is Parker, the mom, saying, 'He's beginning to look more like our boy.' Can you imagine?"
MacLean also described some of the injuries the player, Labelle, had suffered.
"In addition to these horrific cuts, he had a vertebrate broken, he had a rib broken, he had a hip broken, he had a lacerated liver," he said. "All of the children were mangled beyond a miracle, really."
Among the other victims were the Broncos head coach, the team captain and its radio announcer. The Saskatchewan Health Authority said 12 of the survivors were still in the hospital.