A Nevada family who survived three days and two nights in below-freezing temperatures wouldn't "have lasted another two days," Christina McIntee, one of the rescued, told Savannah Guthrie in a TODAY exclusive interview. 
McIntee, her boyfriend James Glanton, their two children and McIntee's niece and nephew disappeared in the Seven Troughs mountain range on Sunday, Dec. 8. The temperature on the range was 21 degrees below zero on Sunday night, and below zero again on Monday night.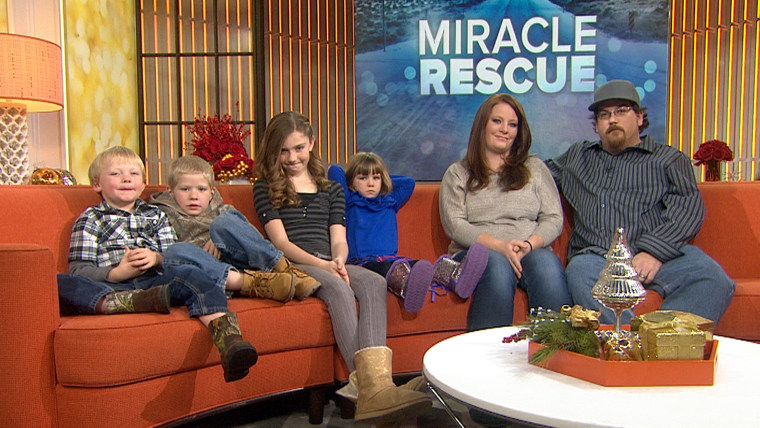 "I got scared the second day," McIntee said. 
Rescuers found the family huddled inside their overturned Jeep on Tuesday, in what officials called a "miracle."
The ordeal began after the group did not return from a trip to play in the snow near their hometown of Lovelock, about 100 miles northeast of Reno. They were ultimately found "four miles from civilization," according to Nevada wing Civil Air Patrol Col. Timothy F. Hahn.

"We were coming downhill and hit a patch of ice and it just shot us over in the bank," said Glanton. "It was a really slow-motion rollover. It didn't even shatter the window. It broke the top of it, but it didn't shatter the window."
The kids, who range in age from 3 to 10, were "awesome" and "calm," said McIntee.
"The boys saw it as just camping in the jeep," said Glanton. "They were actually really good about it."
Glanton defended the family's decision to take a drive in the mountains, saying, "That's what we do. We're from a small town. We don't have anything in the way of entertainment besides the hills. That's what we do. That's where we live."
The family survived thanks to some smart moves — gathering sage brush for kindling, burning a spare tire, staying in their overturned Jeep to make it easier for rescuers to locate them, and heating rocks to warm the vehicle.

"That was a good idea," Dr. Zach Sturges, a Bozeman, Mont., emergency physician and faculty member at the Salt Lake City's Intermountain Institute for Disaster Preparedness, told NBCNews.com. "Rocks make a great thermal mass if you can build an outside fire to heat them and as long as they're cleaned so they don't give off any gases."
Huddling in the car, instead of trying to find help on foot, likely saved their lives. 
"We talked about it, but we decided together that we should stay there," said Glanton of their decision to stay put. "We figured our best chance was with the Jeep because it was the most visible rather than just a single person walking out of the wilderness."
The Jeep was equipped with matches, lighters, and some magnesium fire starter. "We had some water," said Glanton. "Didn't have much in the way of food, but we had a bit. Just normal stuff in the Jeep."
Despite the fires, planes passed overhead twice without seeing them. 
"We saw two different planes, two of the smaller single-engine, crop-duster style," said Glanton. "I had a fire going, and I had some green pine in it, so I had a lot of white smoke but it was surrounded by snowy mountains which made it kind of difficult to see, I guess."
"That was rough," McIntee said of hearing the planes. "That was hard."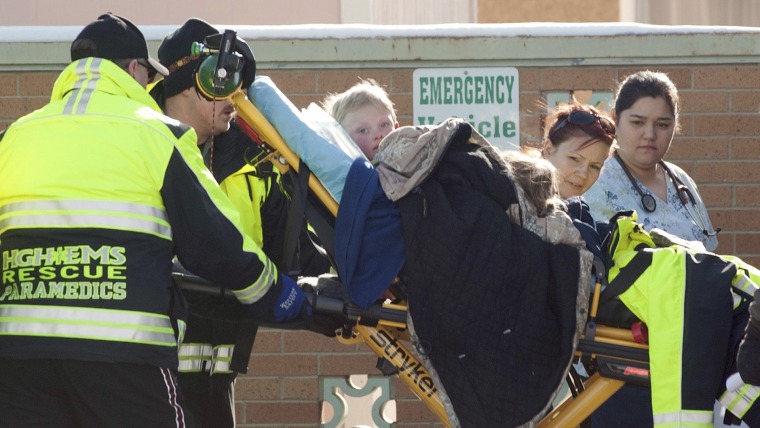 Chris Montes was one of the volunteers who eventually spotted the Jeep, thanks to what looked to be children's footprints in the snow and tire tracks that led into a remote canyon but not back out, the Associated Press reported.
"Everybody in this town was out looking for them," Montes told TODAY's Miguel Almaguer. "We were just the ones that stumbled across them."
Glanton said he was "speechless" when his friend Montes and the other rescuers arrived. "I wasn't sure what was going to happen. I'm glad that they were there. I thank them."
According to Pershing General hospital, where the family was treated, the couple and children had no symptoms of frostbite but had "some exposure issues and dehydration."
"We'll forever be grateful," said Glanton. "There's no other way to say it."