Imagine a week of facials, massages, gourmet meals, hikes and Pilates classes. Sounds like a great way to spend the last days of summer, right? That's the sound of a spa getaway. "Vacation" usually means hustling to catch planes, hassling with rental cars, and then squeezing in friends, family and, of course, all the major sights. That's why destination spas make so much sense. According to Spa Finder Inc., their database counts more than 15,000 spas in the United States.
The trick, however, is finding the right resort.
With the help of spa experts and veteran visitors, Women's Health's magazine picked a definitive list of the 27 best destination spas across the country that are worth your time and money, with over-the-top pampering, super-healthy food, luxury R&R, awesome workouts and affordability.
Canyon Ranch Berkshires, Lenox, Mass. (Healthy, active)

Tucked into the gorgeous Berkshire Mountains, this spa is more luxury chateau than rustic ranch. Known for the staff's medical expertise, you'll meet with a nurse at the beginning of your stay to help you decide which pampering treatments and life management sessions are best for you (there are nearly 300 options!).
Don't miss: The acupuncture treatment— it'll leave you feeling rejuvenated. Price: $$$Minimum stay 3 nightsAll inclusive (50 exercise classes and lectures everyday)$340 allowance for spa treatments (allowance increases with number of nights you stay)
Canyon Ranch, Tucson, Ariz.
If you're health-obsessed and money is no object, get yourself to the desert. What sets this large (240-guest) spa apart: A squad of medical experts do everything from metabolism testing to acupuncture in a luxurious setting.
Don't miss: The custom meal plan from a nutritionist.Price: $$$Minimum stay 3 nightsAll inclusive (50 exercise classes and lectures every day)$340 allowance for spa treatments (allowance increases with number of nights you stay)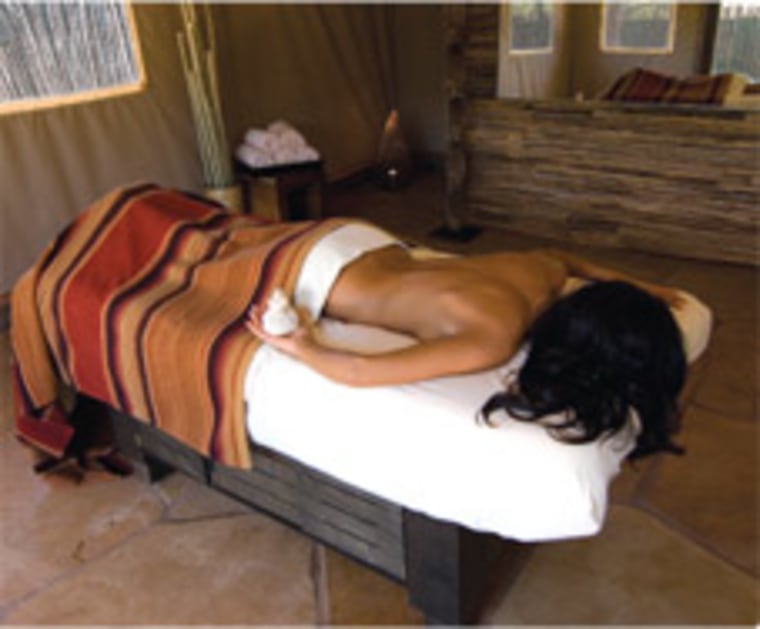 If you only visit one spa in your life, let this be it. In addition to all the amenities you'd expect at a top-of-the-line resort, what really makes this place special is classes that dare you to find your inner strength, whether by cleaning a twitchy horse's shoes or by jumping from a pole 25 feet in the air (seriously). Miraval's mission is to open the door to self-awareness and self-acceptance. It's a destination resort where "mindfulness" is a way of life and a powerful part of promoting health and enjoying life.
Don't miss: The customized activities — ask and they'll arrange whatever you want, from geology hikes to lessons on medicinal plants. Price: $$$No minimum stayAll inclusive (meals, classes)$110 allowance for spa treatments per person/per night
Lake Austin Spa Resort, Austin, Texas (Charming; offers guests the "luxury of a world-class spa and the warmth of a best friend's lake house.")
Sure, you can squeeze in a workout or two, but that's not the main lure of this charming spot, which feels like a family lake house. Lounge on your veranda or by any of the three pools till it's time for your next treatment: More than 100 options are available.
Don't miss: The LakeHouse lavender scrub and massage with organic lavender grown on the premises.Price: $$Minimum stay 3 nights (July/August special — 2 nights)All inclusive (meals, 17-20 activities)You create your own package and pay for each service; can use toward one-on-one consultations with fitness experts, dietitians, etc.
Rancho La Puerta, Tecate, Mexico (Nature, organic food)
Prime weather. Endless hiking options. Gardens fragrant with lavender and sage. Organic food grown on the premises. A breezy, welcoming vibe (perfect for traveling solo). And all without maxing out your Visa. What's not to love?
Don't miss: The amazing dawn hikes up Mount Kuchumaa.Price: $$Stay is Saturday to Saturday (sometimes offer 3-night stay if does not look like they are going to be full)All inclusive for meals and classesSpa treatments are extra — pay for each service (August — 3 complimentary services being offered and 2 cooking classes)
New Age Health Spa, Neversink, N.Y.  (Meditation, yoga, juice fasts)
Are you a dedicated meditator? A serious yoga buff? Unwilling to drop big bucks? If so, there's a lot to love about this upstate New York getaway. Get ready to detox: Coffee is forbidden after breakfast, and many guests come for a supervised juice fast, a weeklong program of fruit juice, spring water, potassium broth and herbal tea.
Don't miss: The Paradise Mountain Rain treatment, a salt exfoliation and mud wrap.Price: $Minimum stay 2 nightsAll inclusive (meals, classes, use of facilities)Spa treatments are extra — pay for each service. There are also some money-saving spa packages, including Restful Relaxation, a stress-relief package; Calming Cleanse, a detoxifying package; and Grooming for Gentlemen, the men's package)You can create your own package — combine any 4 treatments and receive a free massage
Red Mountain Spa, Saint George, Utah (Culinary school)
If you love outdoor workouts, you'll love the whip-your-fanny-into-shape hiking program here. Red Mountain is also gorgeous (set in the Mojave Desert amid dramatic red sandstone cliffs) and a good value. It attracts more men then most spas, maybe because of its bountiful food, beer and wine. Offers a 7-night package, complete with culinary instruction that is designed to help spa-goers learn the principles of healthy cooking while enjoying the daily programming at Red Mountain Spa. The school is held during the afternoon, so you can enjoy morning hiking, a variety of fitness classes and have your evenings open for spa appointments.
Don't miss:
The Four Directions treatment, a full-body cornmeal and tobacco exfoliation.Price: $Minimum stay 2 nights during the summerDuring the high season minimum stay 3 nightsAll inclusive (meals, classes, morning hikes, healthy living lectures)One-on-one consultations are extraSpa treatments are extra — pay for each service
Kohler Waters Spa, Kohler, Wis.  (Not for weight loss, for pampering!)
Losing weight won't be easy here — the three restaurants at the American Club, which houses the spa, include an amazing cheese room offering everything from Key lime chevre to applewood-smoked cheddar. But no one comes here to worry about calories or workouts. They come for the heavenly treatments, most of which involve being rubbed, sprayed or soaked in water. No surprise: The company that elevated the bathtub to an art object runs the place. 
Don't miss: The Highland Fling body treatment that uses chocolate, coffee and mint to moisturize and exfoliate.  Price: $$
Hilton Head Health Institute, Hilton Head Island, S.C. (Weight loss)
When it comes to serious weight loss, this spa is in a class by itself. It offers everything from nutritionists who tailor meal plans to behaviorists who help you break bad habits. Don't worry: Hot-stone massages, yoga, Pilates and meditation classes are all available, too (rewards for shedding those pounds).
Don't miss:  The morning walks along the Atlantic shore. Price:  $$
For more travel, health and fitness information, visit