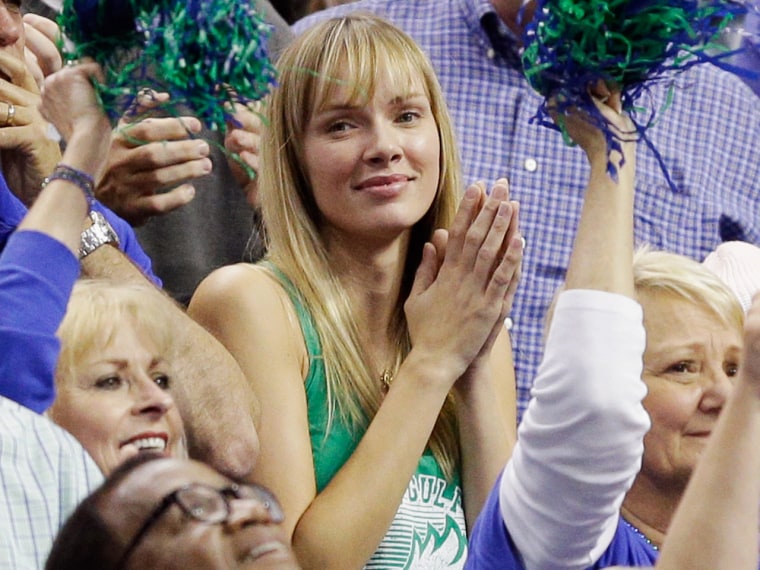 As Florida Gulf Coast University made its historic run to the Sweet Sixteen in the NCAA Tournament, the TV cameras were focused on the stands almost as much as the excitement on the court.
Former Maxim swimsuit model Amanda Marcum Enfield, the wife of Florida Gulf Coast head coach Andy Enfield, has been having her "Katherine Webb" moment amid the team's unprecedented success. Now a stay-at-home mom to three children, Enfield has appeared on the covers of Maxim, Vogue and Elle and in ads for companies like Victoria's Secret, Armani and L'Oreal.
When Florida Gulf Coast stunned second-seeded Georgetown in the first round, the cameras found the 5-foot-10 blonde beauty going through a range of emotions in the stands as the Eagles closed out the upset.
The story of a basketball coach at a small college landing a Maxim model wife has become part of the narrative during Florida Gulf Coast's journey to becoming the first 15th seed to ever reach the Sweet Sixteen in the NCAA Tournament. The couple met in 2003 when they were introduced by a mutual friend, and Andy gave her a ride from New York City to Boston so the native Oklahoman could see her beloved Oklahoma State Cowboys play in an NCAA Tournament game.
Six months later, they were engaged.
"We had lots of things in common -- especially sports -- and we talked and talked about that," Amanda told The Naples (Fla.) News. "I thought he was really funny and very confident. And I'm a sucker for sports guys, obviously."
Their first date was at a St. John's University basketball game in the National Invitational Tournament, and he took her to Taco Bell afterward. The couple are now parents to daughters Aila and Lily and toddler son Marcum, who have all been with Amanda in the stands during the team's magical run.
Read more:
Is Florida Gulf Coast the most surprising Cinderella of all time?
Alabama QB's girlfriend: 'The media has been unfair' to ESPN announcer