You don't have to be a sports fan to appreciate this kind of assist! NHL player Viktor Arvidsson aced a play on Saturday that will help one Nashville Predators fan live happily ever after.
As Arvidsson, a forward for the Predators, was making his way onto the ice for his team's game at Bridgestone Arena in Nashville, Tennessee, fan Morgan Landsberg attempted to snap a photo. But as the hockey player walked past Landsberg, he held out his hand to interrupt her photo op ... and hand her a ring that had been given to him by Landsberg's boyfriend, Conor Payne.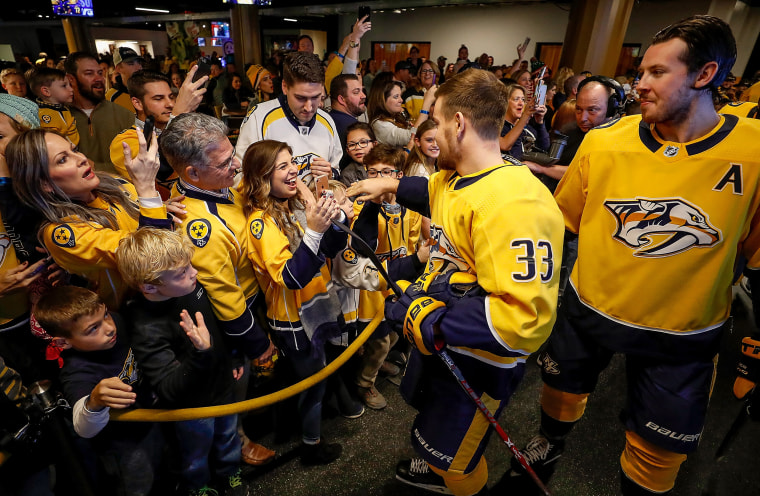 When Landsberg grabbed the ring and turned around, she found Payne on one knee. A video posted to the Predators' Twitter account shows her glancing back and forth, bewildered, between Payne and the parade of players, who can be heard cheering in support of the couple.
With her team's blessing, Landsberg joyfully accepted the proposal!
"When we started dating she said it's always been a dream of hers to get proposed to at the Predators game," Payne told NHL.com. "Then, working with the team they really helped us out and kind of put things into place."
"I was overwhelmed," Landsberg said of the big moment. "I wanted a picture with Viktor Arvidsson and I didn't even realize he was giving me a ring until I turned around. It was just, it was amazing. I had no idea."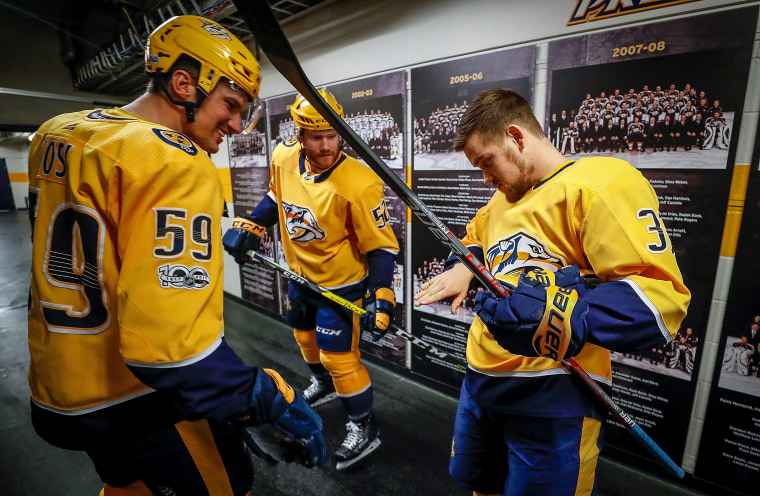 It was a fun moment for the players, too. One of the best cameos in the video clip shows popular Predators defenseman P.K. Subban shouting details of Landsberg's diamond (a cushion cut, he said) before enthusiastically yelling, "Oh yeah! Oh yeah!"
"(Subban) said, 'Say yes!'" Landsberg told NHL.com, still laughing. "I love P.K.!"
You know, just another day on the ice ... and Landsberg walked away with some serious ice of her own. Congratulations to the happy couple!