Local and federal authorities are investigating the explosion of a recreational vehicle that broadcast a warning to residents before it blew up in downtown Nashville early Friday.
The explosion, which police called an "intentional act," shattered the Christmas morning quiet in the center of the city's business district around 6:30 a.m. CT.
Tissue was found following the blast and authorities are examining to confirm whether it could belong to human remains, according to Metropolitan Nashville Police John Drake. He added that there were otherwise no known fatalities from the blast, and authorities had no advance warning in the days prior that the explosion was imminent.
Three people received non-critical injuries, bricks toppled from buildings blocks away, trees were knocked to the ground, and streets had the charred look of a battleground.
The damage to an AT&T building next to the RV disrupted 911 emergency services and temporarily grounded planes at Nashville International Airport.
According to the police, officers arrived at the scene before the explosion, responding to reports of shots fired around 5:30 a.m. and found an RV parked in front of the AT&T building. A speaker system on the RV was broadcasting a warning about an imminent explosion and telling people to evacuate through what sounded like a recorded female voice.
"They heard the announcements coming from this vehicle, took them seriously and were working to seal the streets to protect folks," said Metropolitan Nashville Police spokesman Don Aaron. "We think lives were saved by those officers doing just that."
The explosion was so powerful it knocked one of the officers to the ground, prompting police to bring in counselors.
"They went through a very traumatic experience," Aaron said.
Officials said they had no sense of the motive of anyone who would set off a pre-dawn bomb in a largely deserted area after warning people to stay away. The explosion disrupted AT&T service around Nashville, the company told The Tennesseean, because of the proximity of the blast to the building.
Smoke and fire could be seen from the area in the wake of the explosion, just across the Cumberland River from the Tennessee Titans' Nissan Stadium and half a mile from the state Capitol.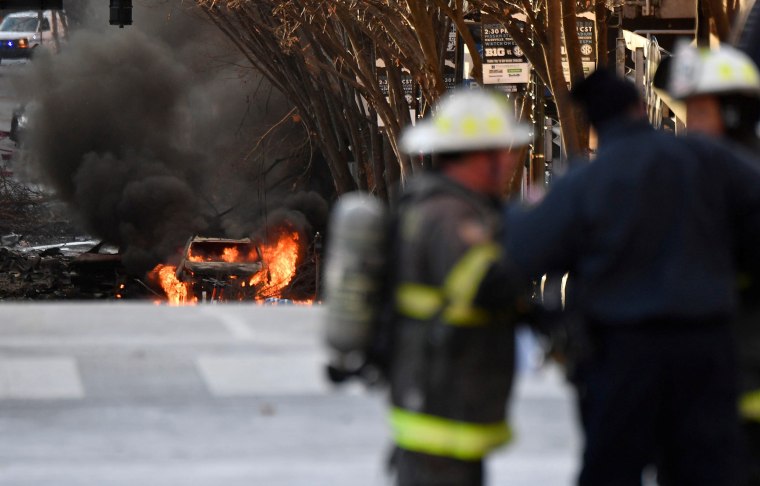 Joseph Pleasant, a spokesman for the Nashville Fire Department, said at a news conference Friday morning that three people were taken to local hospitals with non-critical injuries.
As of 12 p.m. CT, officials said they were not aware of any deaths related to the explosion but added that rescue teams were searching local buildings, as well as assessing them for hazardous material and structural damage. Officials said they weren't sure if anybody had been inside the RV when it blew up. Though police dogs were sniffing for other explosive materials in the area, officials said they did not believe there were other bombs planted.
"There are a lot of moving parts," said Fire Chief William Swann.
Matt Foster, an assistant special agent in charge with the FBI, the agency leading the investigation, said authorities are still combing through what he called a "massive crime scene" and aren't sure who was behind the explosion.
He called on local residents to reach out to the FBI with information.
"Please tell us what you know," he said. "We need your leads. We need your help."
City Councilman Freddie O'Connell, who represents the area, tweeted that "dozens" of his constituents had lost their homes on a frigid holiday morning with snow expected.
"We will work together to get through this and rebuild," O'Connell tweeted.
One of the residents is Betsy Williams, 64, who runs a vacation rental business in a building her family owns across the street from where the RV was parked.
She was sleeping in her third-floor apartment on 2nd Avenue North when she was awakened by the sound of gunfire around 4:30 or 5 a.m., she said in an interview.
"It sounded like it was from an automatic weapon because it was rapid fire," she said, adding that she heard several loud bursts of gunfire, prompting her to call 911.
Williams' son, who was visiting from Georgia for the holiday and was staying in one of the vacation units, noticed the RV parked across the street and thought it seemed suspicious, she said. Then she heard a voice coming from the vehicle warning that it was about to explode.
"It was, 'Evacuate now. This vehicle has a bomb. This vehicle will explode,'" she said.
When the message changed to a countdown, warning that the vehicle would explode in 15 minutes, then 14 minutes, she woke up her 85-year-old sister, who lives in Arizona but was visiting for the holiday, staying in another apartment. She put her cat, Mavis, into a carrier and she and her family got on the elevator around the time the message was giving an 11-minute warning.
They ran to her car, which was parked a block away, and drove across the river to watch from a distance. When nothing happened after 15 or 20 minutes, they started driving back home, she said. That's when they saw the explosion.
"A fireball went up above the AT&T building," she said. "It was a hellacious blast. It was just a big old boom and it blew out the front of those buildings and caused a crater in the street."
Williams and her family are now staying in a hotel with just the pajamas they were wearing when they evacuated, unable to buy a change of clothes since the police have the downtown area shut down.
"I said I wanted to spend Christmas day in my pajamas all day long but I didn't really mean that," she joked.
She's not sure when she'll be able to get back home, or if anything will be left.
"It's terrible," she said. "All of my stuff. All of our Christmas presents. We had all of our stuff laid out, ready to have Christmas stockings and Christmas breakfast and open our gifts and spend all day having a really nice, relaxed Christmas, sipping on a little champagne, and now we're not doing any of that."
Still, she said, she's grateful that whoever planted the bomb issued the evacuation warning, enabling her family to escape with their lives.
"Thank God for that," she said.
Photos posted to social media by the city's fire department showed broken windows, damaged trees and extensive property damage along a stretch of 2nd Avenue North in Nashville. Local TV stations showed footage of walls blown off of buildings.
Nashville Mayor John Cooper said the explosion had destroyed water mains, exacerbating the "drama" at the scene. He estimated that around 20 buildings sustained damage.
"It looks like a bomb went off on 2nd Avenue," Cooper said, "an explosion."
The mayor noted that the damage would have been far worse on a weekday. The typically busy downtown street was fairly sleepy Friday in the early hours of Christmas, Cooper said.
"It would be a different message if it were 5 p.m. on a Friday," he told reporters at the scene.
Cooper issued a civil state of emergency Friday, which imposed a 4:30 p.m. curfew in the area that would go through until Sunday. The mayor also said he was working with Tennessee Gov. Bill Lee to coordinate state and federal resources for the city as the aftermath of the explosion continues for locals.
"I think the message of today is we have gone from relief, now to resolve to catch those folks and to rebuild our city," Cooper said. "And one more challenge in Nashville's 2020 but we will get through it."
A local newspaper reported that the blast from the explosion could be felt from miles away.
The area is mainly home to offices, restaurants and stores but local residents live in apartments and condos that have been renovated in recent years on the upper floors of buildings in the charming stretch of downtown, which is popular with tourists.
Tom Cirillo, 37, said the deafening blast rattled his condo a half-mile away.
"It was a very, very loud sound and was shaking what seemed like the foundation of the building for three or four seconds," said Cirillo, who teaches in a Nashville private school.
The explosion was "surreal," he said in an interview. "You hear about these things in other countries or other places but to think that in Nashville, Tennessee in 2020, there's going to be a car bomb go off not far from where you live is somewhat unbelievable."
Nashville, he noted "is a big city but it's not New York or Los Angeles or D.C."
The area around the blast is mainly home to offices, restaurants and stores but local residents live in apartments and condos that have been renovated in recent years on the upper floors of buildings in the charming stretch of downtown, which is popular with tourists.
The city's bomb squad was on the scene after the explosion, along with agents from the Federal Bureau of Investigation and the federal Bureau of Alcohol, Tobacco, Firearms and Explosives. The Tennessee Bureau of Investigation tweeted that it has agents and dogs trained to detect accelerants at the scene to assist in the investigation, which is being led by the FBI.
A White House spokesman said President Donald Trump had been briefed on the explosion and would be receiving regular updates. A spokesman for the U.S. Justice Department said Acting Attorney General Jeff Rosen had made all department resources available to assist in the investigation.
This story originally published on NBC News.