When a worldwide travel alert is issued, images of victims of violence in the name of religion dominate the headlines. But there are other voices in the story, too.
TODAY's Erica Hill sat down with a group of Muslim Americans — all who were either born in the United States or raised here since early childhood — eager to speak out.
"A lot of people seem to have trouble understanding that American Muslims are American," Haroon Moghul told Hill. "Of course, the most common misconception is we're terrorists or we're sympathetic to terrorism. Or our religion is itself terrorism."
Asked why that misconception has endured, Moghul said it's "the image of Islam that's portrayed publicly."
"We're a very small community in a huge country," he said. "We haven't really invested in explaining who we are and what we believe and what we don't believe."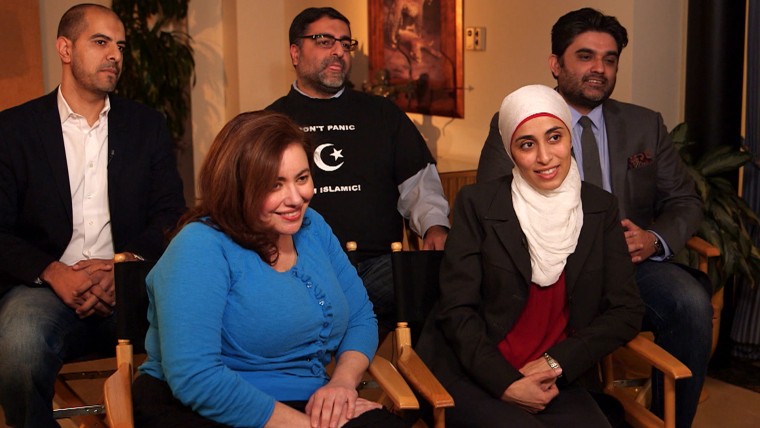 Shayan Farooqui added, "People question our loyalty. And that's perplexing, in the sense that my father's a veteran. There are [Muslim] people in the United States Army right now who are willing to lay their lives down for this country."
Hill asked the group if they felt discriminated against by the way they look.
"That's an easy one when you're a hijabi girl," Afar Nasher said. "Just recently in New York we've had reported incidents of women being spat at, women being cursed at, women being tripped to the ground. 'Go back home.' Threats. It's been a pretty crazy two weeks [since the Paris attacks].
When asked about Republican presidential frontrunner Donald Trump's comments that he wants to "surveil mosques," Farooqui proposed a novel idea.
"My first thought as a Muslim is let's invite him over," he said. "I think Donald Trump just needs exposure to some good old-fashioned Muslim hospitality. It would do him good to see that we're not so different from anyone in his political base."