The world is filled with bad art, but not all bad art is bad enough to make it into the Museum of Bad Art.
That's right, the very real Museum of Bad Art, or MOBA, is looking for art so bad it's good. The Massachusetts museum proudly showcases the work in three galleries, one in the basement of a community theater in Somerville and two in nearby Brookline.
Founded in 1994, the volunteer-run museum has since received attention from around the world, and critics from the New York Times to Harvard scholars have expounded on its influence. MOBA has even released two books, "Museum of Bad Art: Art Too Bad to Be Ignored" and "Museum of Bad Art: Masterworks."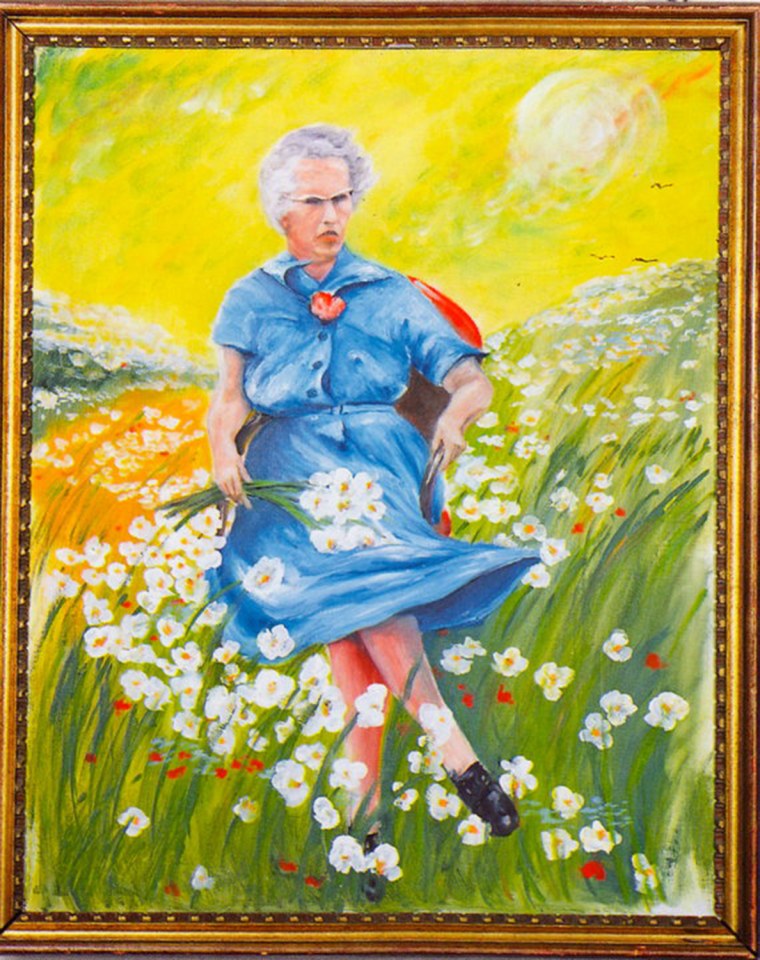 The origins of the museum lie in the painting "Lucy In the Field With Flowers," which antiques dealer Scott Wilson found in a pile of trash in 1994. He showed it to his friend John Riley, who became so enamored of the painting he framed it. Wilson continued to bring Riley pieces of bad art he found at flea markets and on sidewalks, and Riley began to showcase them in his newly white-walled basement.
The pair dubbed the collection the Museum of Bad Art, and when the collection outgrew the basement space, the pair took over the lower level of a community theater in nearby Dedham, Mass.
Mark Frank, an early museum volunteer, was appointed Curator-in-Chief almost 10 years ago.

"I can't pass a yard sale or thrift store or interesting pile of trash without checking it out," he told TODAY.com, admitting that's part of what first attracted him to MOBA. "As soon as I learned about the museum I donated some pieces. I always had an eye out for pieces to donate."
The staff at MOBA feel that bad art takes just as much time and effort to produce as more respected works, and that it deserves to be showcased in the same way as "good art." That's why they chose the guiding motto, "Art too bad to be ignored."
And Frank, who says the museum receives up to 20 submissions a month, insist the work must be original and sincere to make it into the collection.
"It has to be a piece of art that was an earnest attempt to make an artistic statement," he explains, noting that bad art made on purpose won't make the cut. "People submit things all the time that are cynical in an attempt to get publicity."
Once the art is deemed bad enough for the museum, Frank "interpretates" each piece, giving it a title and attempting to analyze the inspirations behind the treasured piece of trash.
"I like to say I 'interpretated' them," he said. "People correct me and say that they don't think that's a word, and I explain that certain images are so vexing that merely interpreting them would be insufficient—they beg to be 'interpretated.'"
In his descriptions, Frank, a freelance musician by day with no formal art history training, isn't afraid to compare the obvious mistakes in the works to similar techniques found in the works of modern masters.
"We celebrate the fact that people attempt to make art for lots of different reasons," he said. "When people go to traditional museums they might not understand why different pieces are important. Here people can just appreciate stuff for what it is."

Though they don't track attendance, Sacco estimates the museum attracts 8,000 people a year with a Facebook following of over 20,000 likes.
Where can you find the worst art in the world? On the walls at the Museum of Bad Art, a Massachusetts gallery devoted to displaying work that's not pleasing to the eye.
Most recently, Frank has started a MOBA YouTube page, where he elaborately "interpretates" the forgotten work just like a curator at the Metropolitan Museum of Art might do, helping to bring the work of MOBA to bad art enthusiasts around the world. Above all, he insist they are not making fun of the art.
"We don't demean anybody; we're not mean spirited about what we do," he says. "We have fun at the expense of the intellectual art community."
Best of all?
"People in the art world know about us," Frank says. "And they get it."