Laila Ali said her personal grief over the loss of her father, boxing legend and social icon Muhammad Ali, has been eased by the global outpouring of love and support.
"The whole world is sad...I don't feel alone. It's not just our family, it's the whole world," she said Monday on TODAY. "Knowing that he's not suffering anymore is what gives me comfort. I've prepared mentally for many years, that obviously one day I was going to lose my father and that time has come."
Muhammad Ali died Friday at age 74. He had been treated for a respiratory problem in a Scottsdale, Arizona, hospital, but the man who often proclaimed himself "The Greatest" also fought Parkinson's disease for 32 years.
Laila Ali, who was the eighth of her father's nine children, recently shared a striking photo of her dad with her son, Curtis, from a Louis Vuitton ad.
"My son is a spitting image of my father when he was young and he has so many of his same similar characteristics and qualities," Ali told Matt Lauer. "And he's definitely going to live on through him. "He's learning more and more as he gets older how special papa actually was."
Earlier in her life, Ali, 38, followed in her dad's footsteps and became a professional boxer. She retired with an undefeated record.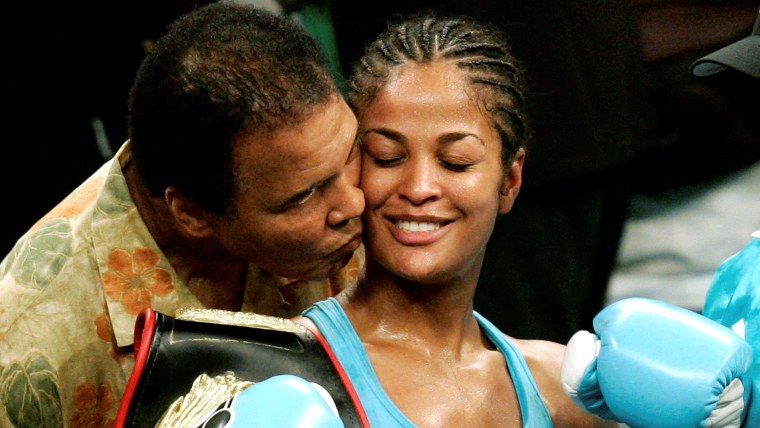 Ali called her father "an open book" who held very little back, including the affection he had for children, his own and others.
"He treated kids that he didn't know the same as he treated us when it came to how much love he showed," she said, noting that some of her dad's humanitarian work focused on helping children.
"He was a loving father. He pretty much gave us everything we wanted, which, now that I'm a parent, that isn't always good. He was a spoiler," she said with a laugh. "But that's what I always remember, just being kissed and hugged, and him just being that person, just giving you anything you want because he wants to see a smile on your face."
Among his many characteristics, Muhammad Ali was known for an unwavering belief in himself. His daughter said she's not sure where it came from but is grateful he possessed it — and passed it down to her.
"It just gives you more confidence to keep going. That's what holds a lot of people back in life," Laila Ali said, noting more people could use such a boost of assurance. "They need inspiration from others to make them strong in areas that they're not naturally strong."
Ali said despite her father's long battle with Parkinson's, she doubts he was ready to give up.
"One of the things he was afraid of was death, and he definitely wouldn't want to just move on. But we're not in control, God is in control," she said.
"It was time for him to go and I know he's in a better place now, and he's talking again and moving again and doing all the things he couldn't do in his body. I'm happy for that, even though I will miss him deeply."