Claire Papoulias, a sophomore at Michigan State University, was sitting in the middle of her Cuban history class on Monday, Feb. 13, when she said she started hearing gunshots directly behind her head.
"Immediately, I dropped to the floor with all my classmates," Papoulias said on TODAY. "Someone was yelling that there was a shooter and everybody needed to get down on the ground, and at that moment I thought that I was going to die. I was so scared."
A gunman had entered Berkey Hall, where Papoulias' class was held, and opened fire as her professor was lecturing, Papoulias told TODAY.
Over the course of the attack on the campus in East Lansing Monday night, three people were killed and five others were seriously wounded before the suspect fatally shot himself in an area off campus, police said.
All of the victims were students at the university, police said Tuesday.
Papoulias said the shooter came through the back door of her classroom and "just started attacking people." She said she didn't hear the shooter say anything before the shooting began.
"I will never forget the screams of my classmates because they were screaming in pain for help," she said.
Papoulias said she kept quiet and then called her mother from inside Berkey Hall. Her mom, Natalie Papoulias, said she was able to hear gunshots in the background of her daughter's call.
"I heard three gunshots and screaming," she said on TODAY. "We jumped in our car and drove up there."
"It was my worst nightmare getting that phone call. When I stood up to head for the car, I felt like my legs were gonna give out because I couldn't believe what I was hearing on the phone," she continued. "We were happy that she was safe. I mean, I feel like she literally like dodged a bullet."
Papoulias said her classmates began trying to break out a window to escape, but it was hard to get through because of the window's awkward shape.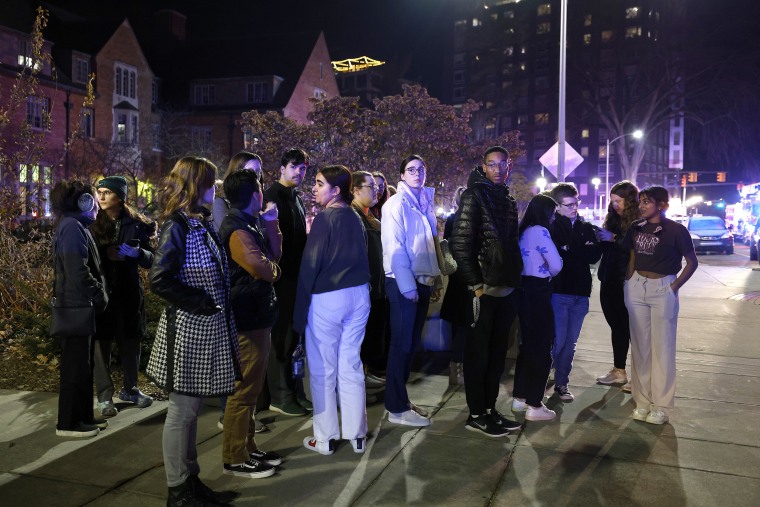 One of her classmates managed to climb out and was waiting outside to catch people as they dropped from above, she said.
"As soon as I like fell out of the window I hit the ground a little," Papoulias said. "And I remember I just ran for my life. I didn't know where the guy was. I assumed he was somewhere in the vicinity. I just looked around and ran."
She added all of her classmates who escaped did the same, running in "all sorts of directions." Some classmates stayed in the back of the classroom to help those who were injured, she said.
Police said the first calls reporting gunfire on campus came around 8:18 p.m.
As officers descended on Berkey Hall, the suspect headed to the MSU Union, Chris Rozman, interim deputy chief of the Michigan State University Police, said at a press conference early Tuesday morning.
Rozman said two people died in Berkey Hall and another died in the student union. The victim's names have not been released.
The five students who were injured were transported to E.W. Sparrow Hospital in Lansing in critical condition, he said.
Four of the wounded required surgery, and all five remained in critical condition as of Tuesday morning, Dr. Denny Martin, the interim president and chief medical officer at Sparrow Hospital, told reporters.
"This truly has been a nightmare that we are living tonight," Rozman said.
The suspect fled the student union, leading law enforcement on a brief manhunt that ended around 11:35 p.m. in the nearby city of Lansing, Michigan. A caller's tip helped lead police to the suspect, Rozman said.
On Tuesday, police identified the suspected shooter as Anthony McRae, 43.
The suspect had no apparent affiliation with the university, and he took his own life with a self-inflicted gunshot wound as officers closed in, authorities said.
"We have absolutely no idea what the motive was at this point," Rozman said at the press briefing on Tuesday.
"He was not a student, faculty or staff, current or previous" he added.
Michigan State University canceled all campus activities, including classes and athletics, for two days, and urged students and staff to stay away from campus.