The two anchors of MSNBC's "Morning Joe" are now engaged to each other.
Joe Scarborough proposed to Mika Brzezinski while the couple went away on vacation, an MSNBC spokesperson confirmed Thursday.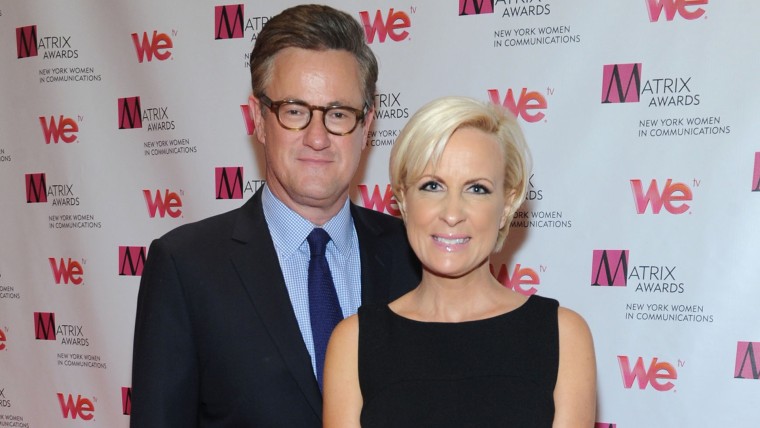 Scarborough, 54, recently addressed their relationship during an interview with The Hollywood Reporter last month. But the former Republican congressman from Florida was coy about the sparks displayed between the couple both on the show and off.
"We have a crackling on-air chemistry, and a crackling off-air chemistry, too," he said.
Scarborough has hosted "Morning Joe" since its creation in 2007. Brzezinski, 50, also has been with the show since its beginning.
Scarborough proposed to Brzezinski on bended knee over the weekend while the couple vacationed in France and Monaco, according to New York Post's Page Six. The two went away to celebrate Brzezinski's milestone birthday.
Brzezinsky revealed details about the proposal in a Vanity Fair article posted Thursday after the news broke. She said the two hadn't been feeling well when Scarborough paused during a walk up a hill.
"His glasses were fogging up he was so nervous. I kept thinking he really must not have felt well," Brzezinski said.
But then Scarborough kneeled down and produced the ring he had been hiding.
"When I saw him on one knee, I started laughing nervously, almost hysterically. And then he asked, and I said, 'Absolutely,'" she said.
This will be Scarborough's third marriage and Brzezinski's second. The two early morning co-hosts have six children between them.
The couple have not set a wedding date, although they told Vanity Fair they have dismissed one possible venue: The White House.
During a lunch the couple had with Donald Trump shortly after his inauguration, their relationship came up in conversation and the president suggested they choose his Florida Mar-a-Lago resort or the White House as a wedding site if they get engaged.
That's when the president's adviser and son-in-law, Jared Kushner, noted that he was licensed to marry them. But according to Scarborough, that's when Trump piped up to say: "Why would you marry them? They could have the president of the United States marry them."
Brzezinski said they've dismissed that idea.
"The mental picture is just fascinating, but the reality is just . . . no. No, no, no, no, no."