After spending a decade working at a nonprofit serving adults with disabilities, Valerie Jensen knew there had to be a better way of helping her friends with special needs.
"I realized that we really didn't need more art classes or craft shows, we just really needed jobs," she said, pointing out that the unemployment rate among people with disabilities is more than 80 percent. "I knew how capable, enthusiastic, and passionate and really amazing workers people with disabilities are, and it broke my heart that there weren't enough jobs for them."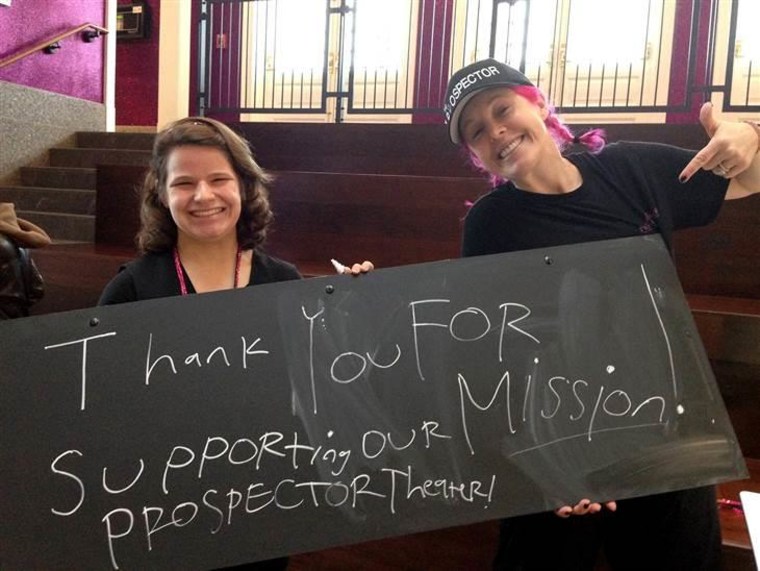 Jensen found a solution in her hometown of Ridgefield, Connecticut, which was about to demolish an abandoned movie theater. She helped raise money to restore the building into a state-of-the art, four-screen first-run theater — and then hired the very people she knew who needed the work and would make exemplary employees.
At the nonprofit Prospector Theater, which opened last November, about 65 percent of the staffers have developmental or physical disabilities. They sell tickets, make popcorn, usher guests to seats, and work in the theater's restaurant, as well as fill out a handful of other positions.
"We've got 85 employees who all love their jobs and who are rocking their jobs," Jensen said.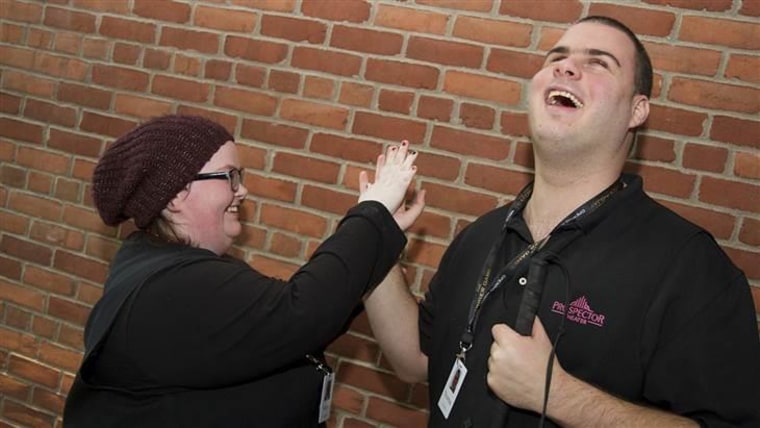 The building also was renovated to specially accommodate both guests and employees with special needs such as hearing or visual impairments. The theater was remodeled so that projection booths could be accessible to workers in wheelchairs. Accommodations also were made inside each theater to place wheelchair space "in the best possible location" and not just the most convenient spot, Jensen said.
"I wanted a premium experience for everyone," she said.
A former second-grade teacher who was inspired by a sister who has Down's syndrome, Jensen said the theater's mission is to provide special-needs adults with meaningful employment and vocational training.
Demand for jobs has been high. She recounted how eight months before the theater opened, more than 300 people arrived at a job fair it sponsored. Because of construction delays, Jensen wasn't ready to call people back for interviews until six months later. Yet, most of the people called still were unemployed.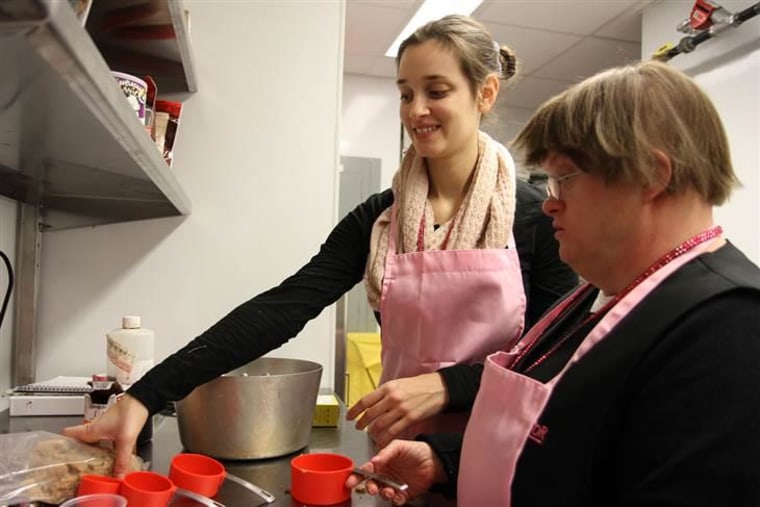 "There is such an amazing, talented job pool of people with disabilities," said Jensen, 39. "What we really hope to show other businesses is that hiring people with disabilities is not just a nice thing to do, it's really good for your business. It's good for your bottom line. It's good for sales. We're talking about such a dedicated work force."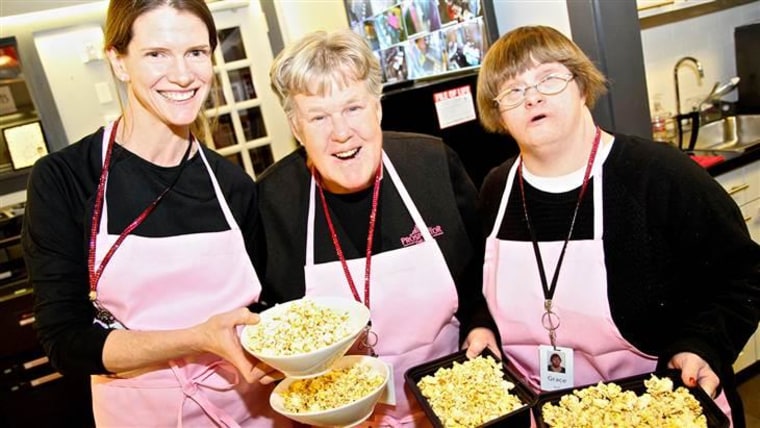 It's also provided a different presence in the prosperous little Connecticut community where it sits. At last Friday's opening of the new SpongeBob SquarePants movie, elementary- and middle school-aged children flooded into the theater, easily mingling with the people taking their tickets or working at the concession stands.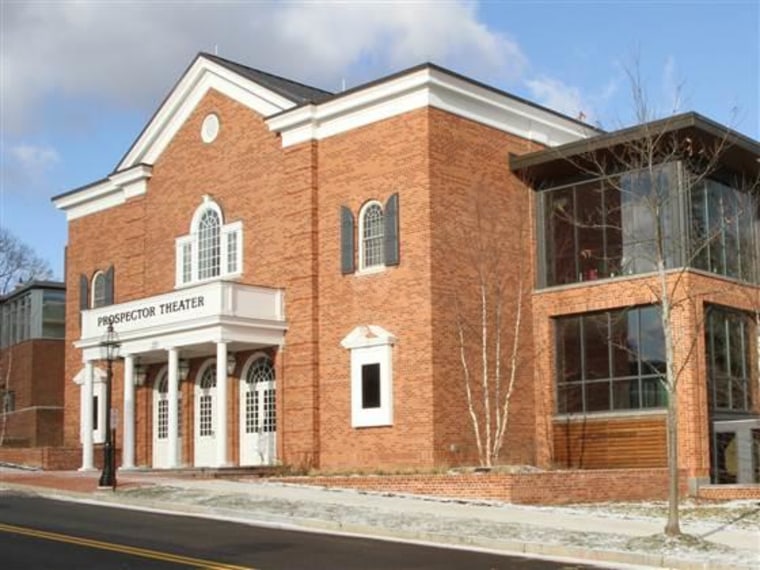 "A lot of people just don't know how to interact and how to communicate with people with disabilities, but here at the Prospector, when they come in and they see our 'prospects,' our employees, doing such a great job, any people's fears or stereotypes completely dissolve," she said. "It becomes something so magical. The meaningful interactions that come out of it are really life changing."
She added that the exposure to the special-needs community doesn't just have an impact on the young. "It's also a lot of older people who just didn't grow up that much around people with disabilities because they went to institutions, or they were isolated in sheltered workshops."
Although the theater got its name from its location — it sits on Prospect Street — Jensen has taken advantage of the name play by calling each of her employees "prospects."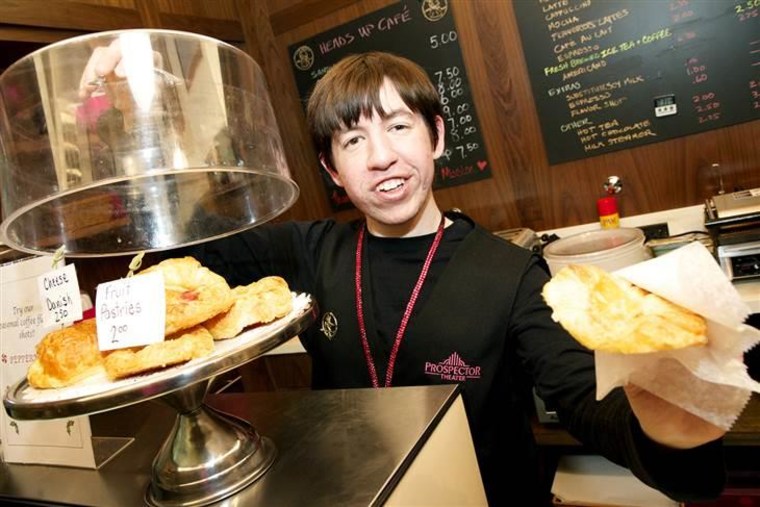 "What I look for is people's passion and what makes them sparkle, so I really view myself as a prospector, and I'm 'prospecting' in my employees," she said. "What we're trying to do is help each of our prospects to turn their passion into a profession. We're hoping one day they will leave Prospector ready to be an employee elsewhere."
Jensen said she plans to hire a transition specialist who can help employees make the bridge from one employer to another. For example, helping someone who works with the children or sets up birthday parties at the theater can be prepared to work at a school or daycare center.
Prospector employment director Emily Pambianchi, who is responsible for assessing an employee's talents and placing them in the right job, said she has seen the confidence levels of workers surge in workers since they first began.
"I love that I have people every day thanking me for letting them work. I mean, how many people get thanked by their co-workers for something like that?" she said. "It's such a beautiful thing to have that kind of moment with someone."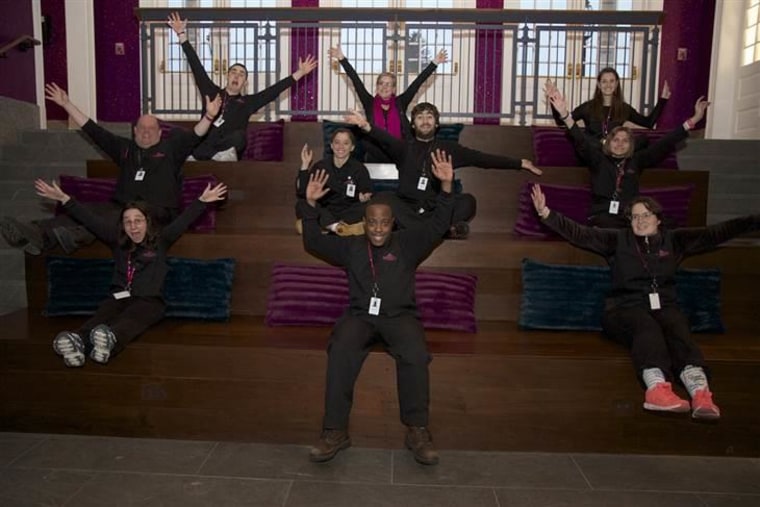 Because the theater is a nonprofit organization, it relies on private and public donations, along with concession sales, to cover operating costs. The building also includes a restaurant and coffee shop that bring in additional revenue sources.
"But when you see the smile on our prospects' faces when they get their paychecks on Fridays, and you see them do that 'paycheck dance,' and it is the best dance you have ever seen, it makes any of the challenges we face just totally poof away into nowhere," Jensen said. "Our employees sparkle. They exceed any expectation that anybody has for them, and it's beautiful to be able to watch that."
Follow TODAY.com writer Eun Kyung Kim on Twitter.