It's a video wedding album that doesn't leave a dry eye in the house — a mother giving away her daughter at a ceremony she might never had attended, at a financial cost she could never hope to meet.
TODAY presented the amazing story Thursday of Jill and her daughter Caitlin in the bride's journey to the altar — a gorgeous ceremony made possible by the Dream Team society at Memorial Sloan-Kettering Cancer Center, dedicated to making the wishes of adult terminal cancer patients come true.
Since its inception in 1988, the Dream Team has fulfilled terminal cancer patients' wishes ranging from trips to Disney World to family reunions, shopping sprees to tickets to sporting events. But to mark its 1,500 granted wish, the society stepped up to provide a dream wedding for Caitlin — and a dream come true for her cancer-stricken mother Jill.
New York resident Jill was diagnosed with ovarian cancer in 2007. Her only daughter Caitlin, breaking into tears, told TODAY: "My grandparents pulled me aside and they told me she had cancer, and it just broke my heart. My mom is such a good person. She doesn't deserve it."
Radiation and chemotherapy in the ensuing two years proved unsuccessful for Jill, and in considerable pain, she decided to stop treatment and live out her days in her own home. An engaged Caitlin had a decision to make, her mom said.
"They (Caitlin and fiancé Jim) were going to get married next fall, then they saw what I looked like back in January when they came to visit me," she said. "They surprised me the following week by calling me and telling me they had moved the wedding up, and I knew exactly why."
Caitlin and Jim decided on a March 21 ceremony "so my mom could be at the wedding," Caitlin said. "She's my maid of honor so I really wanted my mom to be there and see me get married."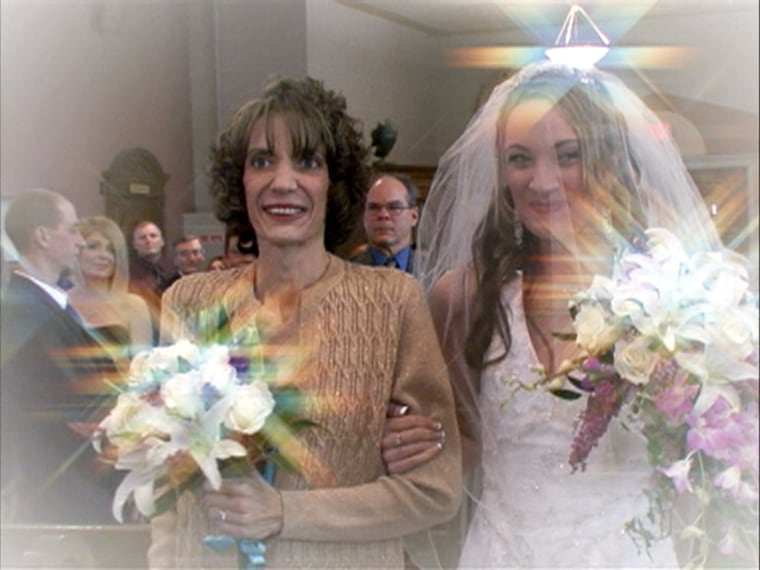 A major problem still faced the family. Jill's cancer treatment proved so costly it left her in financial distress, with no way to foot the wedding bill. Then the Dream Team at Sloan-Kettering sprung into action, taking on all money matters from the cost of flowers and wedding cake to the fee for a wedding planner and wedding photographer.
The event went off without a hitch at Assumption Church in Peekskill, N.Y., followed by reception at the Riverbend Condominium Complex. Needless to say, there was a collective lump in the throat of the 50 guests as Jill walked Caitlin down the aisle.
"I feel good that I got to be there and I got to give her away," Jill told TODAY. "My one and only child — she's my baby."
Added Caitlin: "I'm glad my mother was there to se everything and be there. I couldn't have asked for anything more."
Find out more about The Society of Memorial Sloan-Kettering Cancer Center and its mission by or calling(212) 639-7972.