The Texas woman whose quest for a chest full of gold ended in a frightful, freezing night in the New Mexico wilderness was reunited Tuesday with her rescuers.
Earlier this month, Chanon Thompson drove 10 hours from her Dallas home to Bandelier National Monument, where she spent the day exploring.
"I had the urge to go find the treasure and I'd looked and I knew that even if I didn't find the treasure that something was pulling me here," she told TODAY.
By nightfall, she had gotten lost among the heavy brush. She ended up spending the evening trying to find shelter from sleet and freezing temperatures.
Read: New clue revealed in hunt for New Mexico treasure chest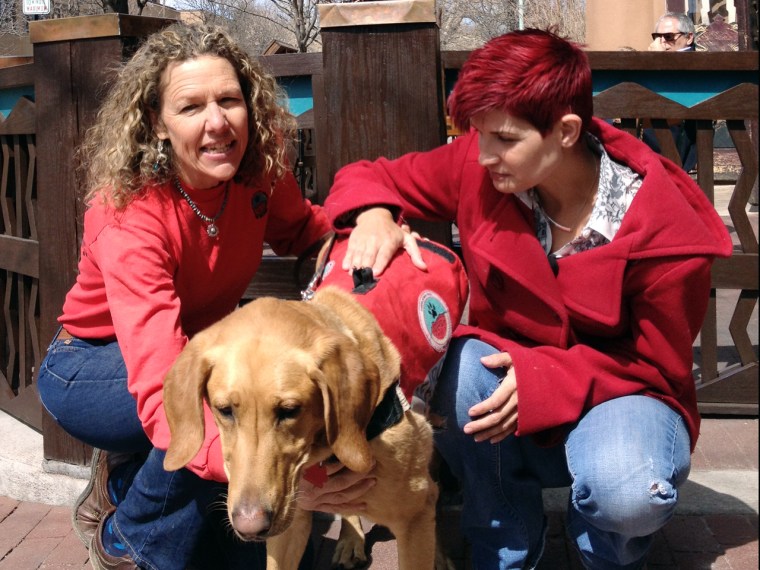 When she failed to check in with home, Thompson's boyfriend called authorities, who launched a search effort. She recently returned to Santa Fe to thank a pair of her rescuers.
Reunited Tuesday, searchdog Callie greeted Thompson with slobbering kisses and a fast-wagging tail, while the dog's trainer, Cindy Oliver of Sandia Search Dogs in Albuquerque, embraced the treasure hunter. "I want to tell you how thankful I am," said Thompson.
'I knew I had to stay calm'
Thompson learned of the treasure hunt on TODAY.com. She read the nine clues in a poem in his self-published autobiography and decided she knew where it might be.
The college student and mom planned a trip to the New Mexico mountains to locate the bronze chest full of gold coins and gemstones that Fenn said he hid.
Read the original clue-poem here
On March 8, armed with a black back pack filled with warm clothes, area maps, water and a flashlight, she parked by the trail she thought would lead her to the spot. Worried the heavy pack would slow her down, she left most of her provisions in the car.
She hiked the rocky trail for most of the day. As sunset approached, temperatures started plummeting; then came sleet. "That's when I knew they were going to be issues," Thompson said. She called her boyfriend Tom. "I told him it had started sleeting and I was trying to get back to my entrance point," she said. She promised to call back in 15 minutes, but lost her cell signal.
A 10:47 p.m. Los Alamos police department dispatchers got a call from Thompson's boyfriend saying she had gone missing. The New Mexico Search and Rescue team was called to duty. "The weather that night was really bad," said rescuer Oliver. Authorities forced open Thompson's vehicle and took out a piece of clothing so Callie could pick up Thompson's scent.
Click here to read more about the tenth clue
Thompson sought refuge between two boulders. Her sweatshirt soaked, she curled up in a ball, buried her face in her T-shirt and focused on breathing. She wrapped her elastic sports bra around her ears. "I knew I had to stay calm," she said. She slipped in and out of sleep.
As dawn broke, she stepped out of her shelter. Callie perked up when she spotted her. "She was dehydrated and complained about being nauseous," said Oliver. "She was really happy to see us."
The rescue worker wrapped Thompson in a coat. "They were so helpful and kind," she said.
Thompson says her treasure hunting adventure was much more than just a search for gold. "Your spirit is bigger than you think it is and sometimes you need to be challenged," she said. "I found what I needed; I found my strength."
Although she didn't walk away with the treasure, Thompson said she feels she already won a prize.
"It's about what you take on personally to challenge yourself and you'll get your own treasure," she said.
Eun Kyung Kim contributed to this story.
Read more:Want to find his treasure worth millions? Head outdoors