A decade after a horrific car crash that killed her husband and seriously injured her young son, Kellie Haddock has been on a mission to track down and thank all of the doctors, nurses and medics who saved the life of her baby boy.
Just three months before that devastating crash on a Florida highway, Haddock and her husband, A.J., were celebrating the birth of their son, Eli. But in the aftermath of the accident that killed A.J. instantly, Kellie was airlifted to a local hospital with Eli, who'd suffered a traumatic brain injury.
"I am riding in a helicopter and I hear the steady whooshing of the blade over my head," Haddock recalls in the "My Story" section of her website. "I'm strapped down on the gurney and look to my right. I see our tiny baby boy, fighting to cry but not making a sound, pale with wires sticking all over him."
Doctors warned Haddock that, even if Eli survived, he might never walk or talk.
Despite a daunting prognosis, Haddock wanted to thank the medical professionals who did what they could to save Eli's life. Ten years later, she's following through with "The Thank You Project," a documentary that's not just offering thanks to the doctors, nurses and medics, but also allowing for a kind of catharsis.

"There was a team of heroes that helped saved my son's life," she said, while taping her documentary. "And ever since then, I've dreamed of finding them and going back and thanking them."
Haddock brought the video camera with her on a recent visit to the Orlando-based Arnold Palmer Hospital for Children, where staffers helped Eli recover from his brain trauma. She told one doctor, "You were the first doctor who believed in us, and believed in me, and believed there was a solution to help Eli get better."
Addressing a nurse, she said, "You were just such an important part of saving his life."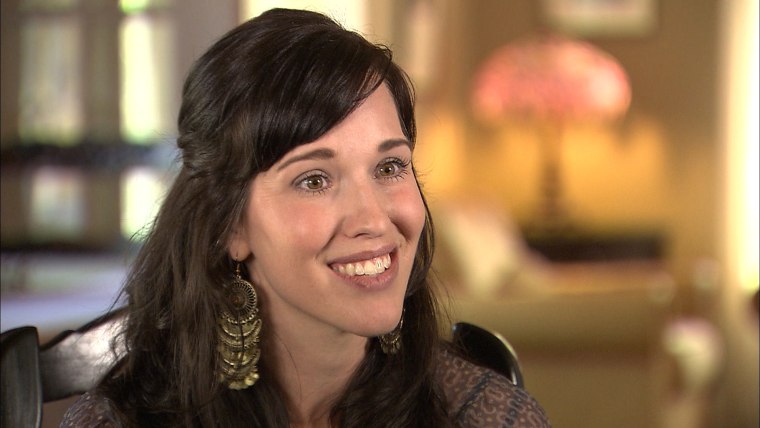 Haddock's words moved one nurse, who was in tears while replying, "I've never been thanked."
A singer-songwriter, Haddock went a step further in her efforts to pay tribute to these medical professionals. She invited them to a concert to celebrate their deeds — and Eli's recovery.
"Eli's alive," Haddock said, "and he's walking and talking and he's showing tons of emotion, and he's a joy."
Haddock has since remarried, and while Eli still suffers from the effects of the accident, he's in many ways still a normal 10-year-old boy.
Dr. Shoba Srikantan of the Arnold Palmer Hospital said there's a lesson to be learned from the experience.
"You can go through a tragedy and still come out OK," Srikantan said. "There's time for healing."
At a screening of Haddock's documentary, critical-care nurse Jodi McDuffie was overwhelmed by what she saw.
"It's hugely meaningful," McDuffie said, "and you realize, I did the right thing by signing up to be a nurse."
Haddock, too, has found meaning since the accident.
"We don't get to choose tragedy, but we can choose how to respond to tragedy," she added. "And I did not want to let that tragedy rob Eli and I of life."
Follow TODAY.com writer Chris Serico on Twitter.