When Laura Sclafani was diagnosed with breast cancer in 2012, she knew one place she could always find comfort during the biggest battle of her life.
"You think of my family and all you do, it's football,'' she said on TODAY Friday. "In football, you work together to get the ultimate goal. Without our football family, I would never have gotten through my cancer.
The mother of two boys from New Jersey is the daughter of a Hall of Fame high school coach, Chip LaBarca Sr., and the wife of a former football player at Rutgers, Carmen Sclafani, Sr., so the game has long been part of the fabric of her life. When she received her diagnosis, the field became a refuge as she watched her sons, Joe and Carmen, play for Brick Township High School in 2013.
"You have your 'family family' and then you have your football family,'' Joe said. "And at that point, they crossed paths."
"From Day One, my family became a team,'' she said. "My sister was like the quarterback. My boys, my mom and dad, they were all just taking care of me."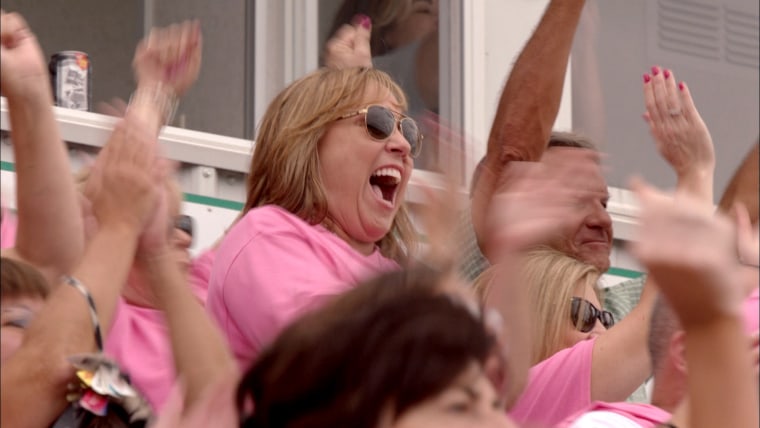 Laura, whose story is the latest installment of TODAY's "Together We Make Football" series with the NFL, was an inspirational figure during Brick's run to a state title in 2013 for its first state title in 19 years. Her story is being highlighted as part of Breast Cancer Awareness Month, with NFL teams sporting pink to support the cause as part of the league's Crucial Catch initiative encouraging regular breast cancer screenings.
RELATED: Tell us your story and win a trip to Super Bowl 50
It was at one of those screenings in November 2012 where Laura was diagnosed following a mammogram and underwent surgery, but the cancer had spread to her lymph nodes. At that point, her biggest worry was not about herself.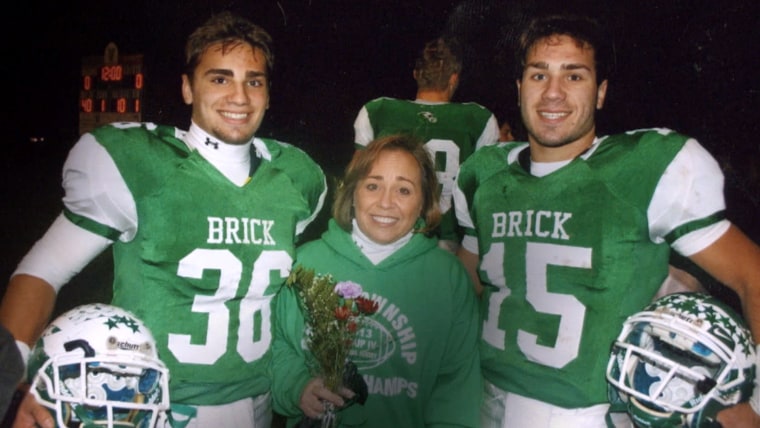 "When I was first diagnosed I said, 'I just want to be OK to be able to see them play football,''' Laura said. "And I know to some people that might sound crazy, but that got me through my cancer.''
With the support of her family and friends, she finished eight months of grueling treatments and was in remission before the 2013 football season began. She was there every step of the way as her sons took part in a journey that ended with the program's first state championship since 1994.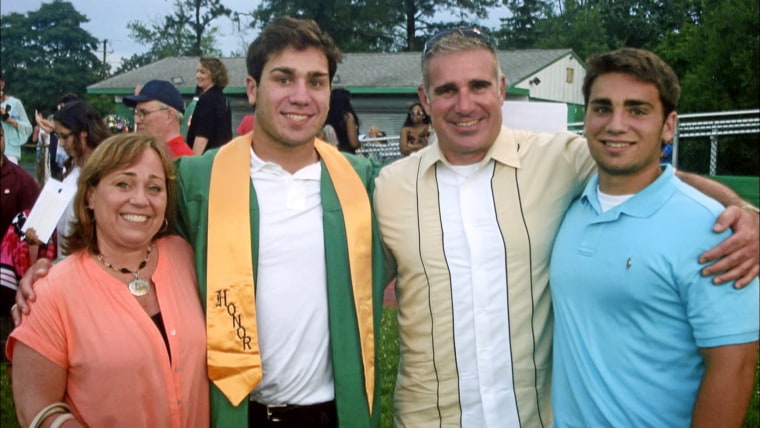 Carmen helped lead the way as an all-conference quarterback in his first season at Brick after transferring from Toms River High School North, and Joe was a sophomore running back on the team. Carmen is now a freshman baseball player at Rutgers University, while Joe is a senior at Brick, which is off to a 4-0 start this season.
"I know my boys love me a lot, and just to have them win, I know that made them so happy, so that made me so happy,'' Laura said. "They kind of got a reward for being there for me for that year. Me beating cancer and then my boys winning a state championship, I couldn't have asked for more."
As Laura cheered in the stands, Carmen ran for 100 yards and two touchdowns and also threw for 100 yards in a 26-15 win over Colts Neck in the championship game in 2013. Coaching him the whole way was Laura's brother, Chip LaBarca Jr., who was Brick's offensive coordinator.
"When my mom got sick, we knew that she was going to win,'' Carmen said. "There was no doubt in my mind that she was going to beat cancer, and that was kind of the same mentality that we had on the football field."
Follow TODAY.com writer Scott Stump on Twitter.