A North Carolina mother of three who lost part of her arm in a shark attack while vacationing in the Bahamas said she feels grateful she escaped with her life.
Tiffany Johnson, 32, and her husband were snorkeling earlier this month in the waters off Paradise Island when she felt something knock into her right arm.
"It didn't hurt. It just honestly felt like I had bumped into something," she told TODAY. "I just kind of turned casually to see what I bumped into and when I turned I was face-to-face with a shark."
Johnson said she didn't feel any pain, but the clear waters around her immediately turned murky with her blood.
"I remember thinking, 'This is not the end for me. I am not going to die here. He is not going to take my life,'" she said.
Johnson's husband, James, rushed over after she began screaming for her help.
"Half of her arm was gone, so I figured it was a shark, but the only thing that was in my mind was going out there to save her," he said.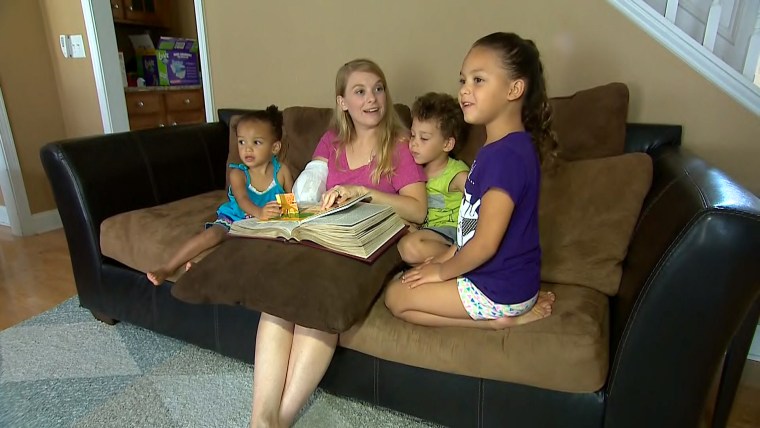 The pair made it back to their boat, where Johnson stayed level-headed, despite severe arterial bleeding. Knowing that shore was 20 minutes away, she gave her husband specific directions that may have saved her life.
"I was calm. I told him go get something, 'Go get a towel. I have to wrap it up,'" she said.
Johnson said despite her calm demeanor, she knew how dire her circumstances were.
"I closed my eyes and I just began to pray hardcore prayers," she said.
James Johnson said he was stunned that his wife remained her usual composed self throughout the ordeal.
"For her to be able to keep (calm) ... I've never seen anything like it," he said.
Johnson was taken to a Nassau hospital where she underwent surgery. She was later taken by medevac to Carolinas Medical Center in Charlotte for additional surgery.
Today, Johnson is inspiring others with her perspective about surviving her frightening attack.
"It's just a limb, I mean. I'm here you know, he has me as his wife, my kids have me as a mother, you know?" she said. "And I have my family and I'm alive so I'm grateful for that for sure."