/ Source: TODAY staff and wire
Kansas City police took the unusual step Thursday of announcing that the parents of a missing 10-month-old girl are no longer cooperating with the investigation.
The baby's parents, Jeremy Irwin and Deborah Bradley, responded on TODAY Friday.
"We were at the station yesterday being interviewed again, and I just had reached my boiling point and asked them, 'Guys, I can't do this anymore today, I need a break, (and) I can't answer any more questions,''' Jeremy Irwin, 28, told Matt Lauer. "The next thing we knew was the press conference yesterday. We want to make sure that we tell everybody that we're still cooperating, we're still talking to police, (and) we're still doing everything we can to try to find Lisa and bring her back home.''
On Friday, the FBI confirmed to NBC affiliate KSHB that more than a dozen officers combed through the Deffenbaugh Industries Johnson County landfill, located about 23 miles from the Irwins' home, for a second time in connection with the case.
"They are just going out there making sure they are completely thorough," FBI spokeswoman Bridget Patton said.
Deffenbaugh Industries spokesman Tom Coffman said authorities arrived at the landfill around noon and stayed for about two hours. He said investigators searched a 20- to 30-acre area.
Baby Lisa Irwin's parents say she was snatched from her crib sometime Monday night or early Tuesday. On Thursday night, Kansas City Police Department captain Steve Young announced at a press conference that Irwin and Bradley "decided to stop talking to detectives, and I don't have to illustrate how that affects the investigation. That speaks for itself.'' The police still say there are no suspects in the case.
"We don't have any hard feelings,'' Deborah Bradley told Lauer. "We're not mad. We understand this is what they have to do. We're not angry. We just want our daughter back.''
Bradley, 25, also admitted on Friday that she had failed a voluntary lie-detector test that was administered by police.
"They said that I failed, and I continue to say that's not possible because I don't know where she's at,'' Bradley said. "I did not do this. I don't remember which one (question) it was. They just kept saying I failed, I failed, and I said that's not possible. What do you say when someone tells you that, and you know you didn't do anything?''
The couple told the Associated Press that police have treated them like suspects and that Bradley in particular has been preparing for the possibility of charges being filed against her.

The mother said detectives told her: "'You did it. You did it. And we have nothing.'"
"The main problem I think that we're facing is that everybody (else) has an alibi," Irwin told the AP. "I was at work. I've been cleared. All these other people we were worried about ... the FBI said they've been cleared. The only one you can't clear is the mother that's at home when it happens 'cause there's nobody else there."
Irwin has not taken a lie-detector test but said he would undergo one if necessary.
"I'd be willing to do whatever it takes to bring my daughter Lisa home where she belongs, and if that's what it takes, that's what we can do,'' Irwin said.
"We don't care what anybody says or thinks, or what (police) think,'' Bradley said. "Our concern is to find our Lisa and bring her home because that's what we want. I don't care what we have to go through to get it.''
In a statement Thursday night, the parents insisted they've been cooperative.
"We saw the press conference at 7 o'clock and want the public to know that we have never stopped cooperating with the police,'' said the family statement, delivered by Irwin's sister, Ashley. "We've been cooperative from day one, and we continue to assist the police with the investigation. The main goal has always been to find Lisa and bring her home. That remains the sole focus of the parents.''
There is speculation that the police are trying to pit the parents against one another to determine if one of them had anything to do with their daughter's disappearance, which occurred in the early hours of Tuesday morning. Both were asked by Lauer whether they had any suspicions that the other one may be involved in their daughter's abduction.
"We've been asked that millions of times and there's no doubt in my mind,'' Irwin told TODAY. "There's no way — she couldn't have anything at all (to do with it).''
"He's a good father,'' Bradley said of Jeremy, her fiancé. "He's good to me, and he loves (Lisa). Everybody loves her. There's no way. We don't know, which is why we need everybody to continue to look for her and help us in any way that they can because we want her home, and we can't do this alone. We need everybody's help. ''
Investigators lifted manhole covers and searched the wooded area near the couple's home again late Thursday for any sign of Lisa Irwin. Now, they have taken down the crime scene tape around the home and have shut down their nearby mobile command center.
Bradley thanked the FBI, Kansas City police, and the National Center for Missing and Exploited Children for their efforts in the search for their daughter.
"We are extremely grateful,'' she said. "We just ask that everybody please continue to look for her and pray for her safe return.''
Authorities announced Thursday they were shutting down the command post about a mile from the family home. Police spokesman Darin Snapp sent out a news release saying authorities believed they had done everything they could "regarding geographic searches."
Authorities released few other details and reiterated they still have no suspects. Kansas City police spokesman Steve Young declined to elaborate on what would happen to the investigation without the parents' cooperation.
"Tonight, they decided to stop talking to detectives, and I don't have to illustrate how that affects the investigation. That speaks for itself," Young said.
Earlier in the day, Irwin and Bradley spoke to the media about frantically searching their home for any sign of their daughter after her father came home from work early and she wasn't in her crib. They said they found an open window, an unlocked front door and house lights blazing, and later discovered that their three cellphones were gone.
But Young said the parents' claim that whoever took their daughter also stole their cellphones hadn't produced any leads.
"They told us three cellphones were missing. It hasn't produced anything we can go forward with," Young said. "The investigation is directed and handled by hard information."
Kansas City police spokesman Steve Young said Thursday night that Deborah Bradley and Jeremy Irwin have decided to stop talking to detectives. He didn't provide details, but he did say their failure to cooperate could hurt the investigation.
"They clearly don't want to participate," Young said.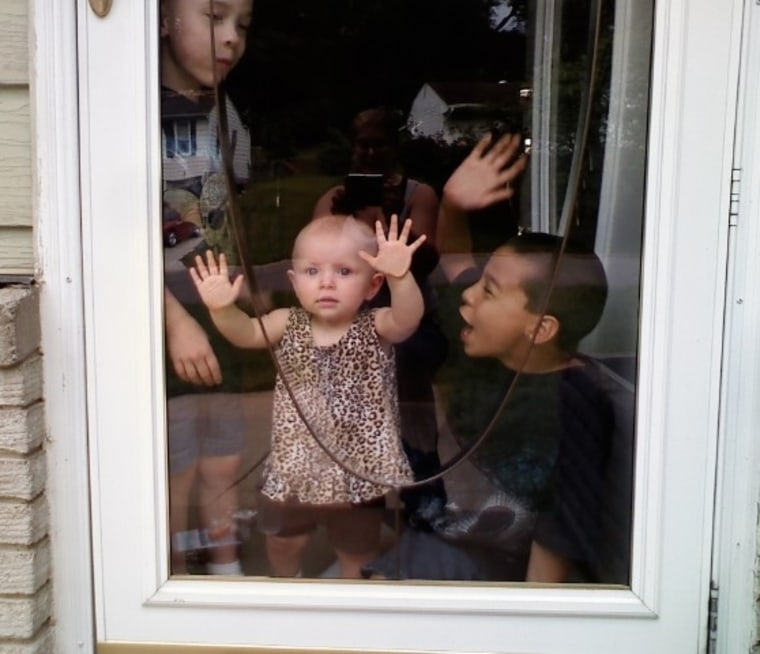 Asked after the news conference what would happen to the investigation without the parents' cooperation, Young said he could not comment.
Of the 278 infant abductions nationwide in the past 28 years, only 12 of those children did not return home safely, according to the National Center for Missing and Exploited Children, which is assisting the family with the case.
Parents and family members are often the main suspects in child abductions. Of the 800,000 children that are reported missing every year in the United States, an estimated 200,000 are abducted by family members and 58,000 by non-family members, usually with a sexual motive, according to the National Center for Missing and Exploited Children.
The Associated Press contributed to this report.