Margot Gerster was admittedly "heartbroken" over Hillary Clinton losing the presidential election when she decided to take her daughters hiking to clear her mind on Thursday.
Gerster, 30, was in the woods in Chappaqua, New York, when she heard some leaves rustling, and out stepped Hillary and Bill Clinton, who were walking their dogs to ease their minds themselves.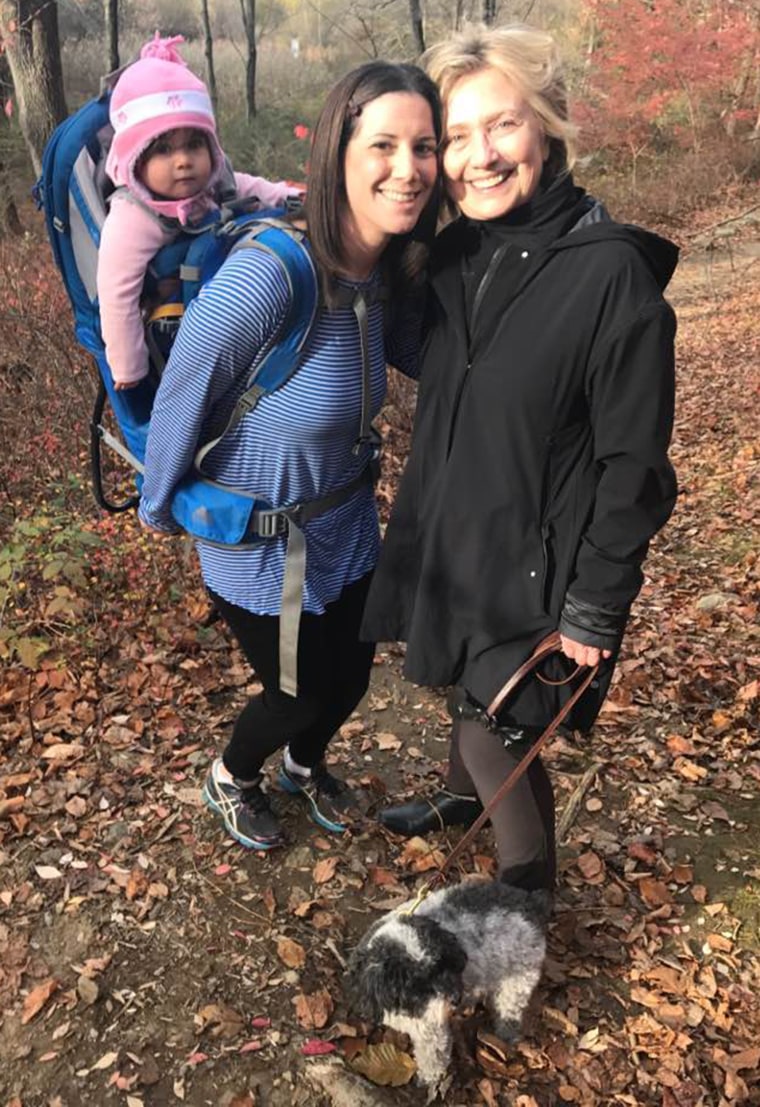 Gerster later posted a picture with Hillary that was shot by Bill after their serendipitous meeting and posted it on Facebook.
"It was wonderful to see her,'' Gerster told TODAY. "She was gracious and kind, and I told her that all day yesterday, all I wanted to do was hug her and tell her how proud I was to bring my daughter to vote for her, and I actually got to tell her that."
RELATED: Hillary Clinton aces 'Mannequin Challenge' (with Bon Jovi) to encourage voting on Election Day
It marked the first time Clinton had been seen in public since her concession speech on Wednesday morning after losing to Donald Trump. The Clintons have had a home in Chappaqua in Westchester County since 1999.
Clinton asked about Gerster's 13-month-old daughter and generally appeared to be in good spirits.
"I thought she looked wonderful,'' Gerster said. "She looked strong and powerful and was smiling and happy."
Gerster, a stay-at-home mom and former preschool teacher, had previously met Clinton about 15 years ago at a fund-raiser, but it was a brief encounter in which Gerster didn't speak to her and just took a quick picture. She also had bumped into Bill at a local Starbucks a few weeks earlier.
She was thankful for the random encounter on a day where she was still upset about the outcome of the election.
"I feel like it was more my chance to bring her comfort by telling her how proud I was to vote for her with my daughter,'' she said. "It's important to me that people know the reason I took the picture because for a lot of people it seemed like a dark time yesterday. I hope that it brings people hope or comfort."
Follow TODAY.com writer Scott Stump on Twitter.