Trapped in a mall in Nairobi with her three young daughters as Islamic terrorists stormed the building, Katherine Walton was able to get to safety thanks to a group of courageous men.
An iconic photo from the attack shows Walton's 4-year-old daughter, Portia, fleeing into the arms of Abdul Haji, the son of a former Kenyan security minister. As authorities filled the Westgate shopping mall with tear gas to stop the attackers, he encouraged Walton and her daughters to run toward him.
"Abdul Haji and a group of just regular men with some plainclothes police officers, they risked their lives and came in and rescued us,'' Walton told Matt Lauer on TODAY Monday. "And it wasn't just me: They went through the mall floor by floor, shop by shop, and got so many people out of the mall. We got to meet him last night, and it was such a wonderful reunion."
At least 72 people have been confirmed dead from the attack, which Somali terror group al-Shabab has said was carried out in revenge for Kenya's involvement in wresting Mogadishu, capital of neighboring Somalia, from the group's control.
Walton, 38, and her five children all were able to make it to safety, but during the shooting, Walton was separated from her two sons, who were in another part of the mall, hiding in a supermarket bakery. 
"It was pretty stressful, but I didn't realize it,'' Walton said. "I thought my boys were already able to get out, but they weren't. It wasn't until after I was rescued that I realized they had been in there the entire time with me. I was just going to wait for my boys, and when the shooting broke out, I ran and dove behind the little advertisement booth they had there in front of the store."

Her husband, Phillip, 39, an information technology worker, was in North Carolina on a business trip during the ordeal. The family has lived in Kenya for two years after previously living in San Antonio, Calif., and Charlotte, N.C.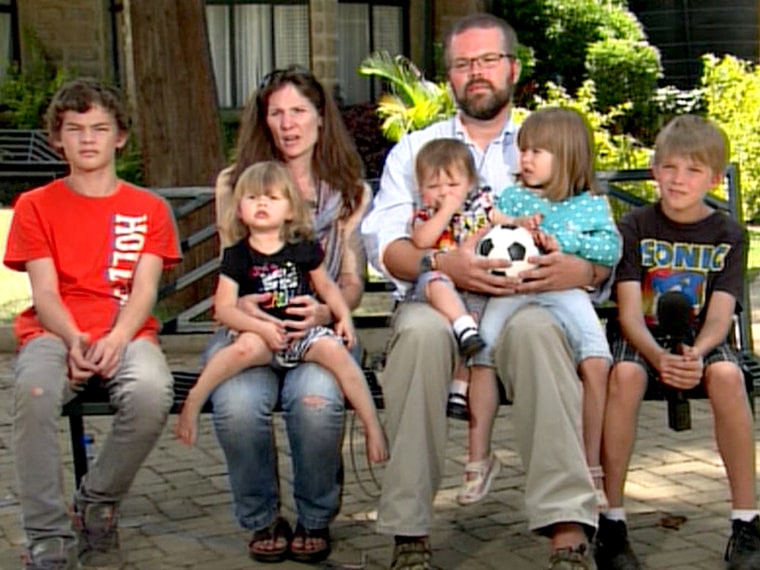 "I was trying to follow news reports as they came in,'' Phillip told Lauer. "I had a close friend who was keeping me updated via Facebook. You just feel very helpless when you're 9,000 miles away and you know that your entire family is going through something like this."
Katherine and her children were trapped in the mall for four hours before they were rescued. 
"They cried initially, just at the very beginning, and then after that they got very quiet,'' Katherine said about her daughters. "They laid very still, almost like they went to sleep the entire time. It wasn't until they threw the tear gas in that they kind of perked up a little bit and started complaining about the smell.
"As soon as I got out, my pastor was there to greet me, and he was able to tell me that my boys were out. My husband's business partner was there as well, and they scooped us all up and took us to a friend's house, and we were able to be reunited there with my boys."