Diagnosed with a fatal disease, journalist Susan Spencer-Wendel decided to maximize the time she had left while creating memories her family and friends could cherish long after she is gone.

Spencer-Wendel, 46, learned in 2011 that she has ALS, a neurodegenerative disease that destroys muscles and inevitably causes paralysis and death. She promptly spent a year living out her bucket list with her husband and three children, chronicling every moment on her iPhone with the tapping of a thumb. Her journey is recounted in her heartfelt memoir, "Until I Say Good-Bye: My Year of Living with Joy," which went on sale Tuesday.
"The message in the book is to live every day like it's your last, because you don't know," her sister, Stephanie Harwood-Parlamento, told Natalie Morales on TODAY Wednesday. "And ... to live it with joy."
Read an excerpt from "Until I Say Goodbye: My Year of Living with Joy"
Spencer-Wendel has already nearly lost her speech from the crippling effects of ALS, better known as Lou Gehrig's disease. After her diagnosis, the award-winning criminal courts reporter for The Palm Beach Post in Floridasoon needed to have her husband cut her food for her at dinner and lost the use of her left hand.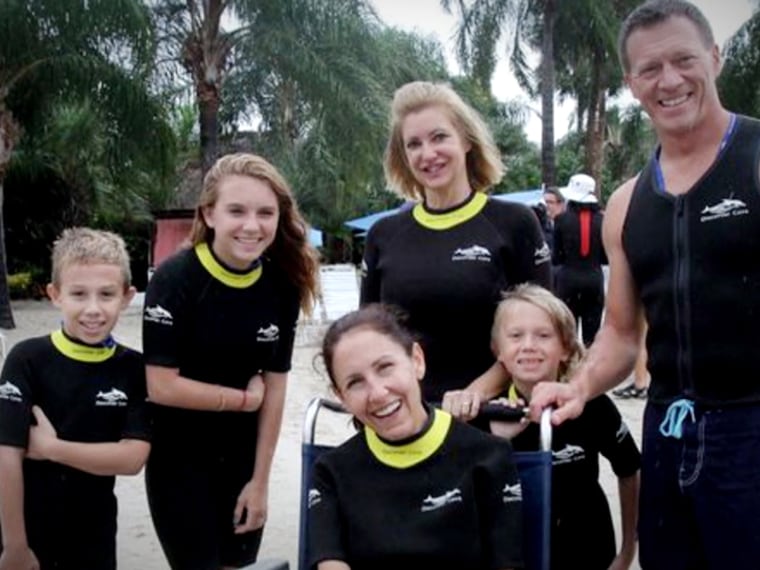 Feeling she had no time to waste, Spencer-Wendel spent a whirlwind year traveling. She saw the northern lights in the Yukon with a lifelong friend, took a cruise with her sister, celebrated her 20th wedding anniversary in Budapest with her husband, and traveled with each of her three children.
"She's always just so fun-loving," her lifelong friend, Nancy Maass Kinnally, who accompanied her to the Yukon told TODAY. "She never once broke down and cried. I thought, 'How did you do that?' And she said, 'Because of you.'"
She grew closer than ever before with her sister, who has vowed to help Spencer-Wendel's husband, John, raise the couple's three children.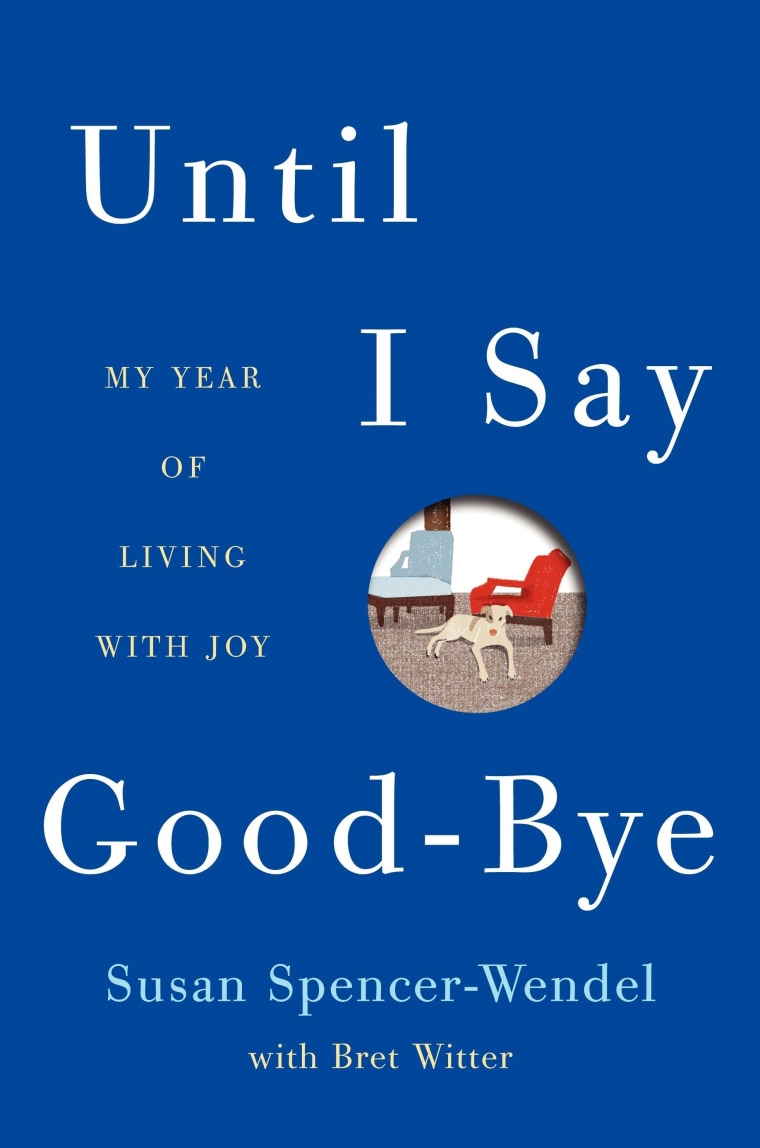 "I don't want her to ever feel like she has to worry about anything," Harwood-Parlamento told TODAY. "I said, 'I'll crawl in, and I'll hold you and I won't let you go. I'll be with you through the end.'"
Spencer-Wendel took her son Wesley swimming with dolphins for his 9th birthday, and went to Sanibel Island in Florida with 10-year-old daughter Aubrey. She also took daughter Marina, who was 14 at the time, to New York City, to try on wedding dresses at Kleinfeld Bridal.
"I wanted to see my beautiful daughter on her wedding day," Spencer-Wendel wrote in her book. "I wanted to glimpse at the woman she will be. A moment I will never share."
Spencer-Wendel's decision to celebrate time with her family came during a dark time.
"I thought of suicide about as often as you see a butterfly," she wrote. "It would flutter into my mind, and I would study it, marveling at its symmetry. Then it would flit away, and I would forget, for it was only a passing thing. Until it returned the next day, and the next."
One day her husband stumbled on a books about suicide that she had purchased. She assured him that she was not going to end her life that way.
"I do not think my death will ruin my family's lives," she wrote. "But I realize the way I die may affect their ability to live with delight. To live with joy. A suicide would teach my children that I was weak. When I am strong."
The love of her husband John, her high school sweetheart, helped her realize how much she had to cherish.
"I thought of the love I had known in my life," she wrote. "That most perfect, selfless kind. I have known remarkable love. I am content no matter what happens tomorrow."
"She's sort of my inspiration," John told TODAY. "I take cues from her. Every day I wake up, and I think, 'this is just horrible.' Then I go in, and I'll see her wake up, and I'm like, 'Oh, you're smiling? I probably should be, too.' That's what's getting me through."
John was with her in Miami when she received her diagnosis on June 22, 2011. Afterward, the two sat in the parking lot of a nearby Burger King as Spencer-Wendel vowed to spend her remaining time wisely.
"To take the trips I'd longed to take and experience each pleasure I'd longed for as well," she later wrote about that day. "To organize what I was leaving behind. To plant a garden of memories for my family to bloom in their futures."
Spencer-Wendel has recorded a lullaby that she sang to her children. Her book also begins the process of saying goodbye.
"I leave you, my children, the memories of all we enjoyed and discovered," she wrote. "I leave this book. The one I worked on each day for most of our magical year. G-O-O-D-B-Y-E my loves."
More: