Jeremiah Green, a founding member of the band Modest Mouse, has died from cancer at age 45.
Modest Mouse shared the tragic news about the band's drummer on Instagram on Saturday, Dec. 31. The post featured a portrait of Green, with the news of his death shared in a short statement in the caption.
"I don't know a way to ease into this: Today we lost our dear friend Jeremiah," the caption read. "He laid down to rest and simply faded out. I'd like to say a bunch of pretty words right now, but it just isn't the time. These will come later, and from many people."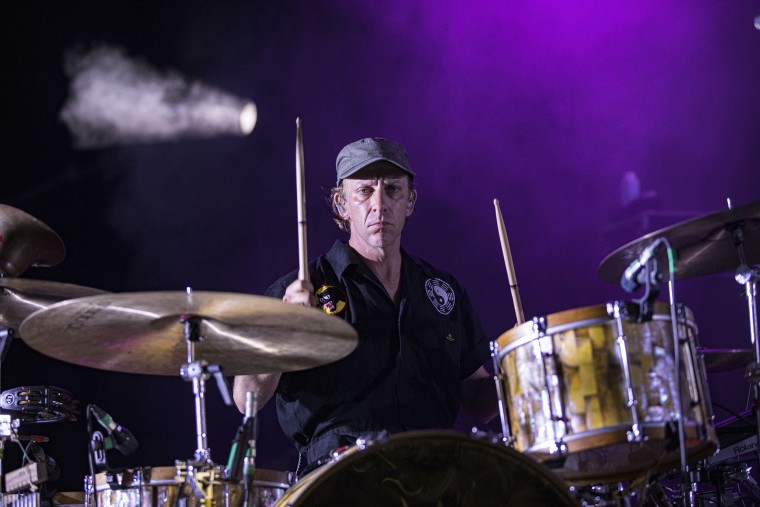 The statement continued, reading, "Please appreciate all the love you give, get, have given, and will get. Above all, Jeremiah was about love. We love you."
Green's mother, Carol Namatame, also shared a post on Facebook announcing her son's death.
"It is with a very heavy heart that the Green and Namatame families announce the passing of their husband, father, son and brother, Jeremiah Green," the post read. "Jeremiah, drummer and founding member of the Issaquah based band Modest Mouse, lost his courageous battle with cancer on December 31. He went peacefully in his sleep. Jeremiah was a light to so many."
Namatame requested privacy for the family and said additional information will be shared in the future, including plans for a Celebration of Life.
Tributes for Green poured in across social media and in the comment section of the band's post to honor his memory.
"Rest In Peace Jeremiah," Patrick Carney, the drummer for the rock duo The Black Keys, wrote in the comments.
Robin Pecknold from the band Fleet Foxes added, "Rest in peace Jeremiah, you are a hero."
Former members of Modest Mouse also chimed in on social media to mourn the loss of their bandmate.
"JG. I love you. Always. Forever," Kirby James Fairchild, a former lead guitarist and vocalist for the group, wrote in the comments.
Johnny Marr, former guitarist who replaced Fairchild briefly in the mid-aughts, shared a photo of Green on Twitter to honor the musician. He added the message, "The great Jeremiah Green. My friend, bandmate, and the most creative musician I ever met."
Green's cancer diagnosis was publicly announced by Modest Mouse on Dec. 28 by the band's singer, Isaac Brock, on the group's official Instagram. The post featured a black and white portrait of Green wearing a winter jacket with a fur hood over his head.
"Hi. Some of you may have already heard, but I figured it would be good to hear the news directly from our camp," Brock wrote. "Jeremiah was diagnosed with cancer a short while ago, and he's currently in treatment. It seems to be going smoothly and making a positive difference. Jeremiah, as am I, are believers in the power of positive energy, so if you would be so kind as to send 'good vibes'( to quote Jeremiah) in the direction of Jeremiah and his family, that'd be great. Thank you and love, Isaac Brock."
Namatame confirmed on Facebook that her son was battling stage 4 cancer, calling him "so strong and so brave" in a call for "healing vibes" on social media.
Modest Mouse formed in the early '90s with Brock as the lead singer and guitarist, Green on drums, and Eric Judy on bass. Green briefly left the band in 2003, but returned shortly after.