"To Kill a Mockingbird," the 1960 Pulitzer Prize-winning novel by Harper Lee — along with the 1962 Oscar-nominated movie adaptation — painted a very particular picture of the character of lawyer and father Atticus Finch.
As the man who faced down his white peers in 1930s Alabama to defend a black man in court against a rape charge, Finch was seen as a forward-thinking model of truth, justice and the American way, a portrayal underscored by a noble performance by Gregory Peck in the film.
MORE: Harper Lee's 'Go Set a Watchman' reveals shocker in first chapter
But with "Mockingbird's" long-awaited sequel, also by Lee, Finch is now portrayed as very much a man of his times (the sequel takes place 20 years later) — a man with racist views, who attends Ku Klux Klan meetings and is opposed to desegregation.
"We see Atticus' darker side," Time Magazine's Daniel D'Addario told TODAY. "He has, frankly, racist opinions about his black neighbors and clients. And he says he doesn't believe black people should be a part of civil society. This is really shocking to readers."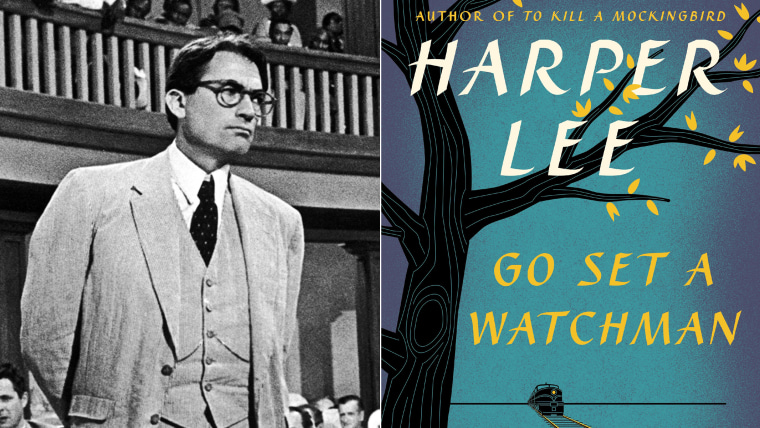 MORE: Harper Lee's new book cover looks familiar
Lee, 89, hasn't commented about the issue, but her publisher Harper Collins calls the book "bold and unflinching."
"The question of Atticus' racism is one of the most important and critical elements in this novel, and it should be considered in the context of the book's broader moral themes," said the publisher.
MORE: Why Harper Lee, 'Mockingbird' are so special
This is just the latest controversy since "Watchman" was first announced. Reports have suggested that Lee was manipulated into releasing the manuscript, which allegedly sat in a drawer for many years. "Watchman" was reportedly Lee's first attempt at telling main character Scout's story, but after reading it her 1950s editor reportedly convinced her to refocus on Scout's childhood. That book became "Mockingbird."
Lee, in a statement, has denied being talked into publishing "Watchman," but has largely remained silent about the controversy.
But this is more than just another book release for many; while Lee may have always intended Atticus as the man he's revealed to be in "Watchman," audiences long ago formed a very different opinion of the character. And that's what's being changed now.
"This isn't just another visit with characters we hold so dear," said D'Addario. "This is a really complex and rich topic ... that really speaks to where we are right now as a nation."
"Go Set a Watchman" will be published by Harper Collins on July 14.