A 24-year-old Mixed Martial Arts fighter with Down syndrome, Garrett Holeve says he's ready for a fight, but to him, his fiercest opponents aren't in the ring: They're the people stopping him from climbing into it.

"I can (do it). Don't mess with me," Holeve told TODAY.com. "I'm a blue belt."
Holeve is backing up his fighting words with actions. Armed with a lawyer and the support of family members and fans, he's taking on the Florida State Boxing Commission and other organizations he views as standing in his way. Last August, minutes before the opening bell, the boxing commission ordered the cancellation of a bout between Holeve and David Steffan, a Special Olympian with cerebral palsy.
Holeve's father, Mitch, said "ignorance" led to a cease-and-desist letter that's preventing his son from competing in sanctioned events.
"This is a fair match-up," he said of the bout between his son and Steffan, emphasizing that amateur fights have built-in rules to protect fighters. "We think that their limitations kind of offset themselves."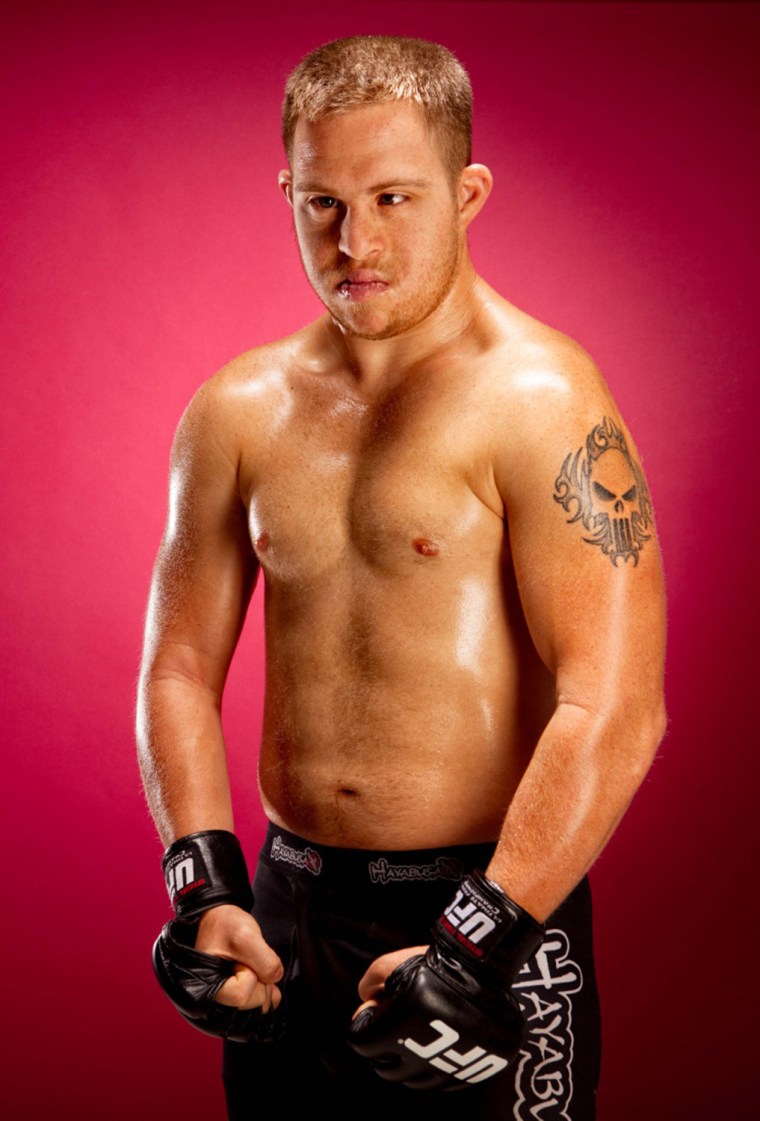 With multiple soft-exhibition events under his belt, Holeve — whose nickname is G-Money — has spent four years training at the American Top Team martial-arts academy in Weston, Florida. Although his father acknowledged that Garrett has a slower reaction time than most fighters, he said he believes it's all about the matchup.
"He's not trying to take on [three-time UFC welterweight champion] Georges St-Pierre," Mitch Holeve told TODAY.com.
At least not yet. "I want to," Garrett said.
In February 2013, Holeve took on "Monster" Mike Wilson in a three-round bout. The match opened with Wilson's haymaker to Holeve's head, but Holeve remained on his feet and fought on, going the distance. At the end, the ref declared both combatants winners.
"It makes me feel pumped," Holeve said.
The August fight with Steffan was meant to be a follow-up to Holeve's bout in February.
In response to critics who call Mitch Holeve irresponsible for allowing his son to fight, the dad replied, "They've never met my son. If they were in my shoes, and they did anything different, then I think they'd have to do deal with the consequences of not doing what he loves to do."
His son added, "My dad's not crazy. They're the ones who are crazy."
The National Down Syndrome Society also has Holeve's back, issuing a statement that says the organization "stands behind Garrett Holeve ... in his right to compete in Mixed Martial Arts."
In the statement, NDSS vice president Sarah Hart Weir says the organization is "concerned that Garrett is being discriminated against based on his disability, in this case Down syndrome," adding he is asking for "full-inclusion and full-participation in the sport of his choosing, and we stand behind Garrett and his family as they fight to ensure Garrett can achieve his own hopes, dreams, and aspirations."
In addition, more than 111,000 people have signed a Change.org petition against the boxing commission. Even Ultimate Fighting Championship Hall of Famer Stephan Bonnar, who has more than 93,000 Twitter followers, tweeted his support for G-Money last month. "Please sign petition to let @GarrettsFight aka G$ fight!!" he wrote, using the hashtag #letgarrettfight.
According to the petition, last August's fight with Steffan was called off "due to lack of sanctioning by one of Florida's Amateur Sanctioning Organizations, the World Fighting Organization."
TODAY.com reached out to the World Fighting Organization for comment, but did not receive a reply as of Friday afternoon.
Tajiana Ancora-Brown — a spokeswoman for the Florida Department of Business and Professional Regulation, which includes the Florida State Boxing Commission — told TODAY.com that her agency disputes allegations that Holeve was singled out because of his Down syndrome.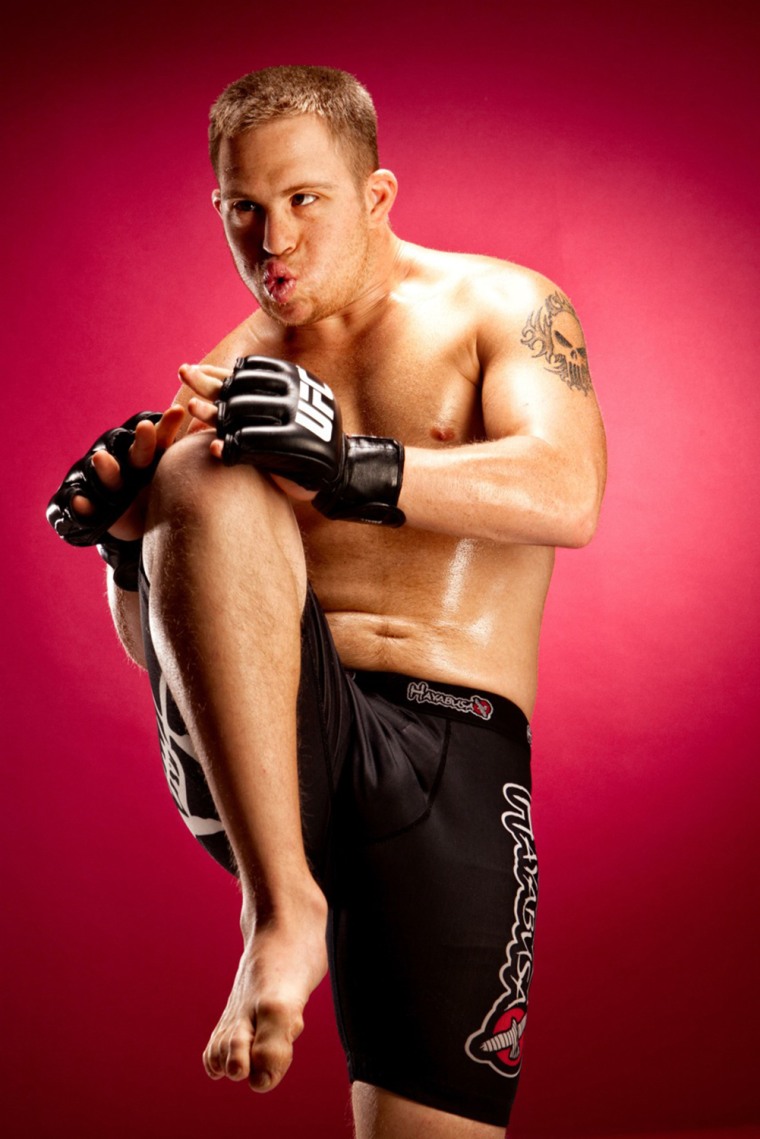 "The Florida State Boxing Commission was informed that an Amateur Sanctioning Organization (ASO) was hosting an event and elected not to sanction all of the bouts scheduled for the event," Ancora-Brown said in a statement via email. "ASOs are independent organizations that require licensure from the commission to sanction amateur combat sports events in Florida.
"The commission does not get involved in the sanctioning decisions of ASOs. As a regulatory agency, we take any occurrences of unsanctioned bouts very seriously. Upon becoming aware of the unsanctioned bout, we quickly took action. In fact, the issuance of the Cease and Desist Notice as a result of an unsanctioned bout was not related to individual participants."
On behalf of Holeve, disability-rights lawyer Amanda E. Heystek is suing the boxing commission and claiming discrimination. She told TODAY.com that local ASOs have been placing the blame on the boxing commission, compounding the problem.
"One of the individuals who represented the WFO basically said they basically serve at the pleasure of the state, [that] they can't do anything without the state's blessing," she said.
Because the trial won't begin until Dec. 8, Garrett Holeve has been trying to focus on the sport in other ways. At his training center, he's been teaching martial-arts techniques to kids aged 3 to 9.
"I feel good that I've been helping them," he said. "I'd like to do it more, if I can."
Follow TODAY.com writer Chris Serico on Twitter.