The Santa Clara County Sheriff's office in California said Tuesday that Sierra LaMar's father is not a person of interest in the disappearance of the 15-year-old Morgan Hill high school sophomore.
The teenager was last seen leaving her home near Palm and Dougherty avenues in unincorporated Morgan Hill early Friday morning. She did not show up for school that day, Sgt. Jose Cardoza said.
Authorities confirmed on Tuesday that her biological father, Steve Wayne LaMar of Fremont, is a registered sex offender.
Deputies interviewed former and current classmates of LaMar as they continue to search for the missing teen.
"He is not a person of interest in Sierra's disappearance and has been fully cooperative since the beginning of the investigation," authorities said in a statement.
Sierra's mother was notified that her daughter had not attended classes by the school's automated attendance system at 6 p.m. Friday. Investigators located Sierra's cell phone along a local roadway but there is still no sign of the teen. "The cell phone was intact, it wasn't broken," Cardoza said. "There's no evidence to lead to a crime after that."
Cardoza said that while investigators have found no signs of foul play, they have also not seen signs that are common in a runaway situation.
According to Cardoza, there have been no fights at home or any sign that LaMar was unhappy.
"Everything was status quo at home," he said.
Investigators are searching her cell phone and her computer for possible leads, Cardoza said.
At least two teams from the sheriff's Sexual Assault Felony Enforcement task force took to the streets Monday afternoon to make contact with every registered sex offender in the area to confirm their whereabouts at the time of LaMar's disappearance, Cardoza said.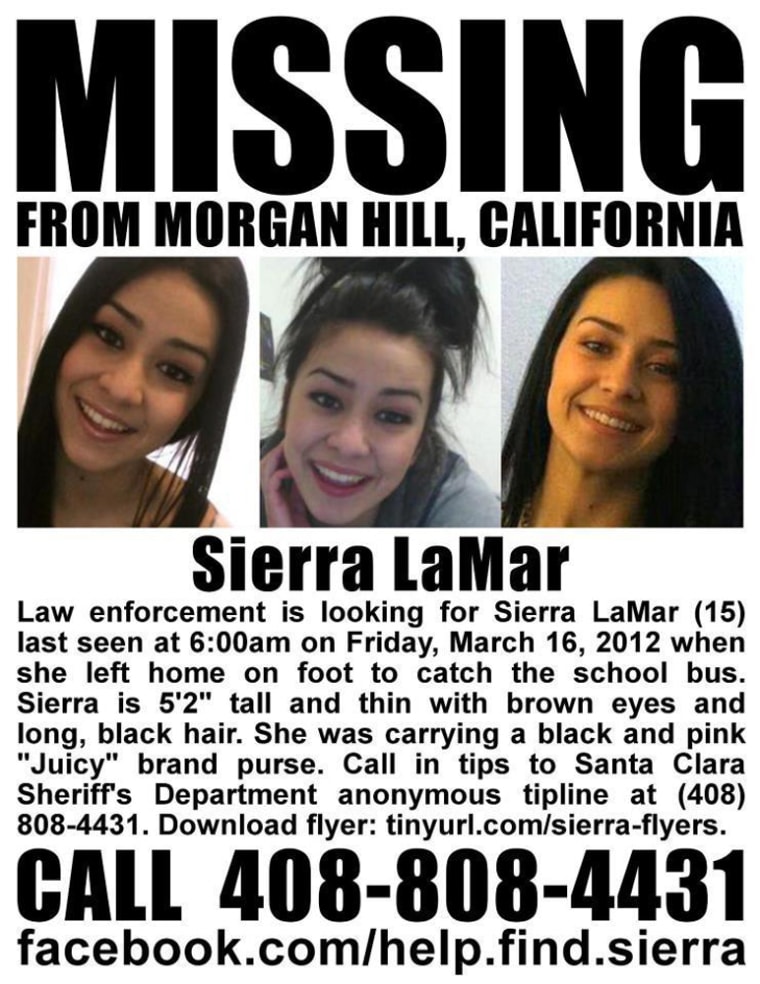 Authorities were stationed at Ann Sobrato High School Monday morning speaking to students and gathering information.
"We're all working together to get Sierra back home," school Principal Deborah Padilla said Monday morning.
Deputies also interviewed students at Washington High School in Fremont, where LaMar was previously a student.
Padilla said students have been helping to post fliers and contribute information to the investigation.
Posters bearing LaMar's picture and a description covered utility poles and the windows of local businesses Monday afternoon.
Sierra is described as 5 feet 2 inches tall, with a thin build. She was last seen carrying a Juicy brand black-and-pink purse.
Bay City News contributed to this report.