Following the FBI's arrest of a suspect in a "sextortion'' case involving recently crowned Miss Teen USA Cassidy Wolf, the California teen admits to having "mixed emotions" of relief and pity. 

"It's weird for me to be able to put a face to the person who did this to me and to know that it was somebody I went to high school with,'' Wolf told Savannah Guthrie as part of a Rossen Reports segment on TODAY Friday.
Jared James Abrahams, 19, a former classmate of Wolf's at Great Oak High School in Temecula, Calif., has been charged with extortion after allegedly using software to control the computer webcams of Wolf and seven other women to take nude photographs or videos. He then allegedly threatened the victims via email that he would publish the photos online if they don't accede to his demands.
"I'm very relieved,'' Wolf said. "I'm glad they were able to find who the person is, but on the other hand, it was somebody that I went to high school with. He was young, my age, and I just think it's sad that he chose to do this and has now kind of put himself in this big dilemma. It's mixed emotions."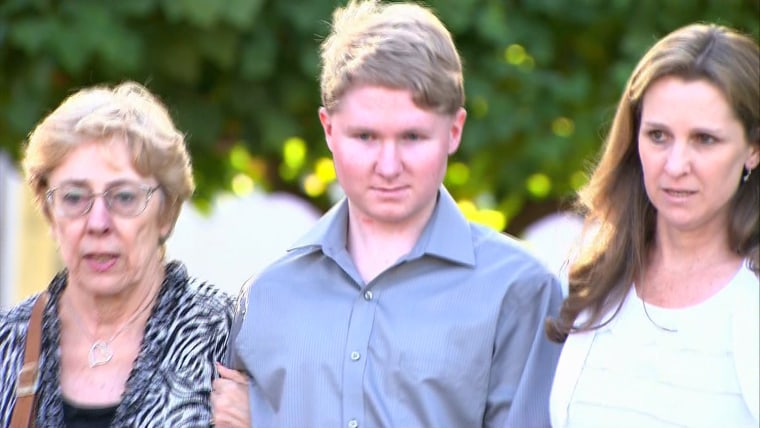 Despite the alleged crime, Wolf, 19, said she feels sorry for the suspect.

"I don't think he realizes the consequences and the people that he hurt,'' she said. "He terrorized me and many girls for so long, and I just think that now it's coming to real life for me as well that this person did this to me."
Wolf did not know Abrahams when they attended high school together.
"I never had any interactions with him,'' she said. "I went to a very large high school. I knew of him, I knew his name, but I never talked to him. I saw him in the hallways."
Wolf told TODAY national investigative correspondent Jeff Rossen that the light for her webcam never came on when the suspect was allegedly hacking into it to take the illicit photos of her getting changed in her room or walking back and forth from the shower. She found out when she received an anonymous email making demands in exchange for not posting the photos, which were attached to the email. Wolf told her mother, who promptly called the police.
When FBI investigators executed a search warrant at his home, Abrahams confessed, according to the criminal complaint. They found evidence of hacking software along with images and videos of the victims on his computer and cell phone.
"There wasn't just one victim,'' FBI agent Bill Lewis told TODAY Friday. "There were multiple victims in the state of California, throughout the United States, and even internationally. Some were as young as 16 years old."
Abrahams, a college student studying computer science, is out on $50,000 bail. He is on house arrest, and is only allowed to leave his home for church, school, attorney's visits and doctor's appointments, according to Rossen. He also is prohibited from using the Internet. He appeared in federal court on Thursday, where his attorney said he has mental health issues.
"The family wants to apologize for the consequences of his behavior to the families that were affected,'' attorney Alan Eisner told reporters Thursday.
The FBI says webcam hacking is a growing problem, and Wolf hopes her case helps bring light to the issue and empowers others affected by it.
"(My message is) to tell somebody because I know some of the girls who were involved in the case didn't have the opportunity to talk to law enforcement and to get help," Wolf said. "So it makes me feel really good that I was able to help them out as well as other people who could be going through the same thing."
They may be beautiful, but the competition can get ugly. From blackmail to sabotage, check out the underside of the pageant circuit.