In the summer of 1962, 19-year-old Mimi Beardsley arrived by train in Washington, D.C., to work in the White House press office. Although she started as a lowly intern, Mimi made an impression on Kennedy's inner circle and, after just three days at the White House, she was presented to the President himself. Almost immediately, the two began an affair that would continue for the next 18 months.
Now, 50 years later, Mimi Alford is opening up about her story in her new memoir, "Once Upon a Secret: My Affair with President John F. Kennedy and Its Aftermath." Here is an excerpt.
My full name is Marion Beardsley Fahnestock Alford. In many ways, those three surnames tell you everything you need to know about me and where I come from. I was a Beardsley for the first 20 years of my life, which included the time I was intimate with JFK. I was a Fahnestock for the next four decades, taking the name of the man I married in January 1964, two months after JFK's assassination. Fahnestock is the name attached to the bulk of my adult life and the name my two daughters were born with. I am an Alford now, because of my marriage in 2005 to Dick Alford, the great love of my life, whom, ironically, I would never have met if I hadn't been outed in 2003. It's the only name I go by today, the only name on the jacket of this book.
There's a reason for that. I am no longer the sheltered 19-year-old Mimi Beardsley, who entered into a relationship with the most powerful man in the world. Nor am I the scared, emotionally crippled Mimi Fahnestock who spent a lifetime living with, and struggling to overcome, the consequences of that relationship.
I am Mimi Alford, and I do not regret what I did. I was young and I was swept away, and I cannot change that fact. It's been almost 10 years since my secret was revealed to the world, and I've spent a lot of time in the intervening years thinking about this tender episode of my life, and how to express my feelings about it, or even if I should. I don't have such doubts anymore. Until that day in May, there had been an emptiness inside me that I didn't know how to fill. But since then, the happiness and contentment I have come to know as Mimi Alford have freed me — and taught me the importance of taking control of my story.
At first, I wrote letters (never mailed) to my oldest granddaughter, to "set the record straight." "Dearest Emma," I began, "I have a story I want to tell you because someday when you are older there's a chance you might come across my name in a book about an American President. I want you to know the facts. ..."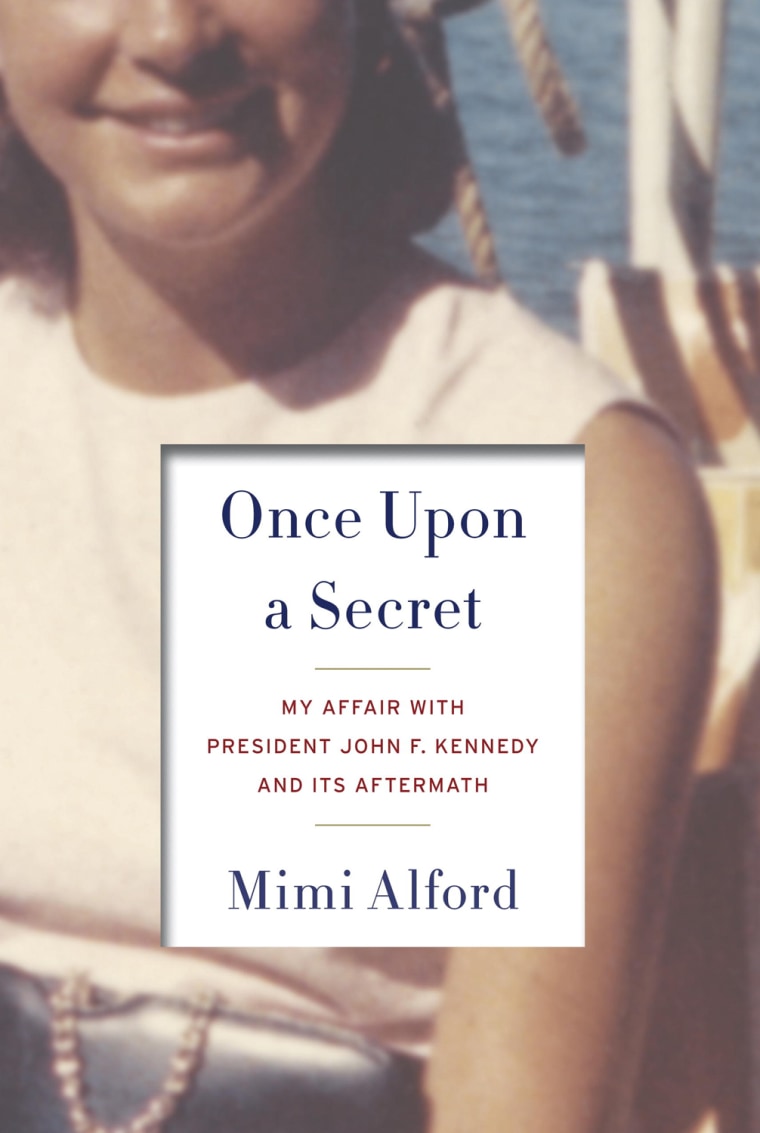 But there was so much more to the story than just getting the facts down for the record. Living with a secret had stunted me emotionally, and I realize now that my letters were only tentative steps at understanding. Taking complete control would demand intense self-reflection, and not just beginning and ending with my time at the White House.
This book represents a private story, but one that happens to have a public face. And I do not want the public face of this story — the one where I will be remembered solely as a presidential plaything — to define me.
It may be hard to accept that a chaste teenage girl can end up in bed with the President of the United States on her fourth day in the White House. But no story is as simple as that.
It begins on a train to Washington, D.C.
Excerpted from "Once Upon a Secret: My Affair with President John F. Kennedy and Its Aftermath" by Mimi Alford. Copyright © 2012 by Mimi Alford. Excerpted with permission of Random House.