Millennials are projected to surpass Baby Boomers next year as the largest voting bloc in the nation. They represent nearly one-third of all eligible voters — yet only half of them actually show up to the polls.
In the first of a three-part series on millennials and the midterms, "VoteTODAY" looks at some of the numerous efforts that have popped up throughout the nation to ensure that this generation of voters will make it to the ballot box in November.
Among those leading the way is the "No Excuses" campaign by theSkimm, a nonpartisan subscription newsletter that aggregates the top news stories every morning.
In 2016 elections, theSkimm launched an operation that led to the voter registrations of more than 100,000 people, about nine out of 10 of them women.
In this year's "No Excuses" campaign, theSkimm aims to get 100,000 people to actually show up on Election Day. The nonpartisan campaign has launched a digital voter center to provide details about issues, candidates and important dates in every state to appeal to the younger, millennial voter.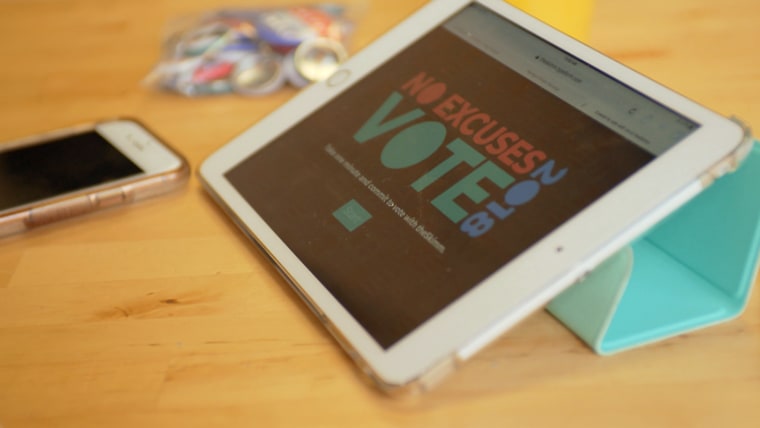 TheSkimm co-founder Danielle Weisberg said there's a disconnect between millennial voters and the issues they care about.
"We see that this demographic has the ability to create change. They are going out there. They are marching. They are making their voices heard, but they don't necessarily connect that with voting. They don't necessarily think that that is a way to be heard," she said Tuesday on TODAY.
"They haven't seen change come from Congress and so they're looking for other avenues to be heard."
Research conducted by theSkimm has found that millennials consider jobs and the economy as their top concern, followed by immigration and health care. The issues are the same regardless of party affiliation.
"They really are split down the middle politically," said theSkimm co-founder Carly Zakin.
The nonprofit HeadCount is also making sure millennial voices are heard, as they embed with musicians, traveling with their tour buses and setting up registration booths at concerts. The organization has already registered nearly 30,000 voters this year.
Historically, the millennial voting bloc has not turned out the vote. Roughly 21 percent of eligible millennial voters actually cast ballots in the 2010 and 2014 midterm elections, according to the Center for Information and Research on Civic Learning and Engagement. A change in those numbers could have big impact come November.