Outdoor weddings always run the risk of being rained out, but there wasn't a drop to be seen when Army captains Natalie Heimel and Edward Mallue Jr. prepared to say their "I dos" at the Marine Corps Base in Hawaii on Sunday.
Still, they had to move their wedding party off of the scenic golf green spot they'd reserved all the same, thanks to a surprise visit from their boss — President Barack Obama, commander in chief of the armed forces.
The president wasn't there to attend the ceremony. He just wanted to play the course, and that's all it took to send the couple scrambling to a nearby area to swap their vows.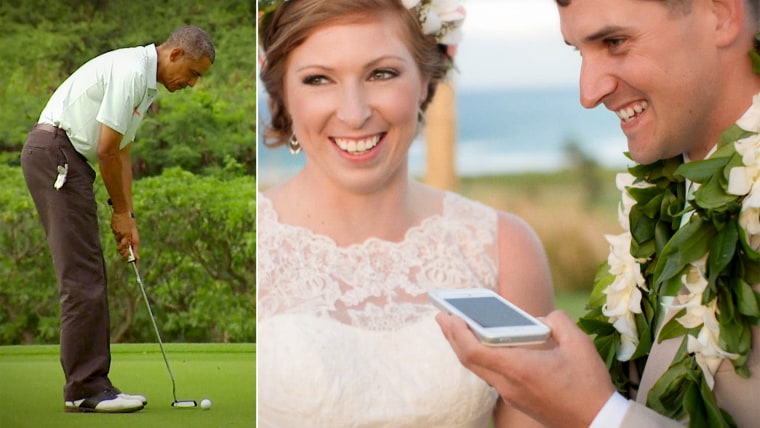 But as it turned out, the bride and groom weren't too disappointed. Sure, they lost their original location, but they gained one heck of a post nuptial-greeting.
"Congratulations on your wedding," the president said in a call following his golf gaffe. "I feel terrible. Nobody told us… I hope the wedding went OK anyway."
Indeed, it did.
"It was a blessing in disguise," Mallue told him.
While Mallue didn't mind standing aside for Obama when it came to the wedding, if he ever faced off against the president on the links, he wouldn't be so quick to stand down. When NBC's Chris Jansing asked Mallue if he thought he could beat his boss in a game of golf, he smirked and simply said, "Probably."

Follow Ree Hines on Google+.