A young heart patient at St. Louis Children's Hospital found an adorable way to pass the time while waiting for a transplant — setting up a makeshift nail salon in her room.
Now Mildred Eynon, 7, has become the hospital's resident manicurist, her mom says.
"She's befriended so many nurses," Diana Eynon, of Decatur, Illinois, told TODAY.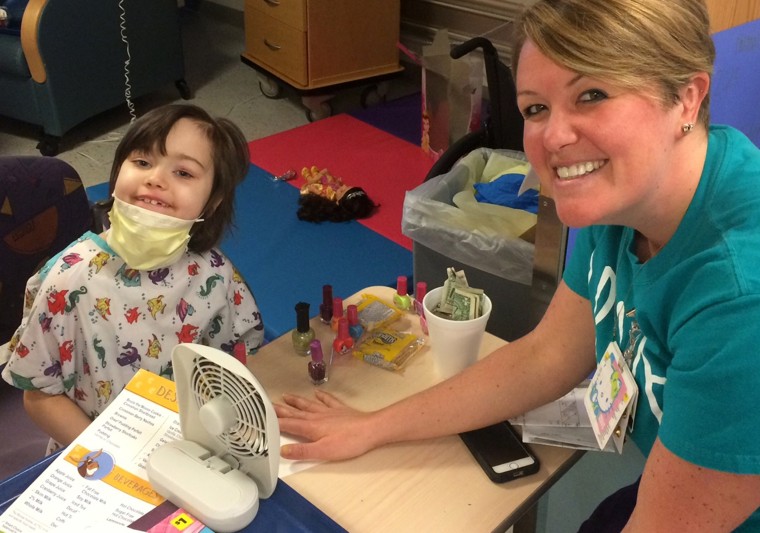 Her daughter was diagnosed with dilated cardiomyopathy when she was only 7 months old, a condition in which the heart becomes enlarged and too weak to pump blood. Despite years of medication, the young girl's heart gave out last year and she was put on a mechanical pump called the Berlin Heart while she waited for a transplant, a process her mom said took seven months.
RELATED: Watch children's hospital patients, staff lip-sync for a good cause
Staff at the Heart Center, who knew how much Mildred liked having her own nails painted, helped her set up the nail salon last summer as a way to cheer the girl up during her long stay.
"They gave her the table and made flyers and put big signs all around, calling it 'Mildred's Nail Salon,'" Eynon said. "She was charging 25 cents a manicure. She was still pretty sick, but I think she did two or three hours straight. She was exhausted, took a nap, and then painted some more."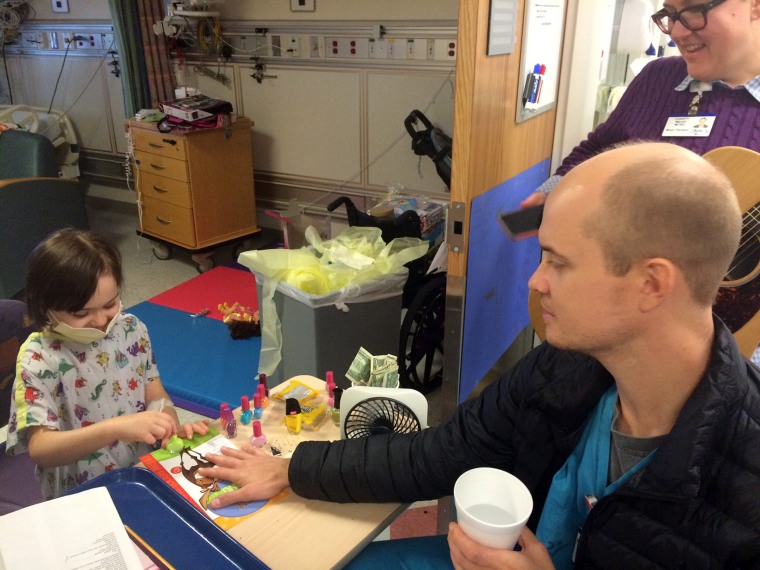 Mildred finally got her heart transplant in late November 2014, but she's since been back in the hospital for shorter stays — like earlier this month, when she had a bad cold. And when she's back, she resurrects the nail salon. Or, she'll do "special requests" for doctors and nurses who stop by, her mom said.
"She's so famous," Eynon said. "People will come by and say, 'Mildred, I heard you do nails — can you do mine?'"
Kyle Lehman, a registered nurse at the St. Louis Children's and Washington University Heart Center, said the nail salon helps get Mildred out of bed and provides distraction.
RELATED: Texas hospital rallies to throw cancer patient a surprise wedding
"She sets up a bedside table in the doorway, so she's inside her room and we're outside," he said. "We sit on a little stool and place our hands on the table and she just goes to town."
"I was the first one to sit down one day," Lehman added. "She didn't have any money in her tip jar, and when I walked by later that day, she had several dollars."
Eynon said her daughter, who's currently home and doing well, saved up the money to buy a stuffed animal from the hospital gift shop.