A new documentary produced by Mike Tyson not only chronicles his roller coaster ride to fame but also the stories of several other boxing legends who endured poverty growing up before achieving great success in the ring.
Tyson sat down with Willie Geist to talk about the new film, beginning with a tale about a trip to his old high school in Brooklyn where a group of teens saw footage of his old fights.
"One guy said, 'I think my grandfather told me about you,'" Tyson said. "Your grandfather?! It was very humbling."
More from Tyson:
On the common thread of poverty among many boxing champions: "Most of the fighters, they can't read, write, (or) spell too well,'' Tyson said. "They normally get taken advantage of by really shrewd businesses in that particular field. There's no federal regulation for that to protect human beings. You're inexperienced, and you don't know anything about handling money in that fashion, and you put the trust in people who say they're your friend, or they say they're your loved one, and it doesn't work out the way that they planned for it to work out."
On his advice for a 20-year-old Tyson: "Well, 20-year-old Mike Tyson wouldn't listen at the time,'' he said. "I'm the guy that has to feel the flame, know that the fire is hot. And most people don't survive that. I'm just very lucky."
On his power of intimidation during his time as champion: "To be honest, it's amazing. It's almost like it puts you in a state of God status."
On the lessons from his stunning loss to Buster Douglas 25 years ago: "I learned from my mentor, Cus D'Amato, this is where I never take it personal,'' he said. "You have to look at defeat as the bad day at the office. Because in all actuality, when you think about it from a professional perspective, defeat is a form of winning, if you acknowledge the lesson of defeat. It's always a form of winning."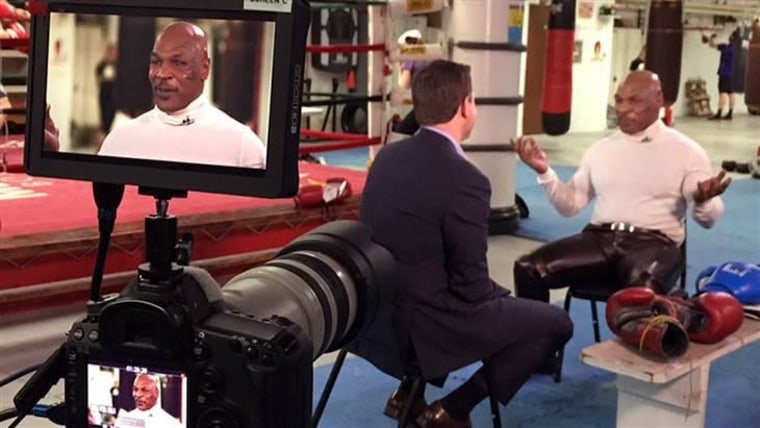 Follow TODAY.com writer Scott Stump on Twitter and Google+.
This article was originally published Mar. 13, 2015 at 9:13 a.m. ET.