With a second daughter on the verge of striking out on her own, Michelle Obama says she and her husband are ready for the next stage in their lives.
"The question that I ask my husband is, 'OK, let's make sure we're making time to enjoy the life that we've been working for.' We're going to be empty nesters soon," the former first lady told TODAY's Jenna Bush Hager in an interview for "Becoming," her new memoir. "I can feel in both of my girls that they were ready for the next step. I'm excited for them to go to their next part of the journey."
Obama's older daughter, Malia, is now a 20-year-old sophomore at Harvard. Her younger child, Sasha, 17, will graduate from high school at the end of the school year. Over their eight years in the White House, Obama said she did her best to guide both girls through an unusual life under the constant spotlight.
"You want your kids to grow up normal. You want them to be able to have the wonderful experiences privately. And you want them to be able to fail and stumble privately, like any other kids" she said. "When they're not allowed to do that, it's unfair, and you feel guilty about it. Because they didn't choose this life."
But now that her youngest is nearly off to college, Obama said she's joked with both girls that she won't be far — ever.
"I told them, 'No matter where you go, I'll drop in whenever I need to see you. I'll find you!' It's like, 'I can audit classes at that university,'" she said.
"It's just what they want. Just texting, 'LOL. Guess who's in town?'"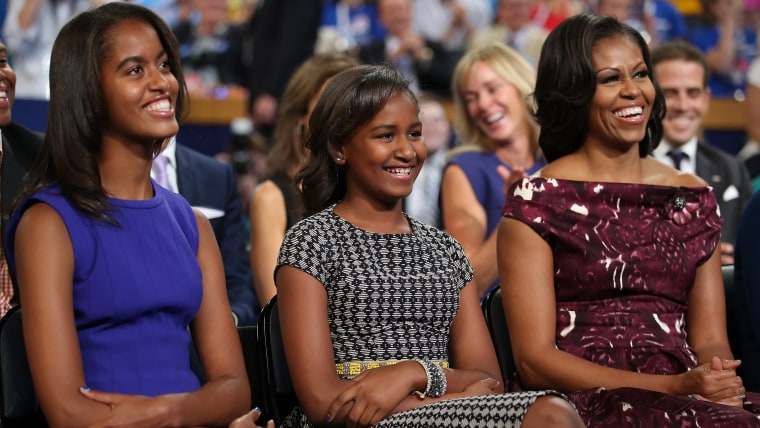 Obama shares stories about her daughters as well as her own journey, from growing up in Chicago's south side to becoming the nation's first black first lady, in her new memoir. She also openly criticizes her husband's White House successor, Donald Trump, over his longstanding "birther" campaign that Obama said endangered her family.
But the memoir is also getting attention because Obama opened up for the first time about her trouble getting pregnant. She revealed she and her husband, former President Barack Obama, eventually conceived their two daughters through IVF.
In her interview with Jenna on TODAY, Obama described the special White House tour her family received in the fall of 2008 from its outgoing residents, the Bush family. Jenna recounted to Obama how she and her twin sister, Barbara Bush, taught Malia and Sasha some fun spots within the mansion's private residence.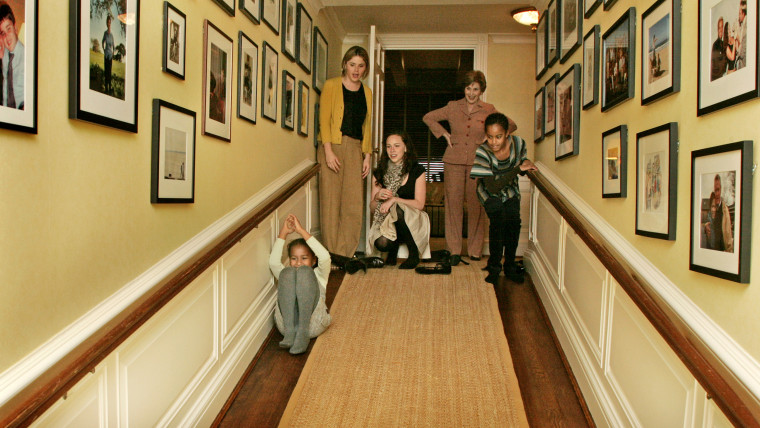 "We taught them how to go down the banister. You're welcome!" Jenna recounted to Obama.
Obama said she recounts that evening fondly, along with the unique experiences and challenges that their next eight years in the White House spotlight provided.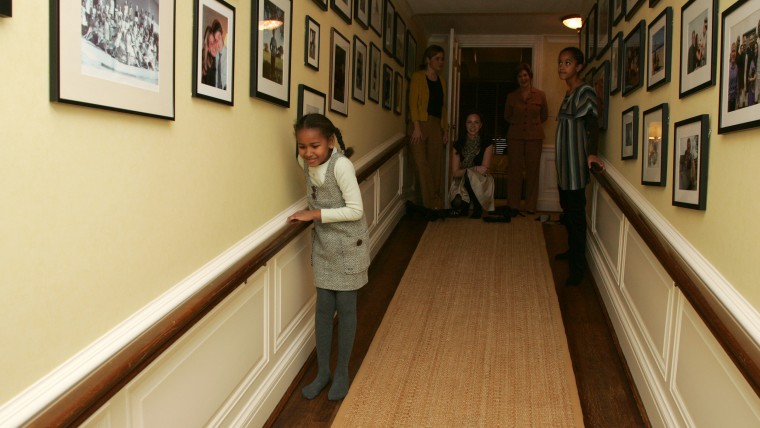 "It's an odd thing for the world to see you transition from a child to a young woman. And so they've grown up. And they've had their stumbles, and they've had their triumphs," Obama said.
That private tour in 2008 set the stage for a special connection between the two families, particularly one shared between Obama and Jenna's dad, former President George W. Bush.
The nation got its first peek at the bond between the pair when they shared a hug at the 2016 dedication ceremony of the National Museum of African American History and Culture.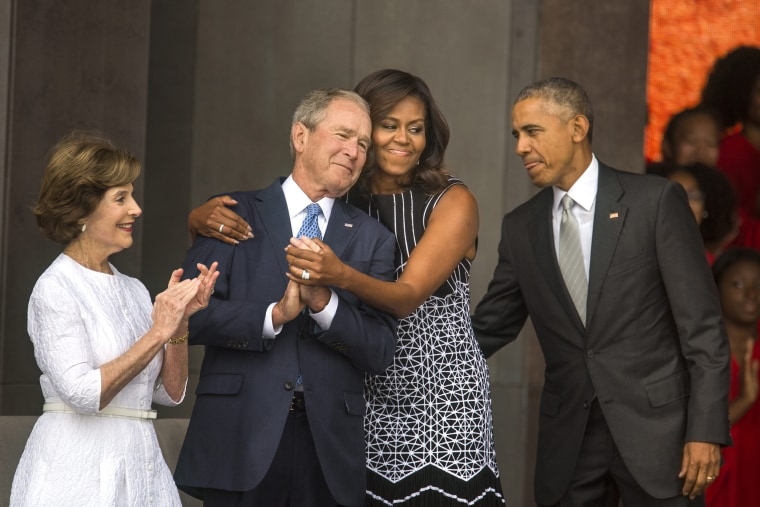 And then there was the famous cough drop moment during the funeral for U.S. Sen. John McCain.
"I got a text from my dad this morning that said, 'Send Michelle my love,'" Jenna told the former first lady. "And I thought, it's so interesting how people are so interested in y'all's friendship. I mean, that hug was like the hug that went around the world."
Obama said that's because the media often displays the nasty part of political discourse, when there actually are multiple angles.
"We're all Americans. We all care about our family and our kids, and we're trying to get ahead. We have different ideas about the best way to get there," she said. "I think in America's heart, that's where we want to be. And I think that our relationship reminds us that we can get there."