/ Source: TODAY contributor
With her Ivy League law degree, Michelle Obama is more like Hillary Clinton than Laura Bush. But the style she is forging as first lady falls somewhere in between both of her immediate predecessors.
"She's going to avoid those pitfalls that Hillary Clinton faced early on," Politico.com reporter Nia-Malika Henderson told TODAY's Meredith Vieira Thursday from Washington. Henderson recalled how Clinton called senators by their first names and called top government officials in her early days in the White House. "It was the first lady with a briefcase, which really rubbed people the wrong way," she explained.
Getting right to work
Even though she's described her White House role as "Mom in Chief," Michelle Obama is not sitting quietly in the background. On Monday, she paid a personal visit to the Department of Education, and on Thursday she dropped by the Department of Housing and Urban Development, on both occasions meeting and addressing rank-and-file bureaucrats.
"I'm going to be visiting agencies throughout this administration, to do just something simple, and that is to say, 'Thank you,' " the first lady told workers at HUD.
Liza Mundy, a reporter for The Washington Post Magazine and author of the biography "Michelle," joined Henderson and remarked to Vieira about how quickly the president's wife has jumped into her new role.
"She hasn't taken a lot of time to just kind of settle in and to decide which closets to put the clothes in," Mundy said. "She's really gotten to work right away."
Before moving into the White House, Michelle Obama had said she intended to focus on issues affecting women and families, including military families. She was at her husband's side when he signed the first piece of legislation of his administration, the Lilly Ledbetter Act. The law, named for the woman who inspired it, makes it easier for women to sue to be paid the same as men for doing the same work.
"It looks like she really is going to narrow in on women's issues; on work-family balance issues," Henderson told Vieira. "That's what her aides say she's going to look to do."
Splitting her time
Obama's appearances at the federal agencies also signaled that she will continue to back up her husband's agenda, Henderson went on. During her remarks, the first lady drew on her experiences growing up as she talked about the importance of home ownership to strong communities.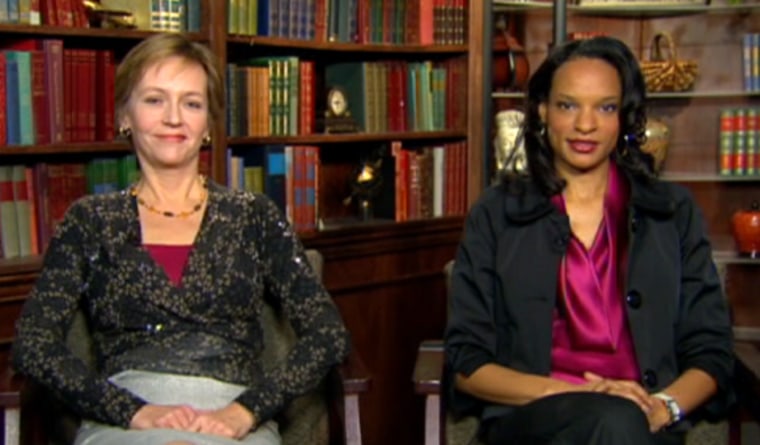 "Barack and I always believed that investing in the community that you live in first and foremost is critical," she told HUD workers. "And for the people here at this agency, we are now your neighbors."
She also stumped for President Obama's $819 billion economic stimulus plan now being debated in Congress. Mundy said that such campaigning is a continuation of the role the first lady played during the campaign, when she split her time between staying at home taking care of daughters Sasha and Malia and going on the road to amplify her husband's message.
"Michelle and Barack Obama, they bonded when they met over discussions of social change and how they wanted to change the world and their visions for communities," Henderson said. "It is clear they really do have the same mission. She's going to be out there amplifying his message. One of the things they learned during the campaign was that she can go off and make speeches by herself before audiences, and [that] enabled the campaign to reach twice as many people. I think we're going to continue to see this happen."
Michelle Obama does not have an office in the West Wing as Hillary Clinton did, nor is she sitting in on Cabinet meetings, as first lady Rosalynn Carter did. But she has assembled a strong team of aides, some of whom advised Bill Clinton and Vice President Al Gore.
And if she avoids a policy-making role in public, she remains an important sounding board to her husband. "She's clearly going to have a behind-the-scenes ear to the president," Henderson said.
But her daughters remain her first priority. When President Obama took office, Ty, the toy company that makes Beanie Babies, put out two dolls it named "Sasha" and "Malia." The company said the toys were not meant to represent the First Daughters, but the Obamas didn't buy it, successfully pressuring the company to "retire" the toys.