The "Penguins of Madagascar" were feeling left out, so they went straight to the top with their complaints.
'We're a little tired of the SEALS getting all the good missions," their leader, Skipper, explained to first lady Michelle Obama. "What about us penguins?"
So the first lady promptly put the chatty aquatic birds to work, helping out with her Got Your 6 initiative that encourages American kids to learn about the importance of U.S. military veterans and the many ways in which they can contribute to the nation.
In a six-minute video that will be shown in elementary and middle-school classrooms across the nation, the perky penguins learn that "Got Your 6" is military slang for "got your back," or taking care of each other. 
With help from truth-telling military members Faction Jackson and Truthie McRuthie, and a few hapless moments from mixed-up Smythie Mythie, the penguins learn about Veterans Day and the impact of service members.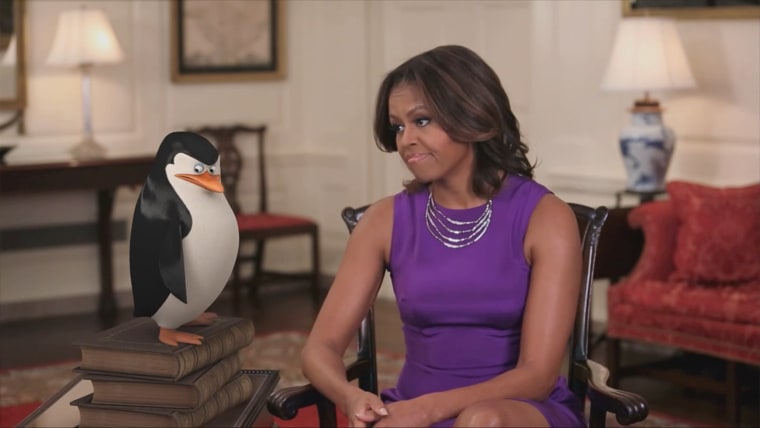 Numerous "Got Your 6" events are planned leading up to Veterans Day, including the "Take a Veteran to School" program that involves more than 25,000 veterans from around the nation. More information is available at GotYour6.org.
"Penguins of Madagascar" comes to theaters Nov. 26.
Follow Gael Fashingbauer Cooper on Google+.