Friendship is in the air!
First lady Michelle Obama and former President George W. Bush shared a sweet embrace at the National Mall on Saturday while attending a dedication ceremony to mark the opening of the Smithsonian's National Museum of African American History and Culture.
With former first lady Laura Bush and President Obama by their sides, the pair leaned in for a hug amid the historic celebration.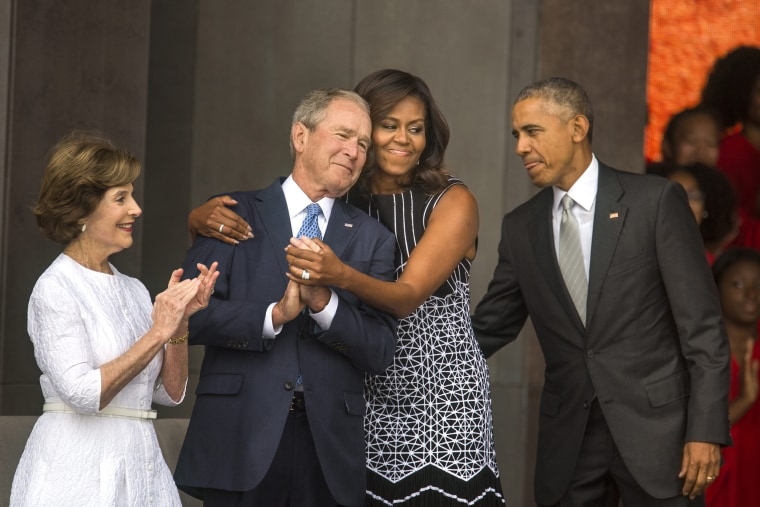 RELATED: Michelle Obama launches garden tour initiative on TODAY Show
The Smithsonian's 19th and newest addition is the first national museum dedicated exclusively to showcasing the rich history and culture of African-Americans.
Legislation for the museum was first sanctioned by former President Bush in 2003.
On Saturday, 13 years later, President Obama called the opening of its doors "an act of patriotism."
"This national museum helps to tell a richer and fuller story of who we are," he said. "By knowing this other story, we better understand ourselves and each other."
"It binds us together. It reaffirms that all of us are America, that African-American history is not somehow separate from our larger American story."
RELATED: George W. Bush surprises 6-year-old presidential expert Macey Hensley on 'Ellen'
Later on, the President took to Twitter to expresses his gratitude and appreciation for all of the people who came together to not only celebrate the museum's opening, but those who fought to see it become a reality.
"Proud to help open @NMAAHC with so many heroes," he wrote. "African American history is a central part of our glorious American history."
RELATED: Michelle Obama rocks Carpool Karaoke with James Corden — and surprise guest Missy Elliott
The National Museum of African American History and Culture is now open to the public in Washington, D.C.