September's funeral for Senator John McCain was a solemn occasion, in which loved ones and colleagues shared all sorts of memories about the late politician.
But amid the ceremony, former first lady Michelle Obama and former President George W. Bush made headlines for a different kind of sharing, when he handed her a cough drop.
"President Bush and I, we are forever seatmates because of protocol, and that's how we sit at all the official functions," Obama said during an exclusive interview on TODAY Thursday. "He's my partner in crime at every major thing where all the 'formers' gather. So we're together all the time."
"I love him to death," she added. "He's a wonderful man, he's a funny man."
It was a moment Obama never expected to make headlines, but that's what happened.
"It was a simple gesture," she said. Bush was getting a cough drop from his wife, Obama recalled, and "I looked over and I said, 'Hand me a cough drop.'"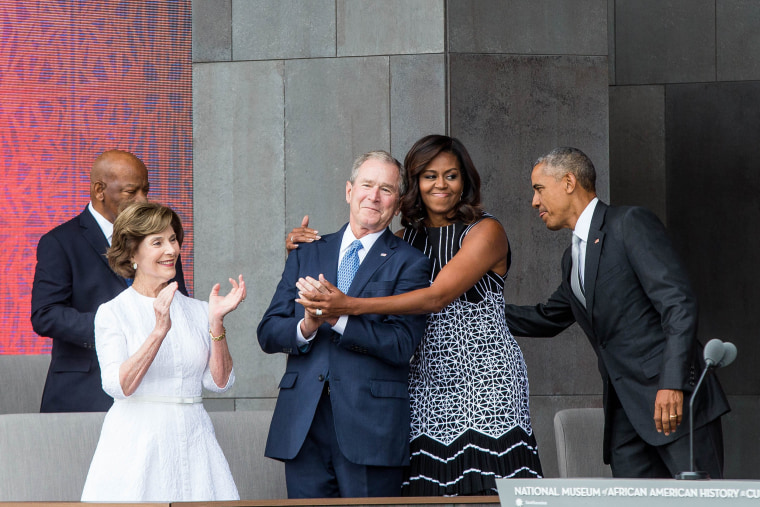 Meanwhile, a White House logo on the box caught her eye.
"I will add, they were old cough drops," she said. "I said, 'How long have you had these things?' He said, 'A long time; we've got a lot of these.'"
Jenna Bush Hager confirmed as much Friday on TODAY.
"They had the White House, the presidential seal. I think when he left he just took a bunch of those, because they are collectors' items," she said.
Jenna also recalled a conversation she had with her father about the exchange.
"I was like, 'Dad, are you going to say something on Twitter?' And he's like, 'I'm not on Twitter.' And I'm like, 'You are old,'" she said. "But he wrote her a separate letter. They are friends."
We've seen the former first lady and Bush be chummy in the past, sharing a hug at the National Museum of African American History and Culture dedication ceremony in 2016.
President Bush spoke to Ellen DeGeneres about their relationship on her show in 2017.
"(The friendship) surprised everybody," Bush said. "That's what's so weird about society today, (the surprise) that people on opposite sides of the political spectrum can actually like each other."
Obama reflected those feelings on Thursday, saying she hoped the little viral moment would carry a big message.
"That's what people are hoping for," she said. "Party doesn't separate us, color, gender, those kinds of things don't separate us.
"It's the messages we send. If we're the adults and the leaders in the room and we're not showing that level of decency, we cannot expect our children to do the same ... I think about the next generation, every single time."