Former first lady Michelle Obama stuck by her signature line about rising above critics, saying it's more important now in these politically turbulent times not to be motivated by fear and anger.
Obama said she stands by her motto "when they go low, we go high," delivered at the 2016 Democratic national convention, even as it's being challenged by fellow partisans on the campaign trail and in the halls of Congress.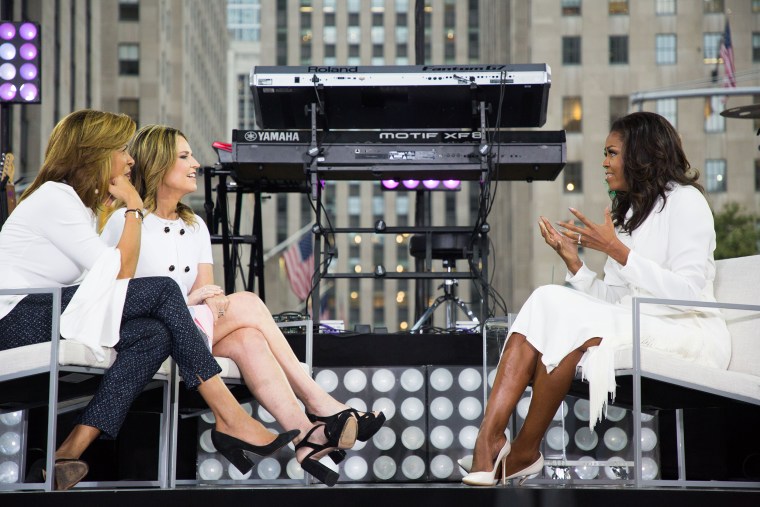 "Fear is not a proper motivator. Hope wins out," she said Thursday on TODAY. "And if you think about how you want your kids to be raised, how you want to think about life and their opportunities? Do you want them afraid of your neighbors? Do you want them angry, do you want them vengeful? We think of the values that we try to promote to our children."
Obama's high-minded slogan has been challenged lately by fellow Democrats, most recently by former Attorney General Eric Holder. During a campaign event in Georgia, he said that "when they go low, we kick them" and stressed the need to be "tough" about fighting back against Republicans.
His comments follow those made by 2016 presidential nominee Hillary Clinton, who said Democrats can't afford to be civil to Republicans if they want to rise to power.
But Obama said that's not the message role models should relay to impressionable young women.
"What are the things you're telling your girls? Which motto do you want them to live by?" the mom of two girls said. "I have to think about that as a mother, as someone who's a role model to young girls. We want them to grow up with promise and hope, and we can't model something different if we want them to be better than that."
The former first lady spoke on TODAY to celebrate the International Day of the Girl and to publicly launch the Global Girls Alliance, an Obama Foundation initiative aimed at empowering adolescent girls around the world through education. The initiative will work with grassroots leaders in communities across the globe to overcome barriers facing 98 million young girls who are being kept out of school.
Obama also addressed the rise of the #MeToo movement and how it has shaped the conversation of the nation.
"I'm surprised at how much has changed but how much has not changed. And I think that's where the fire is coming from. Enough is enough," she said. "The world is a sadly dangerous place for women and girls and we see that again and again. And I think young women are tired of it."
Obama also gave an update on two specific young women in her own life, her daughters Malia and Sasha.
After Obama and her husband left the White House in January 2017, the couple remained in Washington so that Sasha, 17, could finish high school. She is now a senior, dealing with college entrance exams, applications and "all the drama" that goes with both, Obama said.
The couple's older daughter, Malia, 20, is a Harvard undergraduate. Both are thriving, their mother said.
"They're doing well. I'm so proud of them. They are some of the reasons why this issue means so much to me," she said, referring to the Global Girls Alliance.
Obama said she's been happy to see her daughters emerge from their eight years in the White House "confident and poised," despite spending the majority of their lives in the international spotlight and "all the criticism and judgements" that come with it.
"They are down to earth, they are humble, they are normal and it has been a huge relief," she said.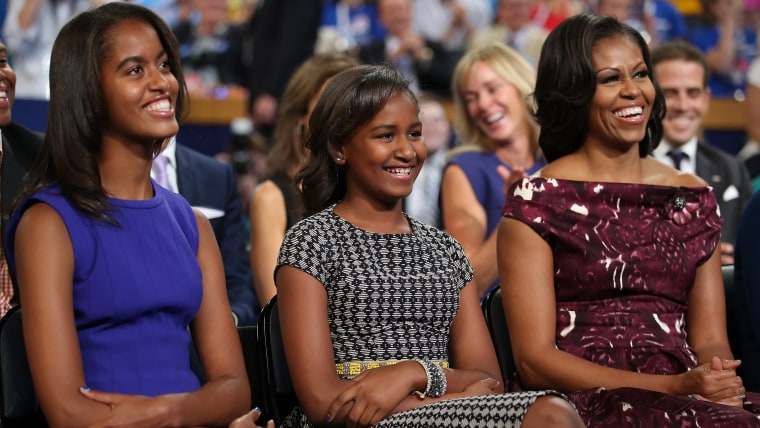 Obama also confirmed that she has no plans to run for office.
"Absolutely not... I've never wanted to be a politician," she said. "I want to serve, I want to do work, I want to be out there, but there are so many ways to make an impact. Politics is just not my thing."
For now, she said she and former President Obama have been keeping busy, working on their books and enjoying the small joys that come with living outside the White House.
"It's opening up my door and walking out and enjoying the weather and sitting on my patio. It's the small things," she said. "It's going to my girl's game and just really being a mom. There's nothing new that's going on, it's just that we're out in the real world."