Arizona State's student section turned in a gold medal performance when it came to distracting opposing free throw shooters on Thursday night.
The school's famed 942 Crew cheering section and its "Curtain of Distraction" behind the opposing basket unveiled an Olympic-sized, Speedo-wearing distraction when Michael Phelps made a special appearance.
Wearing a swim cap, a bow tie and some of his Olympic-record 18 gold medals, Phelps mimicked the freestyle stroke after the curtain parted to induce a missed foul shot by Oregon State freshman Stephen Thompson with 13:47 left in the second half.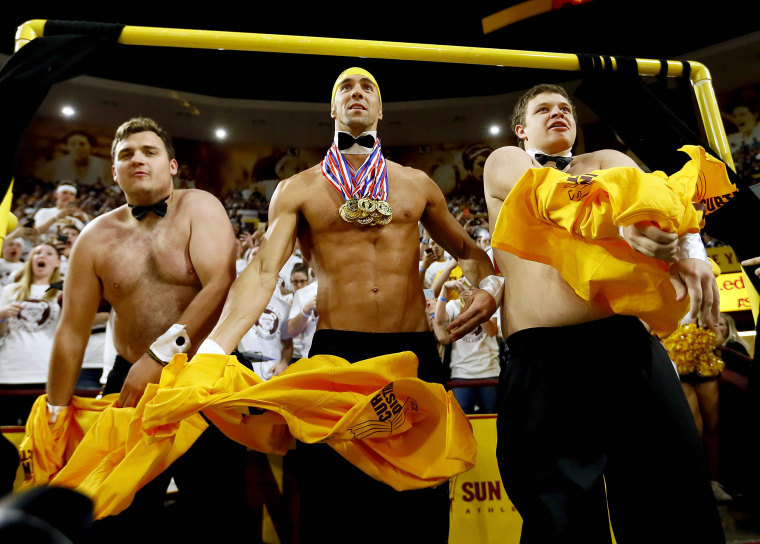 Phelps then kicked it up a notch on Thompson's second shot by emerging wearing just a bow tie, his medals and a Speedo, while being flanked by two 942 Crew members dressed as Chippendales dancers.
That resulted in another missed foul shot as the home crowd roared. Arizona State went on to an 86-68 win.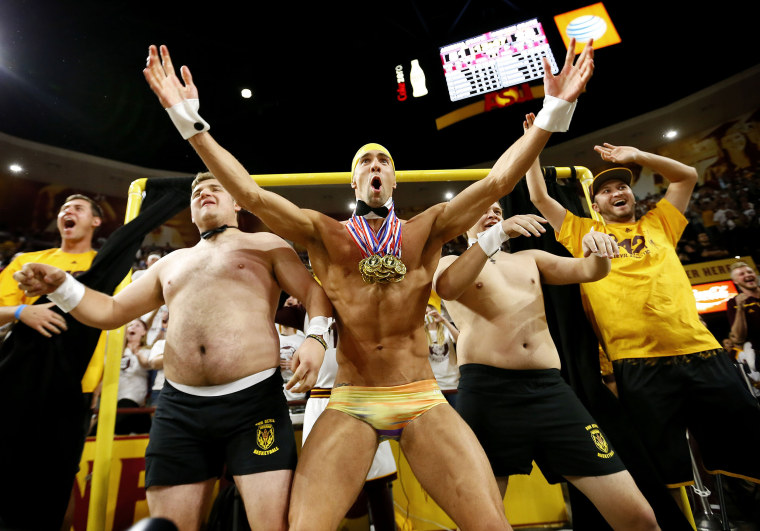 "I don't think you could have written it any better with the Oregon State player missing both free throws," Arizona State associate athletic director Bill Kennedy told Yahoo Sports. "You could see the look on his face. He couldn't help but look. He was trying to hold himself together, but you could tell by the look in his eyes he was going to miss the first one. Missing the second one was just icing on the cake."
It was a fun taste of the university experience for Phelps, who never attended college because he was already an Olympian by the time he was 15 years old. He has been training in Tempe, Arizona, for the 2016 Olympics in Rio de Janeiro because his long-time coach, Bob Bowman, is currently Arizona State's head coach.
Phelps' appearance was the latest show-stopper for the 942 Crew, which is named after the number of seats in Arizona State's student section. Everyone from Elvis to a hairy "Miley Cyrus" and her wrecking ball have popped out from behind the Curtain of Distraction.
The Curtain of Distraction has a real effect, as The New York Times found that since its creation in 2013, it has given the Sun Devils almost a two-point advantage in their home games.
The 942 Crew has also inspired student sections from high school on up to get creative. The "Red Regiment" student section from Sheridan High School in Thornville, Ohio, recently pulled off an all-time heckle job against an opposing foul shooter by staging a mock birth in the stands.
Follow TODAY.com writer Scott Stump on Twitter.