Michael Phelps' death stare has become fully operational, and it's more powerful than we can possibly imagine.
WATCH on NBCOlympics.com: Michael Phelps stares down his rival
Rival South African swimmer Chad le Clos clearly irked the the 19-time Olympic gold medalist with his pre-race antics. How angry was Phelps? The swimmer resembled Anakin Skywalker in the moment he transformed into Darth Vader.
Le Clos warmed up with a little dancing and shadowboxing directly in front of Phelps before the 200-meter butterfly semifinals in Rio de Janeiro.
That inspired Phelps to give his full axe murderer look, which quickly became the hashtag #PhelpsFace as people imagined what was running through his head.
It's no surprise Phelps was channeling his inner Hulk given his recent history with Le Clos.
The South African beat Phelps to win gold in the 200 butterfly in 2012 at the London Olympics and then trash-talked him from overseas while Phelps was competing in the U.S. championships last year.
"I'm just very happy that he's back to his good form, so he can't come out and say, 'Oh, I haven't been training' or all that rubbish that he's been talking," Le Clos told The Associated Press. "Next year is going to be Muhammad Ali-Joe Frazier."
The whole family got in on the mean-mugging act, as Phelps' game face was nearly matched by that of his infant son, Boomer.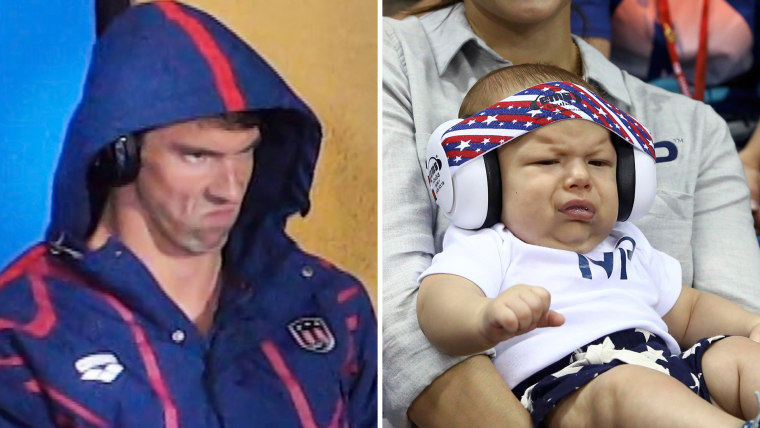 Of course, getting Phelps angry was a bad idea. He beat Le Clos by a full second to finish in second place in his heat on Monday night, setting up a highly-anticipated showdown for the gold on Tuesday night.
"I was trying to not really even look at him,'' he told NBC's Michele Tafoya on the broadcast after the heat. "He does his thing, I do my thing. I was watching the heat in front of me and seeing what they were going. I'm obviously excited for the final."
Follow TODAY.com writer Scott Stump on Twitter.