Michael Brown's parents, Michael Sr. and Lesley McSpadden, say prosecution of the officer who shot their unarmed son is the only thing that can bring peace to the streets of Ferguson, Missouri. 
"Justice will bring peace," McSpadden told TODAY's Matt Lauer Tuesday.
Chaos again broke out overnight in the St. Louis suburb where Brown was fatally shot on August 9. At least 31 people were arrested, according to Capt. Ron Johnson of the Missouri State Highway Patrol. 

"These criminal acts came from a tiny minority of law-breakers," Johnson said overnight. "It is criminals who throw Molotov cocktails, fire shots and endanger lives. These are not acts of protesters but acts of violence."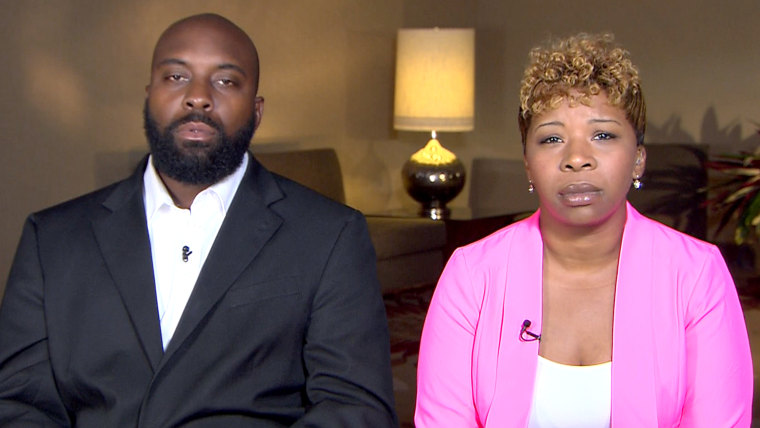 The shooting of 18-year-old Michael Brown has prompted more than a week of volatile protests, which McSpadden said has been a distraction to the family's efforts of finding justice for her son.
"We have to remain focused and we have to remain strong and the violence needs to stop," McSpadden said.
"When justice is prevailed then maybe they'll regain their trust in the locals, but right now it's really out of control." 

Added Brown's father: "We need to keep the focus on Michael Brown, Jr."
A private autopsy ordered by Brown's family revealed the teen was shot at least six times, including at least one fatal shot to the head. The St. Louis County medical examiner has performed an official autopsy on Brown, and a third autopsy was ordered earlier this week by the U.S. Department of Justice. Attorney General Eric Holder will visit Ferguson Wednesday, at the asking of President Obama.
On Tuesday, law enforcement officials urged protesters to gather during the day, away from a small but forceful minority of people engaging in criminal behavior at night. Johnson said he believes most protesters will adhere to that request.  
"A lot of them will do that because they don't want to be a part of this. Last night we saw, where they were being peaceful, they were put in danger by that element of criminals that seemed to get into their crowd," Johnson explained on MSNBC.
"My hope is the peaceful protesters will stay home and protest during the daytime and stay home at night and let us take those that have been out ruining our community and deal with them in a way that brings calm to this community."
Follow TODAY.com writer Eun Kyung Kim on Google+ or on Twitter.