The daughters of a woman involved in a deadly train crash in New York last month remember an extroverted woman who was their best friend, but they have been haunted by unanswered questions in the wake of the tragedy.
On Feb. 3, an SUV driven by Ellen Brody, 49, stopped on the tracks at a crossing in Valhalla, New York, and was hit by a northbound Metro-North train, killing Brody and five others in the deadliest crash in the history of the nation's busiest commuter railroad. Speaking publicly for the first time since the incident, Brody's three daughters, Danielle, Julia, and Alexa, remembered the outgoing nature of their mother.
"She is so charismatic,'' Julia told Matt Lauer on TODAY Monday. "She can literally talk to anyone."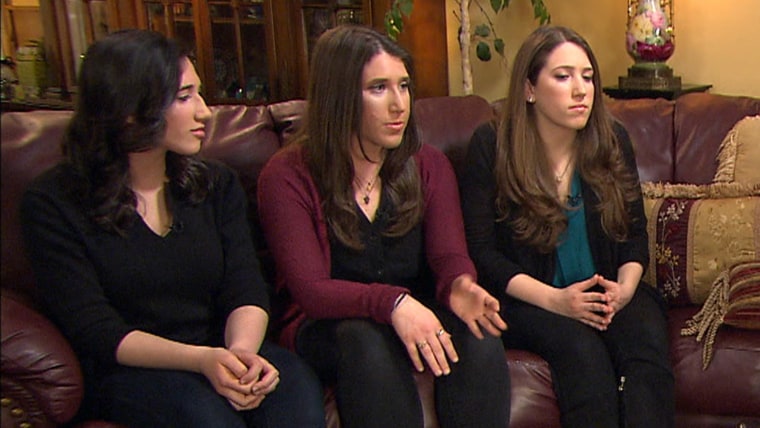 "I could tell her everything,'' Alexa said. "She was my best friend."
During rush hour at 6:30 p.m., Brody's SUV was approaching the tracks when the train crossing came down on the back of her car, according to investigators. Witnesses say she got out of the car, looked at the back, and then got back in and drove forward before being struck by the train, which was traveling 49 miles per hour, according to investigators. The sisters watched the reports on the news and began to worry when they had not heard from their mother.
"I was like...'Why would she cross the train tracks?,'' Julia said. "I thought that maybe she committed suicide. So I was like, 'Why? Why? Why would this woman do that?' When we were watching that, though, when he described the woman, I was like, 'That could've been Mommy.' And my sisters were just like, 'Julia, no.'''
The unanswered questions about what happened that night have stayed with the sisters.
"I feel like if I knew exactly what she did, I could imagine it more, and that scares me, the fact that I can just imagine her stopping the car and looking at the car,'' Alexa said. "I don't want the details."
"Obviously, the way it happened is really upsetting,'' Danielle said. "I don't know if knowing or not knowing would make it better. It's just so unimaginable, and it feels so unreal."
Compounding the daughters' grief were some negative remarks about their mother online.
"I went on Google, and I searched my mom's name and I was just reading the comments,'' Julia said. "And just the fact that people are like, 'You know, I don't even feel bad for her. How could she possibly do that?'"
"I know I shouldn't, but I read the comments,'' Danielle said. "And I'll just come across something, and it really hurts. It can ruin my entire day."
The daughters believe that it was truly an accident.
"How I'm feeling right now, that there's five other families that also feel that way, and right now the only thing that I'm feeling is that I don't have a mom anymore,'' Julia said. "All of these other tragedies, it's so hard for me to even comprehend that my mom is the reason for that. It's so surreal. She's not a murderer."