The member of the U.S. women's gymnastics team who tested positive for COVID-19 was identified as Kara Eaker, an 18-year-old alternate on the squad, according to a local NBC affiliate who spoke to her coach.
Eaker tested positive at an Olympic training camp in Japan, her coach Al Fong confirmed to NBC affiliate KSHB in Kansas City on Monday. Eaker's father also confirmed the news to the station.
Eaker, who was raised in the suburbs of Kansas City, is one of four alternates on the U.S. women's team. The others are Emma Malabuyo, Kayla DiCello and Leanne Wong.
Eaker was vaccinated against the virus two months ago, the Associated Press reported.
"The health and safety of our athletes, coaches and staff is our top priority," the U.S. Olympic and Paralympic Committee said in a statement. "We can confirm that an alternate on the women's artistic gymnastics team tested positive for COVID-19. In alignment with local rules and protocols, the athlete has been transferred to a hotel to quarantine. Out of respect for the individual's privacy, we cannot provide more information at this time."
The USOPC did not name the athlete, but said she had moved to a hotel to quarantine.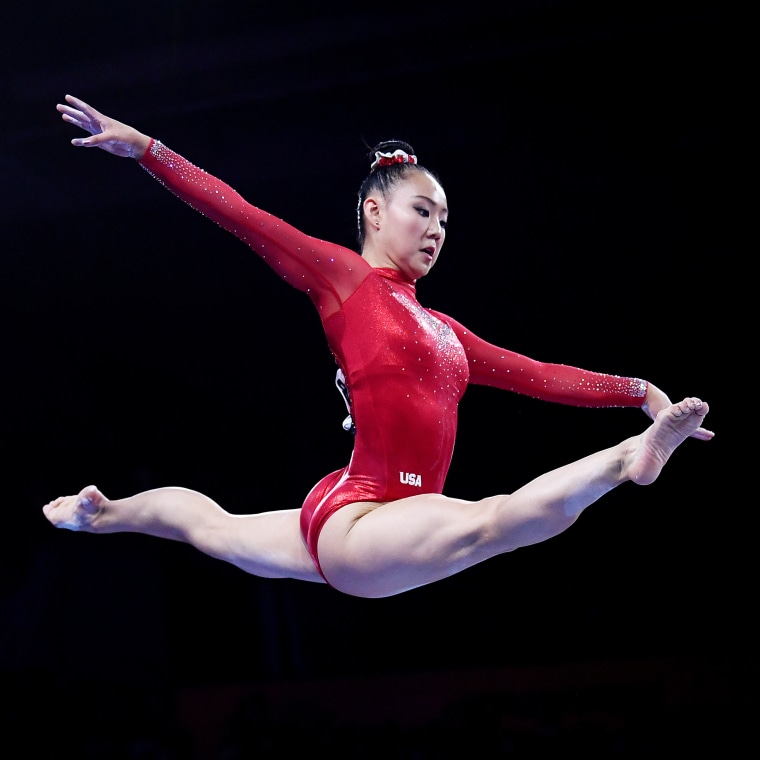 Eaker, who was born in China, has been a member of the national team since 2017. She finished seventh in the all-around and second on balance beam at the U.S. Olympic trials and was selected as an alternate. She competed on teams that won world championships in 2019 and 2018 and both times won silver in the balance beam, according to USA Gymnastics.
USA Gymnastics also has not identified the athlete by name, but said she received the positive test on Sunday. She and another alternate who was considered a close contact would be subject to additional quarantine restrictions.
KSHB reported that Wong, 17, who is also from Kansas City, was the close contact who was also placed in quarantine.
On Monday, the rest of the team moved to new lodging and a new training facility, as originally planned, to continue preparing for the games.
"The entire delegation continues to be vigilant and will maintain strict protocols while they are in Tokyo," USA Gymnastics said in a statement Monday.
The six-woman U.S. team, who are gold medal favorites and led by superstar Simone Biles, arrived in Japan on Thursday.
Over the weekend, Eaker received a "false positive test" and also a negative test after that, AP reported. She then tested positive again several times.
The latest news comes a day after teen tennis star Coco Gauff tested positive for COVID-19 and announced she will not participate in the Olympics. Gauff, 17, was making her Olympic debut and was expected to lead Team USA in the women's singles division.
Two South African athletes and another athlete have also tested positive in the athletes' village, while six athletes from Britain are self-isolating and confined to their rooms after coming into contact with a person who tested positive.