Senator John McCain passed away in August, and his daughter Meghan McCain is clearly still grieving.
"The View" co-host posted a new picture on Instagram over the weekend of her father's grave site:
McCain is buried at the United States Naval Academy Cemetery in Annapolis, Maryland. As the picture shows, his site is decorated with flowers, flags and wreaths. Coins and other smaller mementos have been left at the foot of the gravesite.
McCain, who died on August 26, is buried next to a longtime friend and fellow veteran, Chuck Larson; both plots have room for the pair's widows.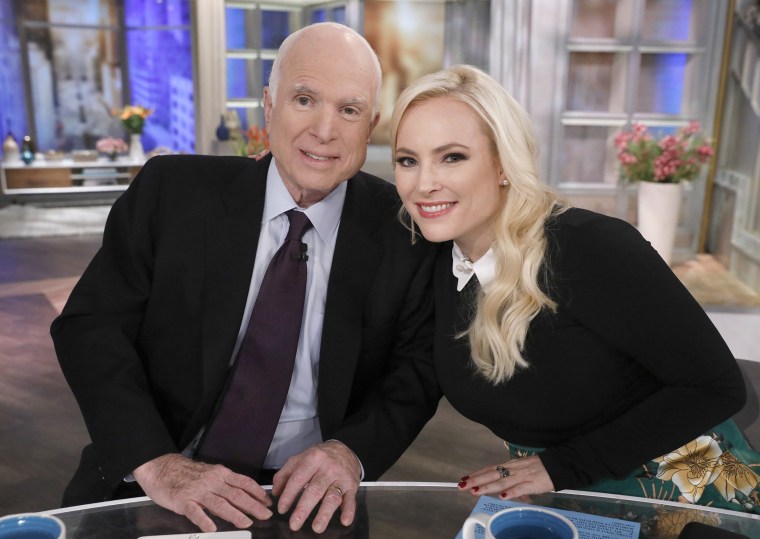 As Meghan notes in her caption, "I miss you the most on Sunday." She'd posted a picture of her cellphone in September, noting that they frequently spoke on Sunday, and she frequently posted pictures of herself cuddling up to her ailing father over the past months:
In May, she noted in a throwback picture with her father that her mother, Cindy, called her "John McCain in a dress," and it's clear that father and daughter were very close personally. Since his death, she's posted other pictures, noting how long it has been since he's been gone each time:
In a tearful eulogy delivered at McCain's funeral, Meghan said, "He was a sailor. He was an aviator. He was a husband. He was a warrior. He was a prisoner. He was a hero. He was a congressman. He was a senator. He was a nominee for president of the United States. These are all the titles and the roles of a life that has been well-lived.
"I admired him for all of these things, but I love him because he was a great father."