Meghan, Duchess of Sussex, spent Wednesday morning in the kitchen, but unlike many of her fellow Americans, the royal expatriate wasn't busy with early Thanksgiving prep.
She was, however, clearly thankful as she visited the Hubb Community Kitchen and reunited with the women who are putting the proceeds of a charity cookbook she launched earlier this year to good use.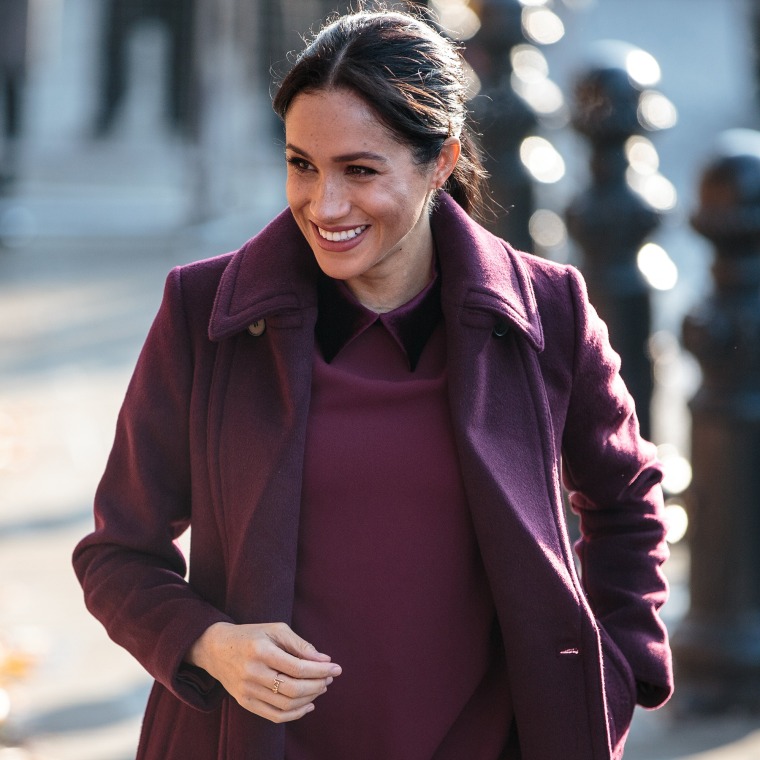 In September, the duchess celebrated the release of "Together, Our Community Cookbook," a tome filled with more than 50 recipes from the women who've utilized the community space since losing so much last year.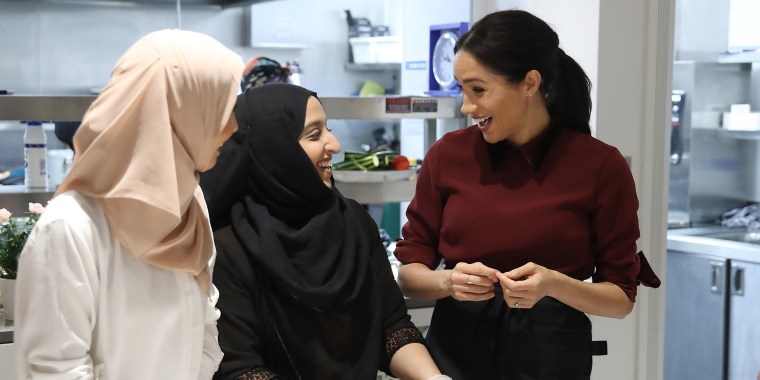 The Hubb center became vital to those who survived the 2017 Grenfell Tower fire in London, which left 72 dead, 70 others injured and hundreds displaced. Funds from the cookbook ensure the kitchen facility remains open seven days a week and continues to provide a space for the survivors to prepare meals for their families and offer support to each other.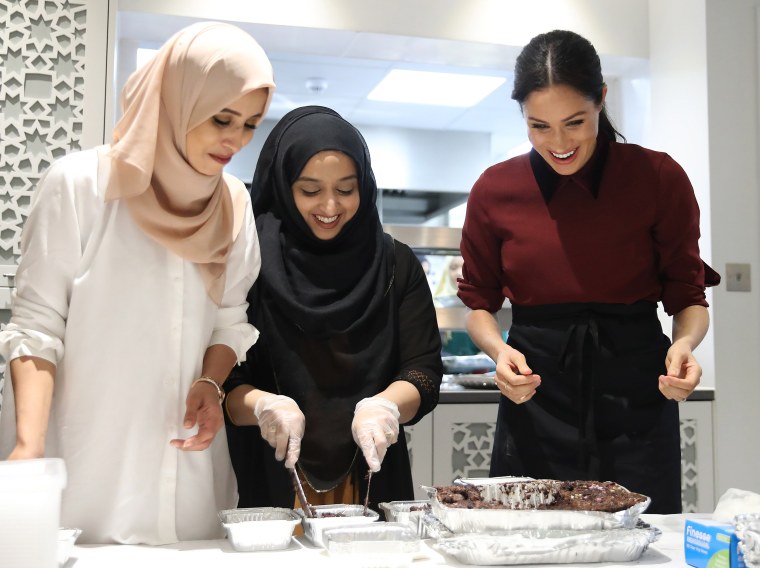 And if the photos from the visit are any indication, the charity endeavor is truly paying off.
The former Meghan Markle, who was dressed in a burgundy Club Monaco Sallyet dress and matching Daylina coat from the same label, took a tour of the kitchen, greeted familiar faces and even put on an apron and helped prepare and package meals.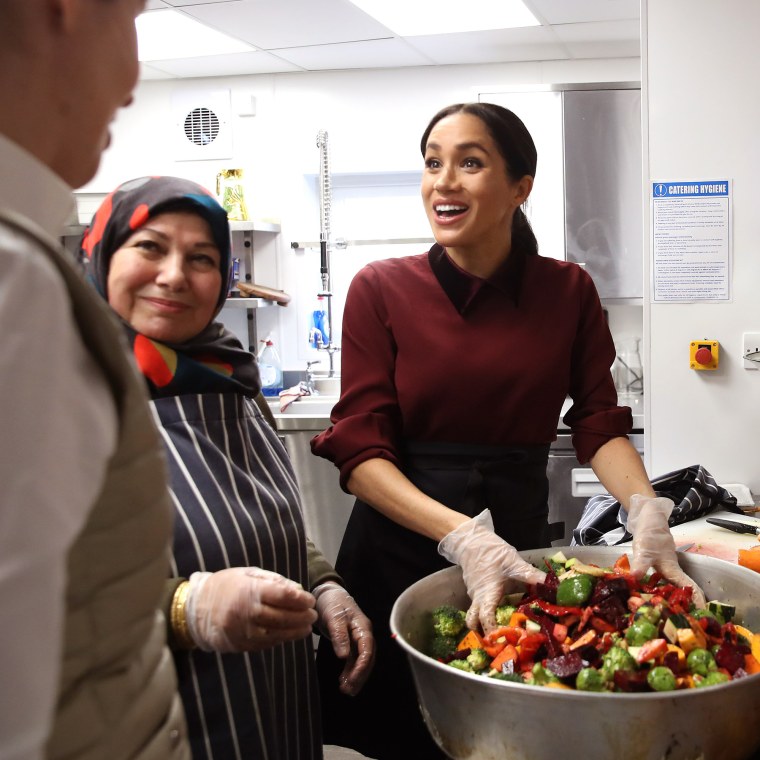 Visits to the Hubb Community Kitchen are nothing new for the Duchess of Sussex. In fact, she started her royal charity work there months before she officially became a royal in May.
"I had just recently moved to London, and I felt so immediately embraced by the women of the kitchen," she recalled at the launch of the cookbook.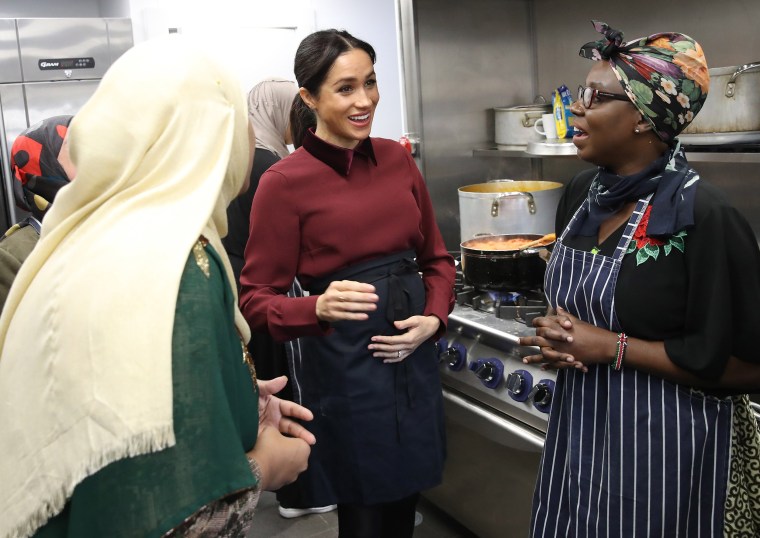 Of course, she has something else to be thankful for this year, which was also evident at Wednesday's event.
The duchess, who's pregnant with her and Prince Harry's first child, could be seen cradling her growing baby bump as she mingled with the women and smiled on at their hard work.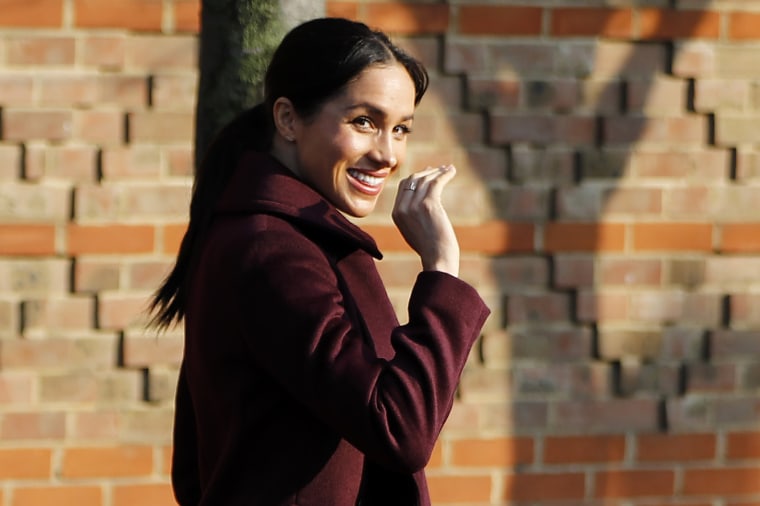 As for Thursday, Thanksgiving isn't a holiday in Britain, but that doesn't mean the 37-year-old won't be celebrating.
After all, she and her prince have the day free from royal engagements, and she has a cookbook filled with family-friendly recipes handy.