Has Prince Harry finally met his princess?
The 32-year-old royal has been dating American actress Meghan Markle, a California native who shares his love for humanitarian work, insiders tell TODAY.
"Sources close to Prince Harry say he is besotted by Meghan. Obviously it is only early days but they do seem to have a great deal in common," said royal expert and TODAY contributor Camilla Tominey, who reported the news first for the British publication, Daily Star.
"While celebrated as one of the world's most eligible bachelors, it would be great to see Harry settle down like his brother William and start his own family one day — he loves children and would be a great dad. One step at a time though," Tominey added, noting that media have been scrambling to catch the first photograph of the couple together.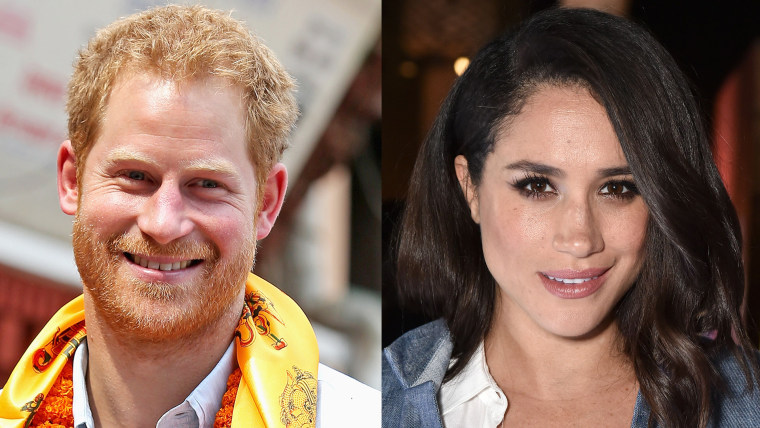 The divorced Markle, 35, stars as a lawyer on the USA cable network show, "Suits." She was raised in Los Angeles but currently lives in Toronto, where the drama is filmed.
Markle also runs a lifestyle website, which covers food, fashion and travel. She recently wrote about the humanitarian trips she has taken abroad, inspired by her mother, in a post on the site.
"With my mom, we spent time traveling to remote places — taking trips to Oaxaca, Mexico where I saw children play in the dirt roads, peddling chiclets for a few extra pesos to bring home," she says in the blog post. "My mother raised me to be a global citizen, with eyes open to sometimes harsh realities."
More recently, Markle has spent time in Rwanda working on behalf of a children's charity.
She shares the passion with Prince Harry, who frequently visits Lesotho on behalf of an organization he helped create to improve the lives of children with HIV. Last year, he also paid several visits to other African nations to work on animal conservation efforts.
Kensington Palace declined to comment on the topic. TODAY also reached out to Markle's representative but did not immediately get a response.
A source close to the pair, however, said they have been dating "since the summer" and have become "really serious," but are taking the relationship slow because of its high profile nature.
RELATED: Prince Harry 'left in awe' of inspirational kids — see the sweet pics
"She's traveled to see him in several different places around the world. They have a similar worldview. Philanthropy is really important to them both," the source told NBC, noting that Markle has already met members of the royal family. "They talk about the future. They've talked about what their lives would look like if they were married."
This would be the most serious relationship for Prince Harry, 32, since he and model Cressida Bonas ended their two-year relationship in 2014.
RELATED: Royal heartbreak: Prince Harry, Cressida Bonas split
Harry is fifth in line to the throne, behind the two children of his brother, Prince William, who is second in the line of succession behind their father, Prince Charles.