It was the hug heard around Great Britain!
As Meghan Markle left a charity café during her visit to Scotland, she did something quite ordinary in her native country but rather unexpected for the royal family she's about to join: She hugged a member of the general public.
Markle, who is engaged to Britain's Prince Harry, shared a warm embrace as she bid farewell Tuesday to one of the founders of Social Bite, a café that helps feed and employ the homeless.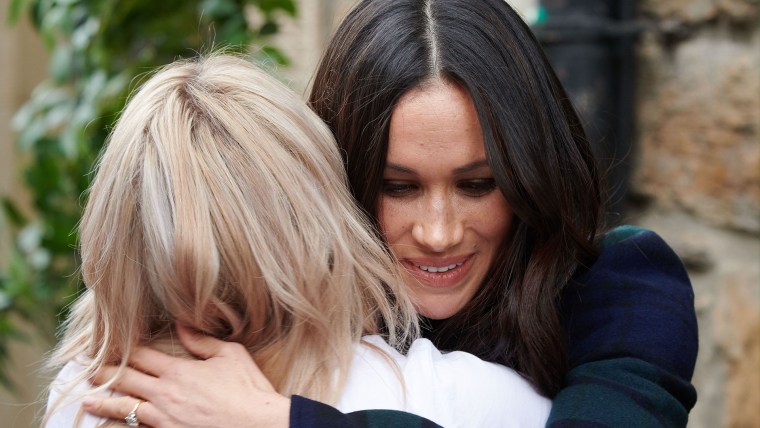 Markle, 36, was in Edinburgh with her future groom as part of a public engagement tour the couple are taking throughout the United Kingdom ahead of their May 19 wedding. Prince Harry has been introducing his fiancée to her new home, as well as charities and causes he has long championed.
During their visit Tuesday to Scotland, the couple first paid a visit to Edinburgh Castle before heading to Social Bite, where they met with staff and learned more about the social enterprise. It was while they prepared to leave that café co-founder Alice Thompson told the future royal how inspired she had been by a UN Women's conference speech Markle gave in 2015. The conversation between the two women concluded with a hug outside the café.
The gesture caught many onlookers off guard, mainly because British royalty rarely are seen embracing members of the public. The one exception was, fittingly, Prince Harry's late mother, Princess Diana, who was known for hugging many of the people she met with, particularly patients and workers at hospitals, charities, and organizations she visited.
Markle has already shown a penchant for eschewing royal rules. During their public engagements, she is often seen tightly holding hands with Prince Harry. While not necessarily a breech in protocol, hand-holding is rarely seen among royals, including Harry's brother and sister-in-law, the Duke and Duchess of Cambridge.
And during the November announcement of her engagement to Harry, Markle also raised eyebrows with what many viewed as a royal fashion faux pas: she showed up to the photo shoot sans pantyhose.