After losing her beloved dog to pneumonia last year, Sandy Barbabella decided to help dogs at her local animal shelter armed only with her soothing voice and a stack of children's books.
"I go to the Humane Society to read to the dogs and pet them and talk to them,'' Barbabella told TODAY.com. "They do more for me than I do for them. So many of them are so scared and afraid that just the voice relaxes them. A lot of them lay against the door of the cage, and they sleep against the cage."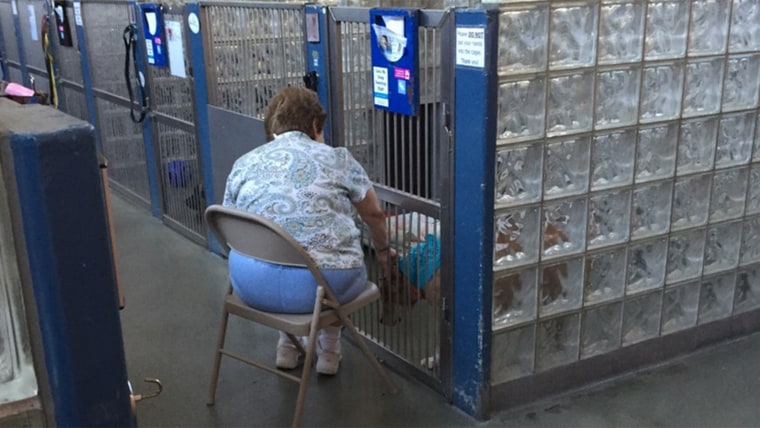 Barbabella's heartwarming act is now known across the world, as a photo of her reading to a shelter dog through the door of a kennel that was posted on Reddit has been viewed more than three million times. The irony is that Barbabella hasn't seen it, since she doesn't have a computer and rarely goes online.
RELATED: Heart-melting photo leads to shelter dog's adoption
"When I go in to volunteer this week I'm sure they will show me,'' she said. "It really hasn't sunk in, but it will never change the way I am."
Kathleen Costello was at the Humane Society one day when she snapped the picture of Barbabella tenderly reading to the dogs to send to her sister, and then posted it on Reddit to show her appreciation.
"I had never seen Sandy until that day,'' Costello told TODAY.com. "She was so patient with the dogs, and I watched her read to several dogs that day, and they just loved being petted by her, and it seemed to calm them down having someone there. Reading to the dogs seemed like such a unique way to let them know someone loves them. I am so happy people have loved the picture and what Sandy is doing as much as I do."
Working with the dogs has helped Barbabella through the emotional loss of Angus, a Pembroke Welsh Corgi who was 14 years old when he died in March of 2014. The dog is named after Angus Young, the famous guitarist from the band AC/DC, one of Barbabella's favorites.
RELATED: Shelter dog helps boy with autism hug, kiss his mom for first time
"To this day, I have not gotten over losing my dog,'' Barbabella said while trying to hold back tears. "His bowl is still where he left it the day he passed. Nobody ever moves it. Angus and I lived by ourselves, and he was my true friend."
The mother of four and grandmother of six decided to volunteer at the shelter after his death, and the Humane Society was looking for someone to try a new program of reading to the dogs to help soothe them. Barbabella occasionally read to Angus, so she decided to give it a shot. One day she invited her daughter to join her.
"She cried the whole time I was there,'' Barbabella said. "I told her, 'You have to realize, these dogs are in a better place here than on the street. Here they're safe.'''
RELATED: Shelter uses adorable doggie photo booth to help pups find homes
Sparked by Barbabella's contributions, the Western Pennsylvania Humane Society is now holding a read-a-thon starting in September, according to communications and public relations director Carrie Nardini. The aim is to get kids involved and raise money for the shelter by having the children read to the animals and each other.
"Sandy is such a lovely person, and it's such a touching photo,'' Nardini told TODAY.com. "She shows that there are so many opportunities to volunteer here, and for people who can't, there are opportunities to donate."
Raised on a farm in Pennsylvania, Barbabella has been around animals her whole life. Her ability to connect with them has made her a special addition at the Humane Society.
"My daughter was looking at old pictures and she said, 'Every picture you're in, there's a dog with you,''' Barbabella said. "I said, 'I never thought of it, but you're right.' I've just always loved them."
Follow TODAY.com writer Scott Stump on Twitter and Google+.