/ Source: TODAY contributor
Little Gore Otteson toddled around the TODAY show set Friday morning, rosy-cheeked and rambunctious. Pretty normal for a 2-year-old — except that Gore has made a miraculous recovery after apparently drowning in an irrigation ditch earlier this summer.
The toddler was submerged for 25 minutes, and his heart stopped for an hour. When he was pulled out of the frigid water, pale and lifeless, his mother thought he was dead. Doctors at a Denver hospital told his parents that Gore had less than a 1 percent chance of survival — and even they can't totally explain his amazing full recovery.
"I thought I had lost him," Amy Otteson told Meredith Vieira Friday, in a TODAY exclusive. "I thought for almost an hour that he was dead."
But Gore is alive and healthy today, thanks to an experimental body-cooling treatment — and, his parents believe, a whole lot of prayers.
The unlatched door
The Ottesons' ordeal began the evening of July 6 at their family cabin in rural Gunnison, Colo., about four hours southwest of Denver. After dressing Gore in his pajama shirt, Amy Otteson went into another room to get his pants and to tend to her two older children, 6-year-old Ryan and 4-year-old Kirk. When she turned around, Gore was gone.
"Within a few minutes, I ran to the porch and saw the screen door had been unlatched and he had left the cabin," Amy Otteson told Vieira. She started running around, calling his name with increasing panic; her extended family soon joined the search. But it would be 25 minutes before a cousin spotted Gore's body trapped under a log in a fast-flowing irrigation ditch a few hundred feet from the cabin.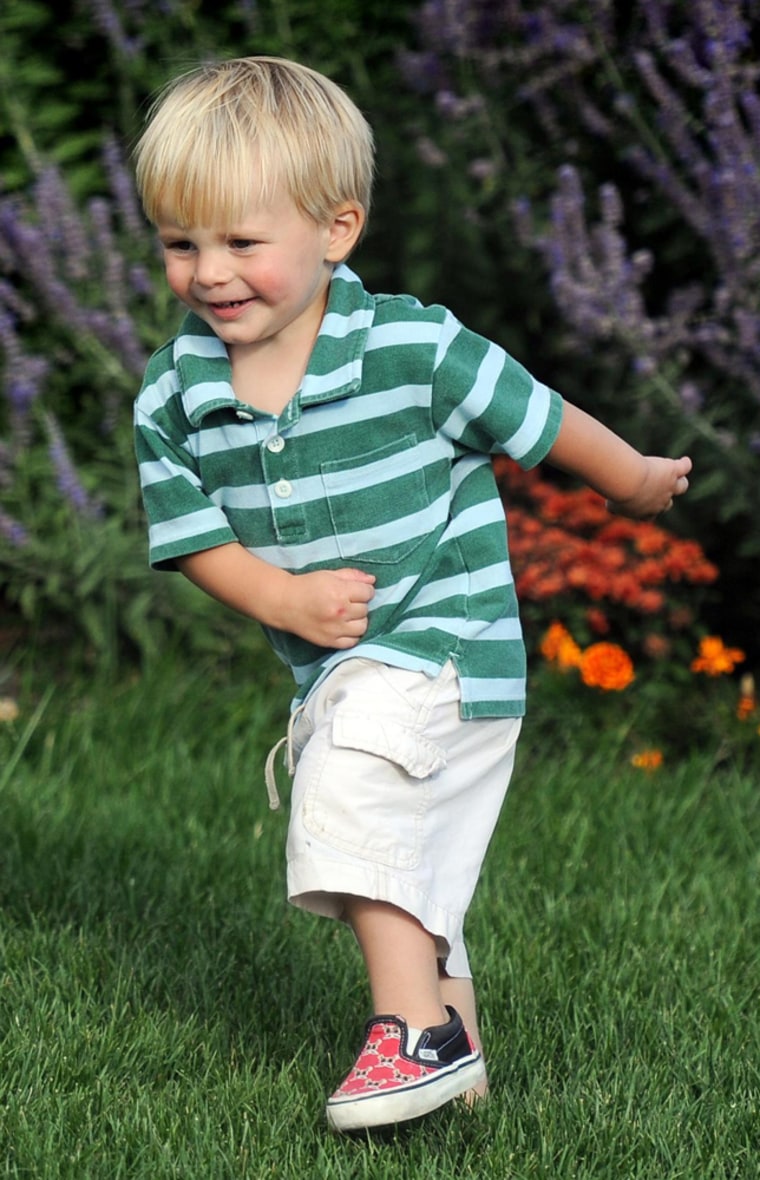 Amy's father, Kirk — a retired orthopedic surgeon — and other family members immediately began CPR, and their efforts may have been key in saving Gore's life. But at that point they didn't have much hope.
"He was just pale, like someone — frankly, someone that's dead. And that's what he was," Dr. Kirk Fry told NBC News.
Experimental treatmentWhen Gore arrived by helicopter at The Children's Hospital in Denver, "he was as close as they come" to death, said another doctor, Joyce Oleszek. Doctors managed to restart his heart, but feared that Gore had suffered irreparable brain damage. They decided to try therapeutic hypothermia, an experimental treatment in which the body temperature is lowered — in Gore's case, to 90 degrees — in order to protect the brain and allow healing.
For 48 hours, Amy and Dave Otteson waited and prayed by their son's chilly bedside. "Is he going to be brain dead?" Dave wondered. "Is he ever going to wake up? All I really ever hoped for was to be able to hold him again."
When doctors slowly warmed Gore back up to normal body temperature, they all watched for purposeful movement, any sort of sign that Gore still had some brain activity. Immediately, Gore started moving and opened his eyes. He used the sign his parents had taught him to tell them he was hungry.
An MRI scan of Gore's brain came back with astonishing results: Perfectly normal.
"It came back no abnormalities. Not one single thing in his brain MRI that was wrong," Amy Otteson said. A few days later, Gore walked out of the hospital on his own.
Doctors can't fully explain how this little boy came back to life after being underwater and without a heartbeat for so long.
Dr. Roger Sherman, the emergency doctor who first treated Gore, told TODAY in an earlier interview, "It's a fascinating thing that happened."
Hippocrates and hypothermia
Therapeutic cooling has been shown to have great results in adult heart attack patients. The Minneapolis Heart Institute has treated more than 300 patients with therapeutic cooling after heart attacks; 56 percent survived, compared with normal survival rate of 26 percent. The American Heart Institute in 2003 endorsed the use of therapeutic cooling for treating cardiac arrest.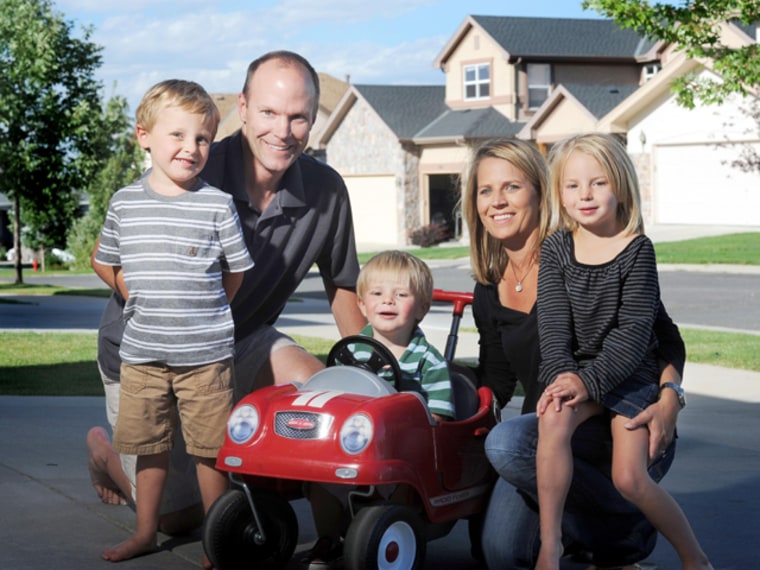 The history of the treatment goes back even further — the Greek physician Hippocrates, namesake of the Hippocratic oath that all doctors take today, found that packing wounded soldiers in snow improved their chances of survival. The theory is that cooling the body slows the metabolism — sort of like going into hibernation — and reduces the harmful effects of being deprived of oxygen.
Therapeutic hypothermia blocks the normal cycle of self-destruction that ravages the brain when blood starts pumping again after a prolonged period of no oxygen, said Dr. Michael Mooney of the Minneapolis Heart Institute, a pioneer in the technique. "The magnitude of the effect is quite striking," Dr. Mooney said. Doctors used to believe that oxygen deprivation caused by cardiac arrest meant certain brain injury and death, but "it's actually a lot more complicated than that," Dr. Mooney said.
However, therapeutic cooling in children is an unproven treatment without much research behind it. "I remember the doctor's exact words were, 'I don't think this is going to make any difference, but we'll give him the best chance we can.' And we were like, 'Just do it. Do anything you can think of,' " Amy Otteson said.
There are other happy stories like Gore's: In January, 18-month-old Bronson Staker of Salt Lake City went 40 minutes without a heartbeat after his mother found him facedown in the bathtub. He was put into an induced coma and treated with therapeutic hypothermia, and made a full recovery. Another 2-year-old recovered after being trapped for 15 minutes in a submerged car.
Unfortunately, the fate of most child drowning victims is much more grim. An average of two children die every day in the U.S. from drowning, according to the Centers for Disease Control and Prevention, and drowning is the second leading cause of accidental injury-related death in children.
So far, hypothermia in children whose hearts have stopped hasn't been conclusively researched. The National Institutes of Health began a six-year trial last September, in which they hope to study the effects of hypothermia versus normal temperature in 900 children, to figure out whether lowering the body temperature should be standard treatment in child cardiac arrest cases. (Through his treatment at the Denver children's hospital, Gore was part of this study.)
Heart attacks and heart stoppages happen differently in children than they do in adults, so researchers are hoping to discover whether therapeutic cooling has the same benefits, said Dr. Frank Moler, a co-principal investigator with the NIH trial and professor of pediatrics with the University of Michigan. Studies in the 1980s actually showed worse survival rates for children who were treated with hypothermia after near-drownings. While cases like Gore's certainly are striking, there's no guarantee the same treatment will work for other children.
But however Gore survived, the Ottesons say they thank God — and all the doctors and nurses who worked on Gore — that he didn't become part of those statistics.
"We want to give credit to everybody who worked on him that day. They all did an amazing job," Amy Otteson said. "But ultimately we know that it was all the prayers, and we know that it was God healing him, truly."
Gore will celebrate his second birthday next week, no doubt surrounded by extremely grateful family members. His brush with death hasn't slowed him down at all — the first thing he wanted to do when he came home from the hospital, his mom reported, was to splash around in his kiddie pool. On Friday he bopped across the TODAY set, pointing to his own image in the video monitors and smiling with delight. Just a happy, normal little guy — his parents' prayers, answered.